Review: Lenovo ThinkPad X1 Yoga (2019)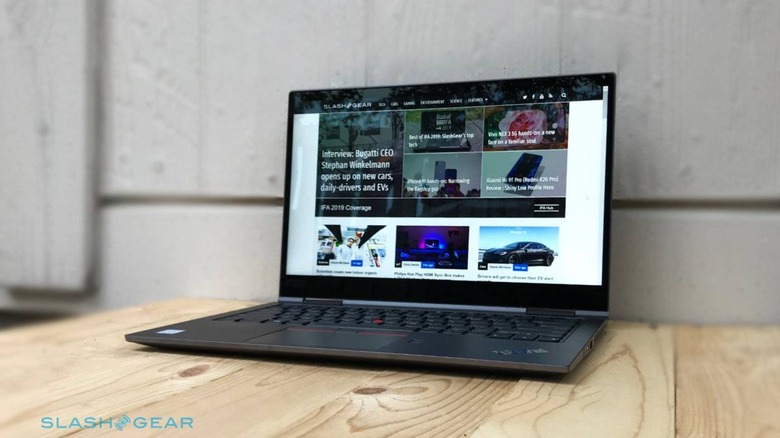 Joining the 7th-generation ThinkPad X1 Carbon is Lenovo's 4th-generation ThinkPad X1 Yoga, the flexible model in its X1 product family. As its name suggests, the X1 Yoga features a 360-degree hinge, enabling users to fold the display back, including into 'tablet' mode, for use in ways that aren't possible with the X1 Carbon. What does this model have to offer and why should you choose it over its more traditional sibling?
Hardware
Unlike its darker sibling, Lenovo's 4th-gen X1 Yoga features an Iron Gray color, one that is distinctly metallic with a dark silver top and slightly shiny, smooth edges. The model features the same general design and size as the X1 Carbon including the iconic 'X1' stamp on the lid's corner. Unlike the Carbon model, however, the Yoga variety features the same flexible hinge included on Lenovo's other Yoga models.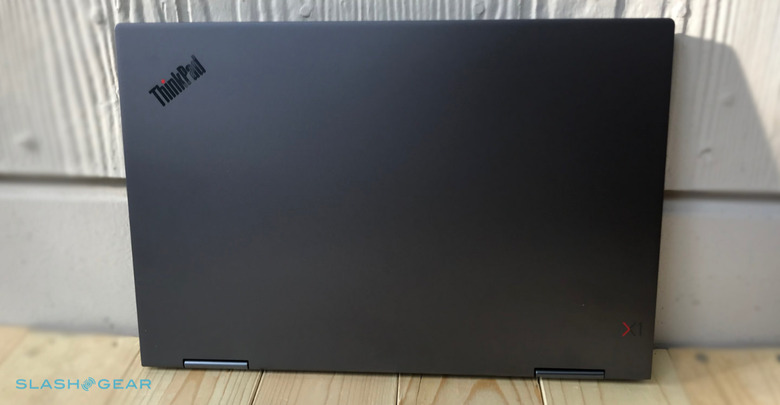 Users can fold the display all the way back into 'tablet' mode, which, thanks to the laptop's overall slim design, feels fairly comfortable as a slate, at least when compared to competing two-in-one models. Lenovo has built a small stylus into the X1 Yoga's base — it fits snuggly with the body, being distinguished from the rest of the frame only by a slim seam between the pen's end component and the laptop's body.
The laptop feels very solid in the hands; the hinge is sturdy and holds itself in whatever position it is placed. Ports are neatly lined on each side of the laptop, which features a glossy display with slim bezels and a tiny webcam lens positioned above the display.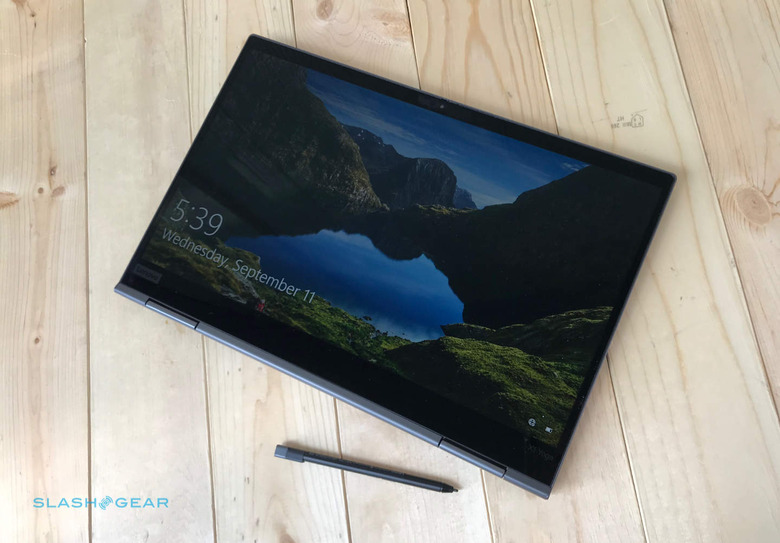 The keyboard has the same gray shade as the rest of the X1 Yoga; as with the keyboard on the X1 Carbon and other high-end ThinkPads, the X1 Yoga's keyboard is excellent, offering the right combination of firmness, spacing, and brightness to satisfy even the pickiest user.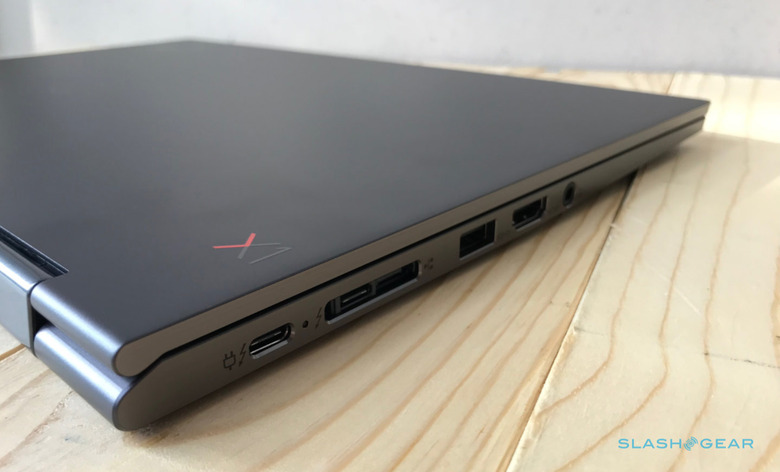 The Iron Gray color is a nice alternative to the black color found on the X1 Carbon, X390, T490/T490s, and most other ThinkPad laptops. The overall design maintains a professional appearance that'll fit in well at business meetings but without the no-nonsense style of the darker models. The laptop maintains the iconic red TrackPoint in the keyboard, as well as the two slim red accents on two of the three trackpad buttons.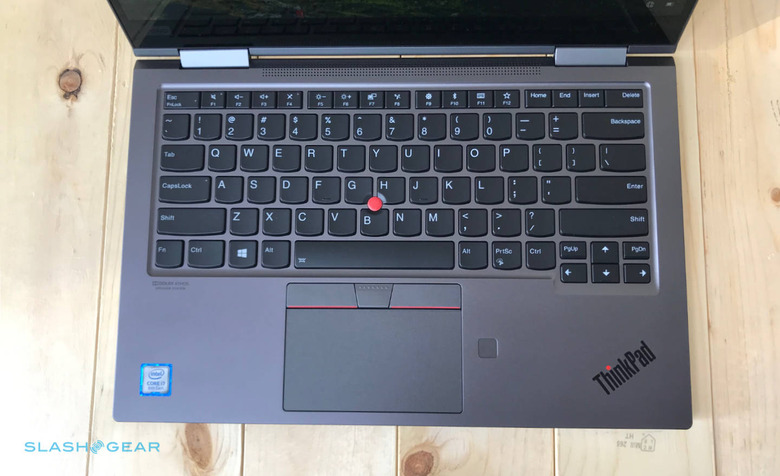 With a starting weight of 2.99lbs, the X1 Yoga has a bit of heft compared to the market's lightest ultrabooks, but that doesn't mean it's heavy. Users are unlikely to notice the extra burden in their backpack, and at barely over half an inch thick, the laptop can easily be slotted between other gear.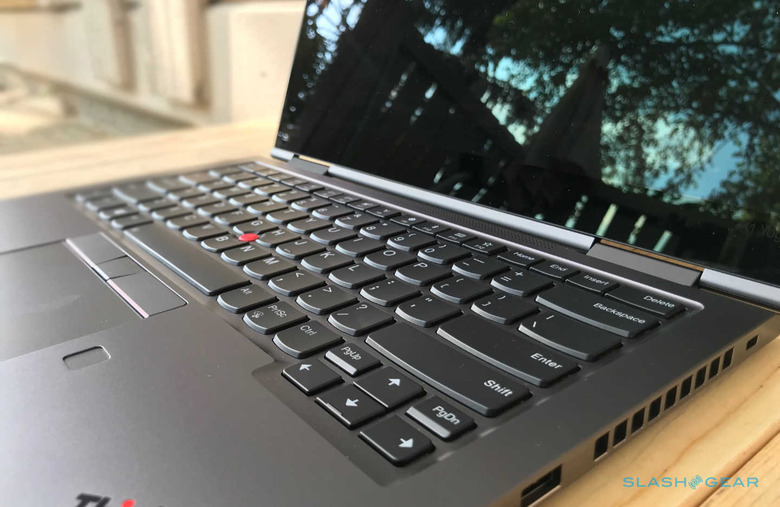 The X1 Yoga measures 12" x 8.5" x 0.59" and is offered with multiple configuration options. Users can get the 8th-gen Intel Core i5-8265U or Core i7-8565U, including the vPro options, as well as up to 16GB of RAM, up to a 1TB SSD, integrated Intel UHD 620 Graphics, and a 720p HD webcam with microphone.
Users are given a generous array of configuration options, including an IR camera for Windows Hello, ThinkPad PrivacyGuard and PrivacyAlert for those with demanding security needs, as well as four different 14-inch IPS display options ranging from a low-power FHD touchscreen up through a 4K Ultra HD touchscreen with Dolby Vision and HDR400.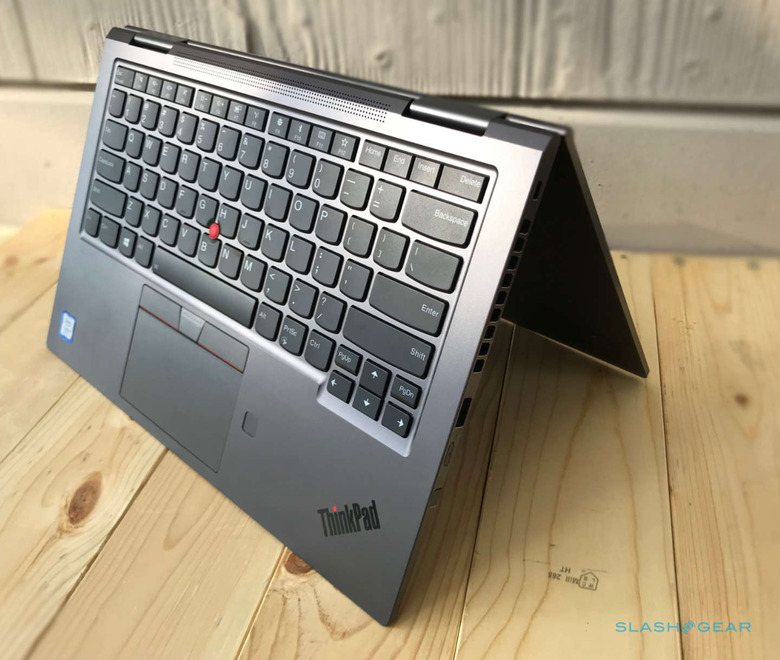 TECH SPECS
Processor:

- 8th Generation Intel Core i5-8265U Processor (1.60GHz, up to 3.90GHz with Turbo Boost, 4 Cores, 6MB Cache)

- 8th Generation Intel Core i5-8365U with vPro (1.60GHz, up to 4.10GHz with Turbo Boost, 4 Cores, 6MB Cache)

- 8th Generation Intel Core i7-8565U Processor (1.80GHz, up to 4.60GHz with Turbo Boost, 4 Cores, 8MB Cache)

- 8th Generation Intel Core i7-8665U with vPro (1.90GHz, up to 4.80GHz with Turbo Boost, 4 Cores, 8MB Cache)

OS:

- Windows 10 Home

- Windows 10 Pro – Lenovo recommends Windows 10 Pro for business

Display:

- 14" 4K UHD (3840 x 2160) IPS with Dolby Vision™ HDR400, 470 nits, glossy, multi-touch

- 14" WQHD (2560 x 1440) IPS, 280 nits, glossy, multi-touch

- 14" FHD (1920 x 1080) IPS, low power, 380 nits, glossy, multi-touch

- 14" FHD (1920 x 1080) IPS PrivacyGuard, 380 nits, glossy, multi-touch

Memory: Up to 16 GB LPDDR3 2133 MHzBattery: Up to 18 hoursStorage: Up to 1 TB PCIe SSDGraphics: Integrated Intel® UHD 620 GraphicsSecurity:

- Fast Identity Online (FIDO) authentication capabilities

- Match-on-Chip Fingerprint Reader

- dTPM 2.0 chip

- ThinkShutter camera cover

- Optional: ThinkPad PrivacyGuard

- Optional: ThinkPad PrivacyAlert

- Optional IR Camera

- Kensington lock slot

Audio:

- Dolby Atmos Speaker System

- 4 x 360-degree far-field microphones

Camera:

- 720p HD Camera with microphone

- IR & 720p HD Camera with microphone

Weight: Starting at 2.99 lbs (1.35 kg)Pen: ThinkPad Pen Pro includedColor: Iron GrayConnectivity:

- WLAN: Intel Dual-Band 9560 802.11 AC (2 x 2)

- WLAN: Intel Dual-Band 9560 802.11 AC (2 x 2) vPro

- Network extension for Ethernet/side mechanical docking

- Bluetooth 5.0

- Optional WWAN: Fibocom L850-GL 4G LTE CAT9

Ports:

- 2 x USB 3.1 Gen 2 Type-C / Intel Thunderbolt (DisplayPort, Data transfer)

- 2 x USB 3.1 Gen 1 (1 always on)

- HDMI 1.4

- Network extension for Ethernet/side mechanical docking

- Headphone / mic combo

Keyboard:

- Spill resistant

- Backlit with white LED lighting
Software & Performance
The X1 Yoga's performance was excellent, which isn't much of a surprise. Experiences will vary based on configuration — Lenovo offers a number of hardware options, giving users the flexibility to meet their needs and their budget. For daily office tasks, including word processing and Web browsing, any configuration option including the most basic tier will be more than adequate.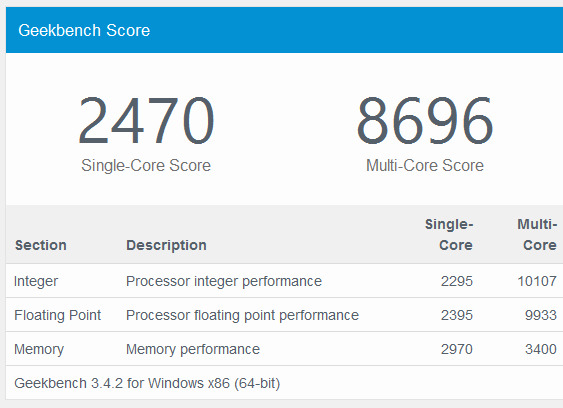 Users with more demanding needs should stick with the 1.9GHz Intel Core i7 processor options with 16GB of RAM. The 4K display is something one should consider carefully, however. Though battery life on the Full HD model should get all but the most demanding users through a full workday, the 4K UHD panel will cause a noticeable hit in battery life. Unless you work in graphic design, photography, or some other visual field, the Full HD display is the perfect compromise between quality and battery life.

Battery life on the Full HD model was good. When used to stream a high-res video at max brightness, the X1 Yoga managed to run for a little over 7 hours before turning itself off. In daily use for average business tasks, users will be able to bump that up over the 10-hour mark, though the run time ultimately depends on usage, hardware, and screen brightness. The inclusion of rapid charging makes it possible to quickly top up the battery.
What we like
Looking for a TL;DR? Here are the things we like best about the 4th-generation ThinkPad X1 Yoga:
- New Ultra HD HDR display with Dolby Vision and 100-percent Adobe RGB color gamut. This is a welcomed addition for photographers, graphics artists, and other creative professionals who need a bright, high-resolution, and high-quality display.
- Joining the new UHD HDR display option is a new Dolby Atmos speaker system that includes up-firing speakers and two down-firing woofers.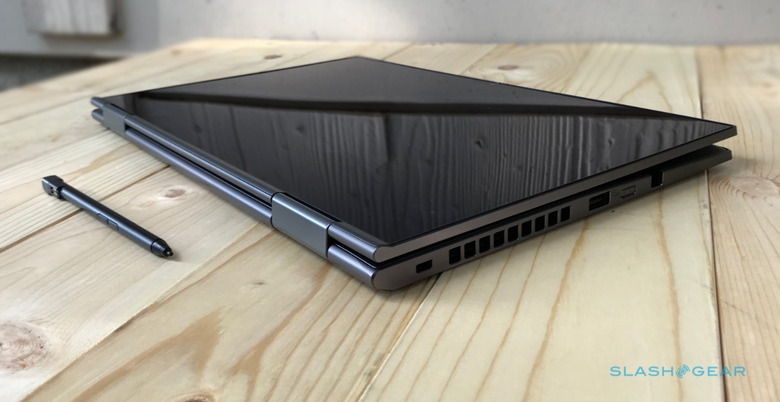 - The X1 Yoga has a 17-percent smaller footprint than before (making it the same as the X1 Carbon), as well as an 11-percent thinner body. As well, Lenovo went with an aluminum build for the latest X1 Yoga installment, bringing the same MIL-SPEC durability users have come to expect from a ThinkPad.
- Built-in quick charge ThinkPad Pen Pro that slots into the base of the laptop. The stylus is invisible when inserted into the laptop, where it fits snugly — there were never any worries about it being knocked loose during movement. The pen works perfectly and is far more convenient than a larger optional style that would have to be carried separately.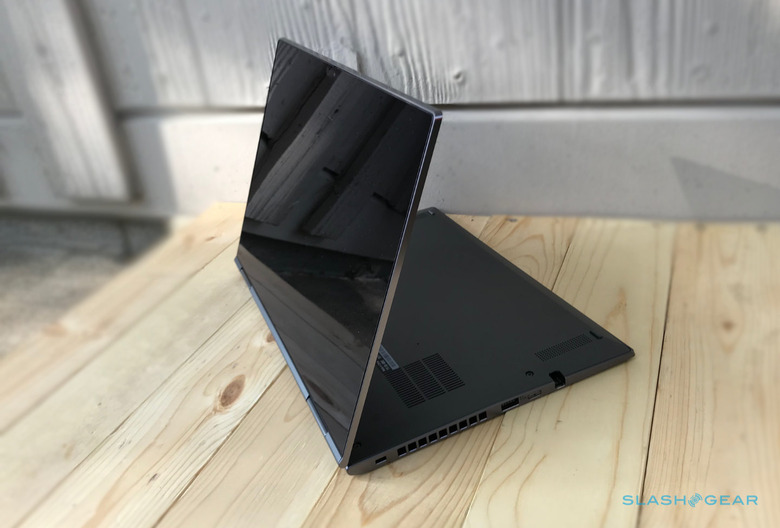 - Multiple important security features. The 4th-gen X1 Yoga has a built-in ThinkShutter, which is a small slider that covers the webcam when it's not in use. As well, this model comes with a Match-in-Sensor fingerprint reader, which is far more secure than the previous Match-on-Host offering. In addition to protecting the user, Lenovo also protects the laptop itself with anti-fry technology.
- A variety of ports. Users won't have to settle with just a couple or few USB-C ports with the new X1 Yoga. The latest model comes with two USB-C Thunderbolt 3 ports, plus a two USB-C 3.1 Gen 1 ports, HDMI 1.4, a network extension for Ethernet and side docking, plus there's a combo 3.5mm audio jack.
Wrap-up
The X1 Yoga continues to dominate the 2-in-1 business laptop market, offering improvements over the previous model in every way that counts, including size, weight, and options. Security gets ample attention with the 4th-gen model, including the webcam shutter and fingerprint sensor, though there are some restrictions — PrivacyGuard and PrivacyAlert are only available on the lesser display option, for example.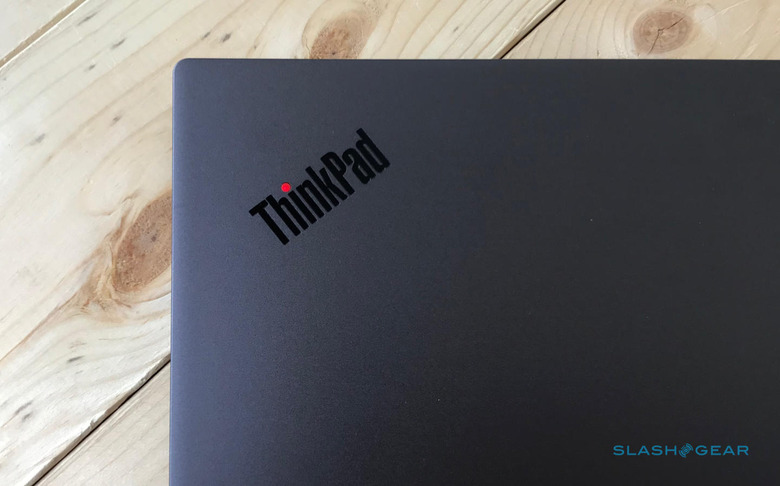 Rapid charging technology, a wide variety of ports, and the continued excellence of Lenovo's X1 design make this model a winner. Users in need of increased flexibility and a built-in stylus will find the X1 Yoga to be a great alternative to the equally excellent X1 Carbon model.
Available from Lenovo now starting at around $1,300 USD.