Review: Lenovo Miix 510 2-in-1 Windows 10 PC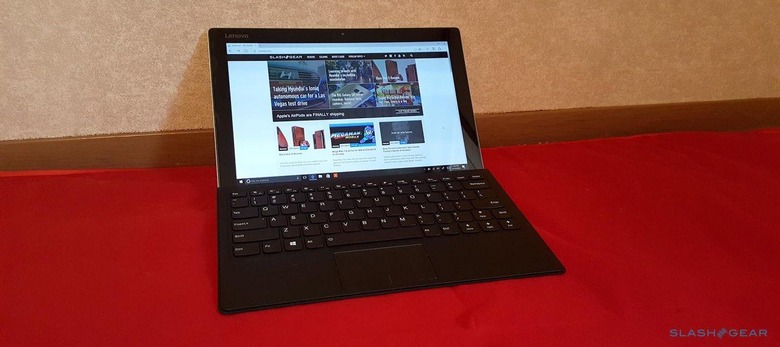 Lenovo's latest 2-in-1 PC is, like others before it, composed of two parts: a tablet portion and a detachable keyboard. When connected together, the sum total of parts that is the Miix 510 form a quasi-laptop; when separated, though, you have a highly portable tablet packing Windows 10. It's the best of both worlds, but is the Miix 510 the best among 2-in-1 laptops? Read our full review to find out!
Hardware
Two-in-one PCs tend to exist in two varieties: the simple and cheap variety targeted at those who simply want a detachable tablet, and the more powerful feature-heavy variety targeted at professionals like graphic designers. The Lenovo Miix 510 falls into the second category, boasting everything from a very flexible watchband-based kickstand to a 12.2-inch 1920 x 1200 resolution display.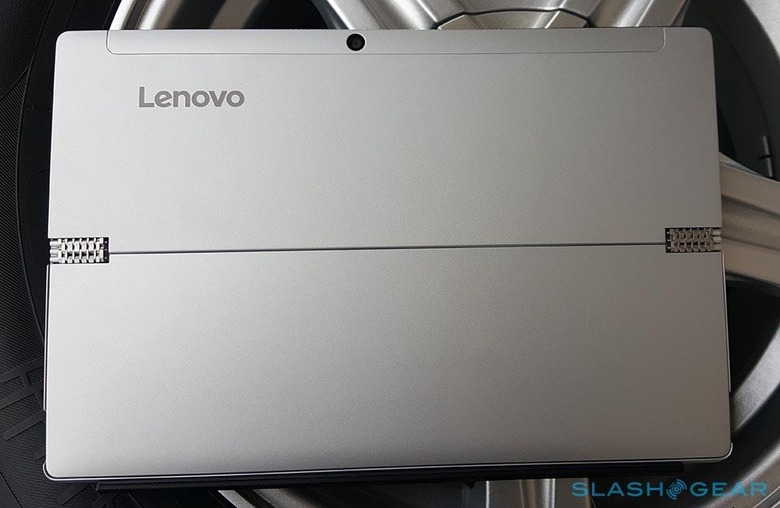 One particularly notable feature is the Miix 510's kickstand — it can be adjusted up to 170-degrees, supporting a bunch of different viewing angles, and it features the same watchband hinge we've seen with the Lenovo 910 and other models. The support for many viewing angles is an important part of any 2-in-1 system, earning the Miix points over other models that only support one or two angles.
The tablet itself is made from a single piece of magnesium-aluminum, and features angled edges complementing rounded corners and a dark display bezel. The back of the keyboard portion has a lightly textured material akin to leather for a premium feel, and both components — tablet and keyboard — are complemented by a velvet-like loose fitting slipcover you can slip the device into for traveling.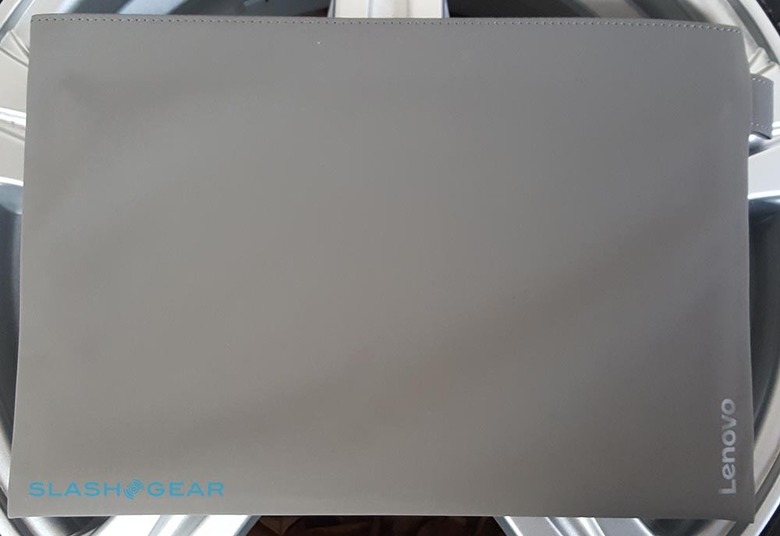 The entire presentation is very nice, one that is arguably luxurious but not so much as to be pretentious. Improving the entire package is the Lenovo Active Pen, a full-size stylus in the shape of an ordinary ink pen including a small clip. The stylus is entirely black save for a small bit of red trim at the top — it uses the same AAAA batteries that most full-size styluses use.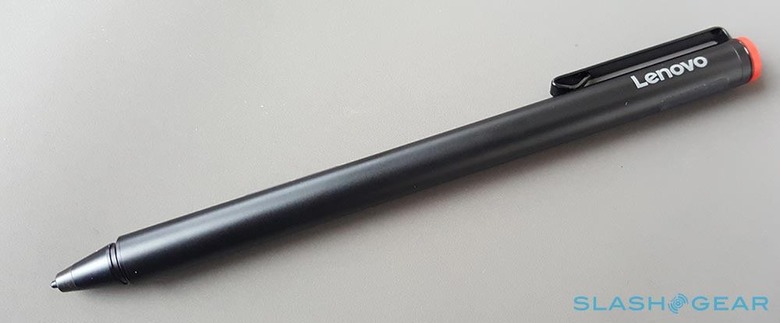 The stylus offers 2,048 levels of pressure sensitivity, making it suitable for detailed drawing and photo editing as well as ordinary writing. The stylus includes palm rejection and two buttons for controlling the tablet from the pen itself. The stylus doesn't weigh much more than an ordinary pen at 12 grams.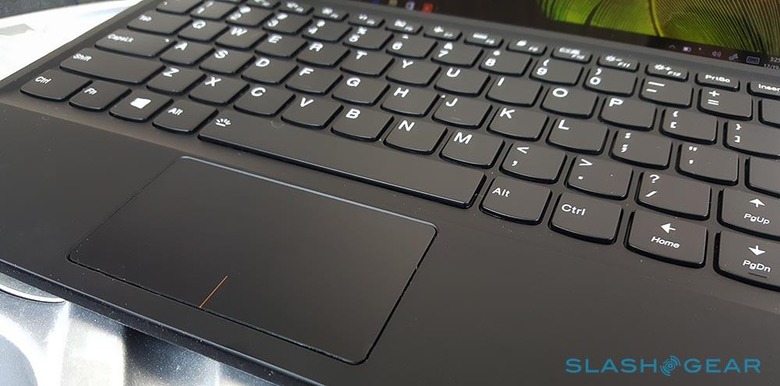 I tested the stylus with a few different applications, including two common ones: Windows Paint and Autodesk Sketchbook. It was very nice to use — you can make very fine lines using a light touch, and dark, thick lines using a heavy hand. The ends of the lines can be suitably tapered by adjusting pressure as you draw (depending on the application, of course). Handwriting is great as well, though it does still feel like writing on a smooth piece of glass, so you have to adjust accordingly.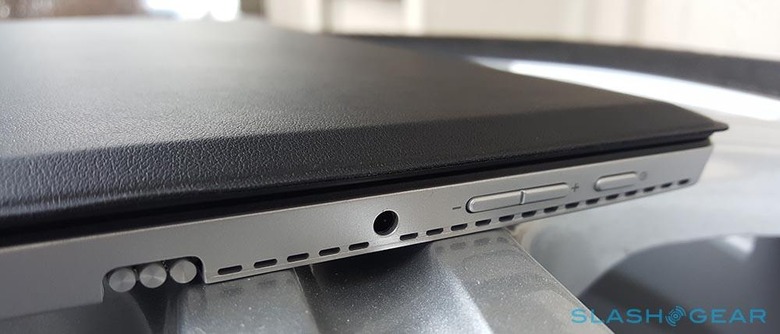 TECH SPECSProcessor: Up to 6th Gen Intel® Core™ i7 processorOperating System: Up to Windows 10 HomeGraphics: Up to Intel® HD 520Webcam / Microphone:

- Front: 2 MP fixed focus

- Rear: 5 MP auto focus; dual array mics

Memory: Up to 8GB LPDDR4Storage: Up to 256GB PCIe SSDAudio: Stereo speakers w/ Dolby® Audio™Battery: Up to 8 hours with local video playbackDisplay: 12.2" Full HD+ (1920x1200 )Dimensions (W x D x H):

- (inches) : 11.8 x 8.1 x 0.4 (tablet ) / 11.8 x 8.1 x 0.6 (with keyboard)

- (mm) : 300 x 205 x 9.9 (tablet ) / 300 x 205 x 15.9 (with keyboard)

Weight: Starting at 1.98 lbs (900 g) (tablet ) / 2.65 lbs (1.25 kg) (with keyboard)Keyboard Options:

- 1.5 mm travel backlit keyboard w/ precision touchpad

WiFi: 802.11 ac WiFiBluetooth: Bluetooth® 4.0Ports:

- USB 3.0 Type-C

- USB 3.0

Audio combo jack

Colors: Platinum silver
Software & Performance
The Lenovo Miix 510 features Windows 10 Home 64 and Lenovo's own myriad software, including Lenovo ID, Lenovo Always Online, Lenovo App Explorer for FPC, Lenovo CCSDK, Lenovo WRITEit, Lenovo PC Manager, and Lenovo Cloud Disk. According to Lenovo, the Miix also includes a trial of Yandex and Microsoft Office Desktop.
In practical usage, performance is right up there with some notable competing models like the Dell XPS 12 and the HP Elite x2. I used the laptop during general daily work (Internet browsing, music in the background, photo editing, etc), and it never gave me any issues. The tablet is very snappy, and likewise holds its own during dedicated photo editing and drawing sessions. I could easily see the Miix 510 serving as my primary laptop.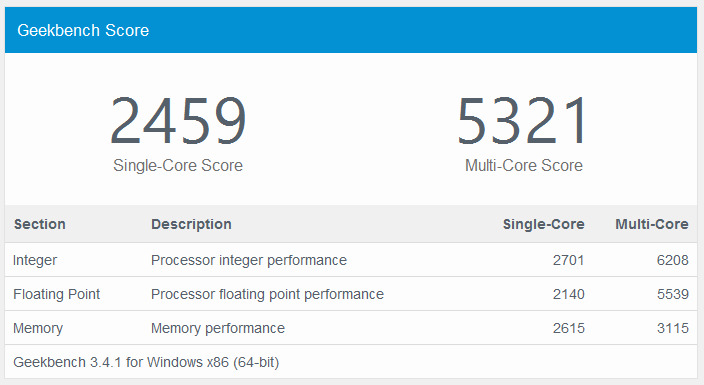 Battery life was a tad disappointing, though not terribly out of the realm of other similar 2-in-1 PCs. Lenovo says the Miix 510 offers up to 8 hours of battery life per charge, but in usage it topped out at around 6 hours for me. That's general usage throughout my day, which includes photo editing, some downloading, and a lot of web browsing with screen brightness at 100%. No doubt you could squeeze more run time out of the laptop if you tried, but in general you'd be right in expecting to charge at least a little bit during a typical 8-hour work day.
Things we like
The Miix 510's design is beautiful, there's no doubt about that. This model feels nice in the hands, and impressive when pulled from the velvet-like slip cover. The design is better than some comparable 2-in-1 models in this price range that I've reviewed over the years, and while design is subjective, I quite like it. I'd place the Miix 510's design up there with the HP Elite x2.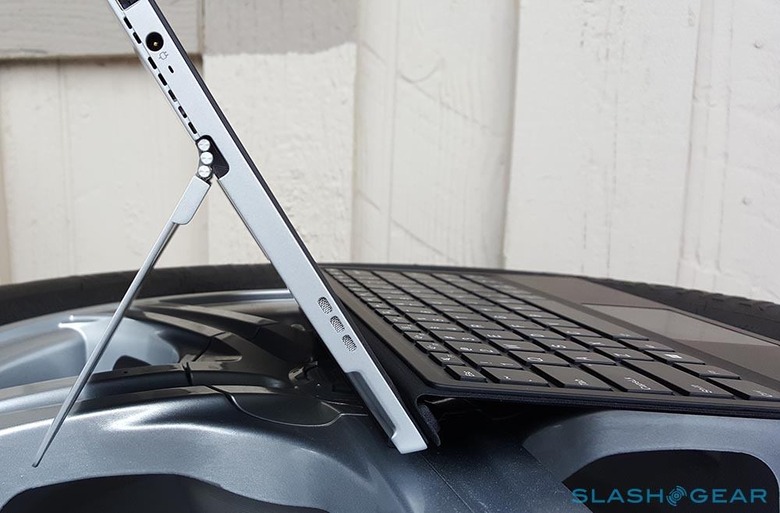 Because this model will appeal to professionals, it's important that usability gets a large design focus, and it does. The tablet portion features a set of volume rocker buttons, the power button, a USB-C port, USB Type-A 3.0 port, and an audio jack for headphones. That's a nice array of ports for a device like this, and while you'll probably still want to have a USB-C dongle on hand for video options, you won't be entirely out of luck if you're caught without said adapters.
The real winner here is the display, a very bright and highly saturated (but not too much so) product that'll please just about everyone: artists, photographers, graphic designs, and movie-lovers. The screen brightness can be set very high, so there's no issue seeing it in bright environments.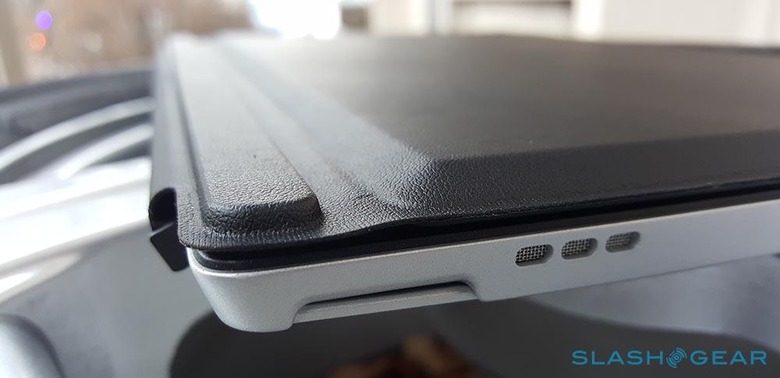 Coupled with the Lenovo Active Pen, you could certainly use the Miix 510 as a primary device for any number of things: designers could use it to create 3D models or digital sculptures, artists could use the combination (stylus and tablet) for drawing and digital painting. And, of course, it's perfectly suitable for taking handwritten notes, whether it's during a company meeting or in a mathematics class.
Issues
Issues come in two varieties: problematic elements and subjective elements. There's nothing decidedly problematic with the Miix 510, and that's great. There are some subjective elements that may displease certain users more so than others. One of those elements is common to 2-in-1 PCs: the keyboard has a bit of flex, so you'll want to use it on a flat desk or table. This doesn't seem to bother some users, but it does feel awkward to me. The problem isn't severe — the flex is very slight.
The other issue is the keyboard layout. The biggest issue here is the right Shift key, which is small in size and placed to the right of the "Up" arrow key. This differs from many keyboards, which have a full-sized right Shift key located above the arrow keys.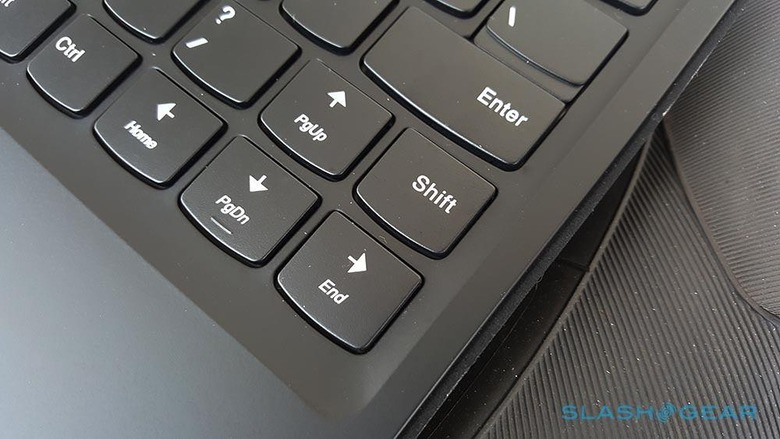 It's not a huge problem, but if you're not used to typing with this keyboard layout, that small Shift key will cause you to fumble for a little while. As with all things, though, you will get used to it in time with enough practice, so it's up to the user whether this is any significant annoyance.
Finally, the audio coming straight from the Miix 510's speakers isn't anything to call home about, but we didn't expect it to be. The highs and mid notes are fine, but the bass is lackluster. It's perfectly suitable for listening to things while working, but you'd want to have a pair of headphones nearby for any movies or music.
Wrap-up
The Lenovo Miix 510 isn't a Surface, but it's a suitable substitution. Lenovo's latest 2-in-1 PC packs a bunch of features we're excited to see, wrapping them all up in a stylish shell. The display is great, as is the kickstand and overall design, and that's just scratching the surface. The Miix 510 is a PC for professionals and those serious about their work...and the best part is its $600 starting price, undercutting the Surface Pro 4 by a couple hundred dollars. Available now from Lenovo's website and other retailers.
Note: The stylus is an optional accessory priced at about $40 USD.