Review: Lenovo C40 -- a general purpose all-in-one PC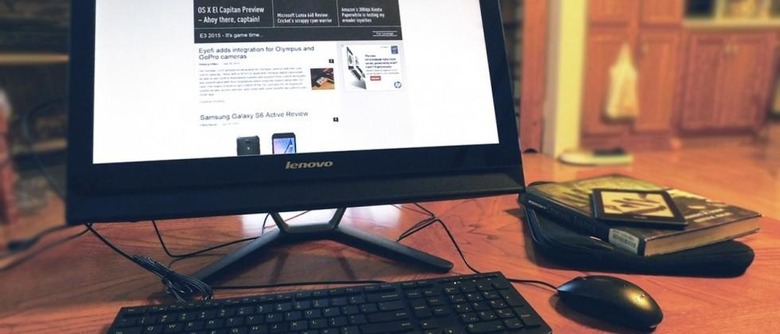 Lenovo is most vocal about its laptops, but the company has more than a few all-in-one systems, some of which we've seen in the past. Latest to join them is the Lenovo C40, which recently launched and brings with it — with this particular model, at least — AMD hardware. This all-in-one has a relatively modest price and mid-tier specs, making it a nice general-purpose system for those who need to do school assignments, prep spreadsheets, or play a few games. Read our full review to find out what all it offers!
Hardware
The Lenovo C40 is a moderately thick all-in-one PC running Windows 8.1. In this case the system uses AMD hardware, though Lenovo's website shows there being a couple of Intel hardware options, as well. The display is a crisp 21.5-inch Full HD LED touchscreen offering, and joining it is an included keyboard and mouse (both have wires, but you could use your own Bluetooth hardware if you wanted). For this reason it isn't the attention grabber Lenovo's A740 is, but the trade off is that the price is far more accommodating of most budgets.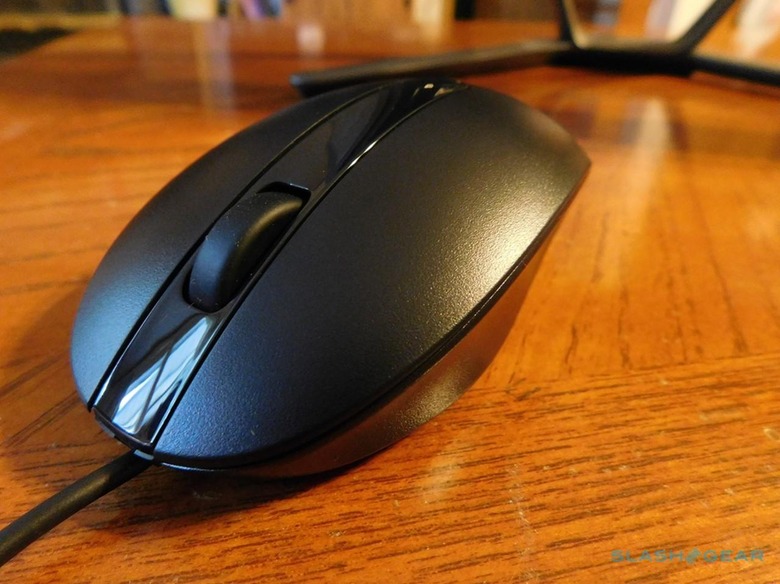 The mouse is your typical all-black wired offerings with a laser and pair of buttons, as well as a scroll wheel. It plugs into one of the USB ports (of which there are several), and works just fine. The keyboard is the same, though it does have atypically wide and somewhat shallow keys, which makes it more pleasant to use than the generic keyboards with narrow, tall keys. The keyboard, likewise, plugs into a USB port.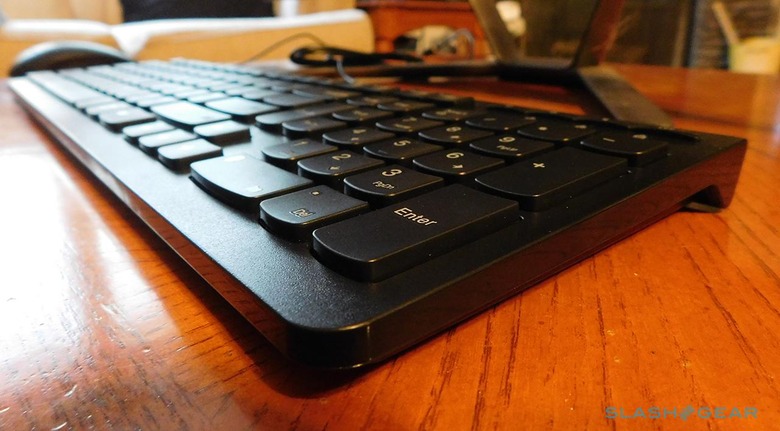 The AiO has two sections of ports, one on the back of the display and one along the left edge. The edge includes an SD card slot, pair of USB ports, and such while the rear panel has the port for the power adapter, as well as Ethernet, a few extra USB ports, and two HDMI ports. It is positioned in such a way that the cables won't interfere with adjusting the display's stand, though the cables can be weaved through the stand's centermost portion to help keep them contained.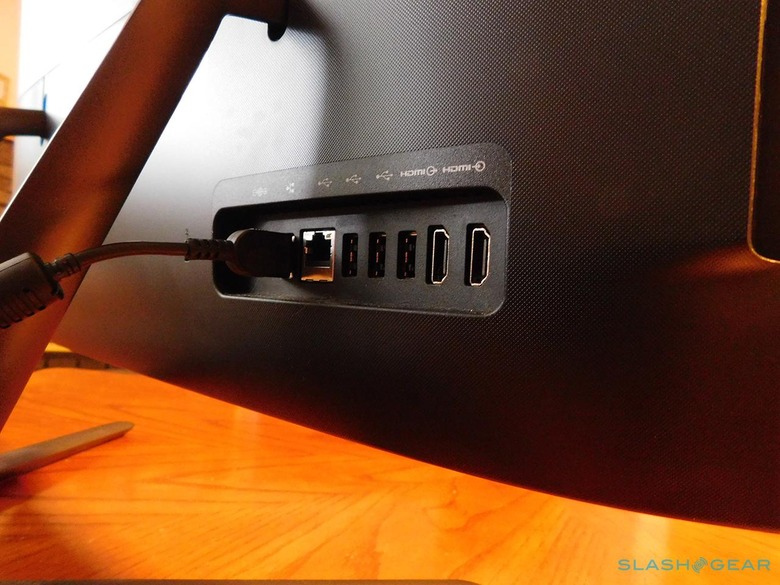 The back of the PC has a rounded design with a recessed upper edge and somewhat rough texture (though it is not unpleasant). The only complaint, perhaps, is that the texture makes it a little harder to wipe off any dust that settles onto the panel. The stand, meanwhile, is made of metal and has two hidden screws beneath a rubber flap for attaching and removing the feet as needed. This makes it a quick process to store or setup the C40.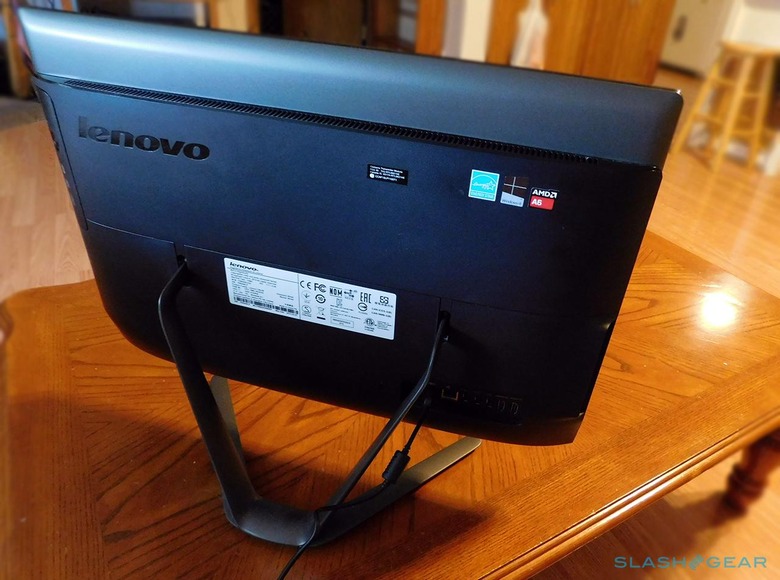 The front of the C40 has the touch display framed by somewhat generous black bezels and a long speaker grille along the bottom edge. The power button is located on the right edge of the panel. The display can be tipped upward and downward to generous angles, though it cannot be positioned fully flat for use as a touch-based gaming panel (for a game of chess and similar). This isn't surprising, though, since the C40 isn't designed for that collective of users.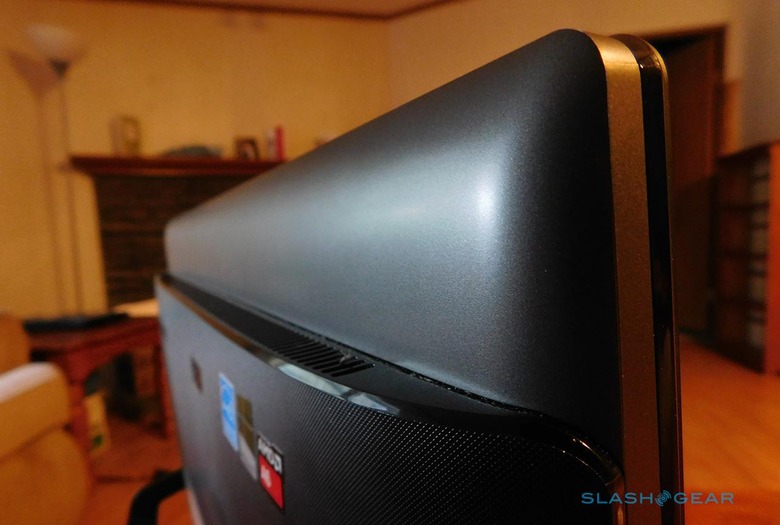 As far as specs go, our particular C40 features an AMD A6-6310 1.80GHz processor and 8GB of RAM, as well as AMD graphics and a 1TB 7200 HDD. Audio is delivered via a pair of 3W speakers complemented by Dolby Advanced Audio v2, and there's a 720p webcam built into the display. Bluetooth 4.0, 2 USB 3.0 ports and 3 USB 2.0 ports, an integrated DVD drive, and multi-touch support rounds out the features.
Software
As mentioned, the Lenovo C40 features Windows 8.1 and given that it is a Lenovo offering, you can expect to find it pre-loaded with some of the maker's own software. This includes Lenovo Rescue System, Assistant, Support, Lenovo Education Games, and Lenovo Cloud Storage (with 5GB free). There's also McAfee Internet Security and Nitro PDF Reader, Skype, CyberLink Power DVD, and CyberLink YouCam.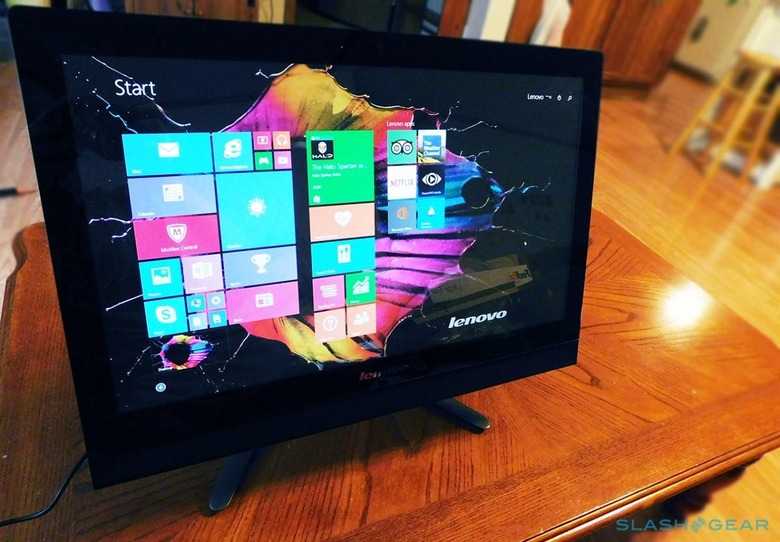 Performance
Performance is excellent if you're using it within its means. As you can see from the benchmarks below, it falls at only about half the results of the A740, as an example. It is fine for watching movies, downloading things, and running the software the average Windows user wants to run. You'll also be able to use it to play games as long as you're not expecting gaming machine performance. Nothing about the system hiccuped or presented issues. Web surfing and Windows use were both snappy and responsive.
Conclusion
The Lenovo C40 costs $599.99 USD, and so falls into the mid-tier — it is within the budget of many PC shoppers, and so meets the sweet spot between budget-friendliness and performance. Those who need a home PC, a work PC, a school PC, will all find the C40 will serve their needs just fine.
The only complaint is that you get a wired keyboard and mouse instead of Bluetooth offerings (which, no doubt, helps keep the price down), and so if you use those you're going to have a bunch of wires on your desk. Swap them out for wireless versions and the C40 will be perfect for most users.