Review: Lenovo A740 -- a sleek all-in-one desktop PC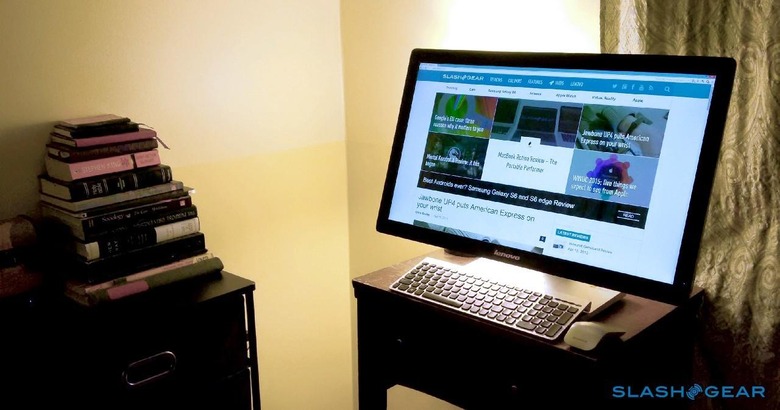 Lenovo has a bunch of laptops and tablets, and we've been reviewing them over the months as they roll out (check them out in our Lenovo Hub!). The company also has desktops of all varieties, however, and we've got our hands on its A740 all-in-one, a large and dense AiO that brings all the perks of a desktop with the compact and integrated convenience of an all-in-one system. It is many things: large, powerful, and beautiful to behold. Is it the right AiO for you, though? Read our full SlashGear Review to find out!
Hardware
The Lenovo A740 is a large all-in-one desktop system with a brushed-metal design and smooth glass front. The display itself, which is quite heavy but surprisingly thin (in comparison to competing AiOs), is attached to a base packed with ports for all manner of peripherals. The keyboard and mouse, meanwhile, have a similar silver/gray color as the desktop itself, but the mouse is made of plastic; they both connect to the computer wirelessly.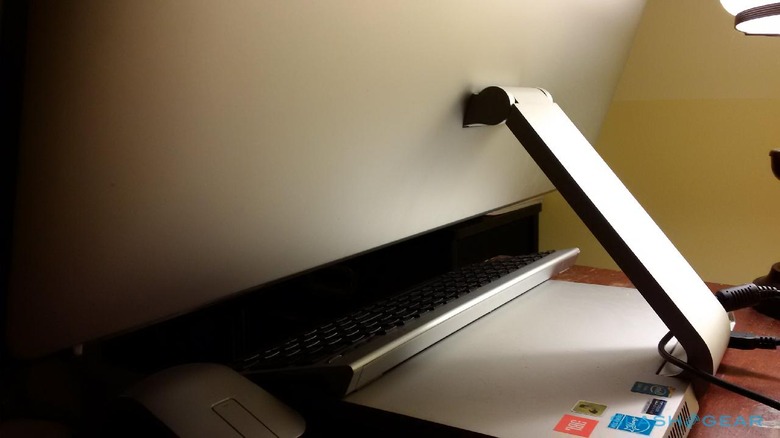 Anyone familiar with AiO systems will know this makes for a very clean desk, allowing one to get to work rather than fight with cords or work around large blocks of hardware. The desktop is quite heavy to hold, something that isn't surprising given the amount of hardware packed into it. The keyboard, meanwhile, is very light and naturally slanted due to how the battery portion is designed. The keys are low profile. The mouse is also very light, and has a pleasant curve that makes it fit in the palm well.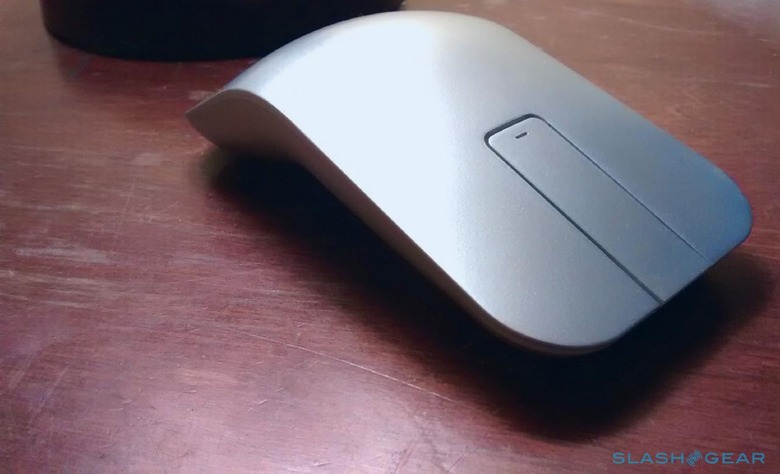 The Lenovo A740 features a 27-inch multi-touch LED all-in-one display with a resolution of 2560 x 1440; it is beautiful to behold, and wonderful to use for touch-based games and other activities. This is complemented by an Intel Haswell Core i7-4558U 2.80GHz processor and NVIDIA GeForce GTX 850A 2GB graphics. There's 8GB of RAM and a 1TB 5400rpm HDD and an 8GB SSD.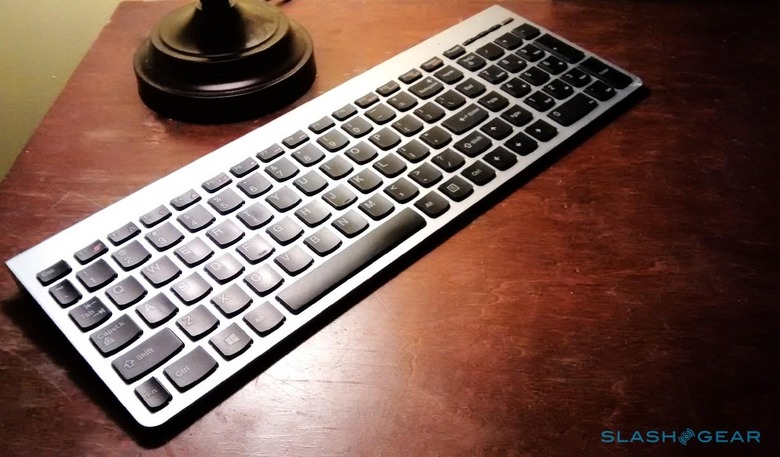 Connectivity is expansive, including NFC, 802.11ac (or 802.11 b/g/n) Wi-Fi, Bluetooth 4.0, four USB 3.0 ports, an HDMI port, an integrated microphone, 6-in-1 card reader, and microphone and headphones port. Built into the system are a pair of 5W JBL stereo speakers working alongside Dolby Home Theater. Rounding out its features is a 2-megapixel 1080p webcam.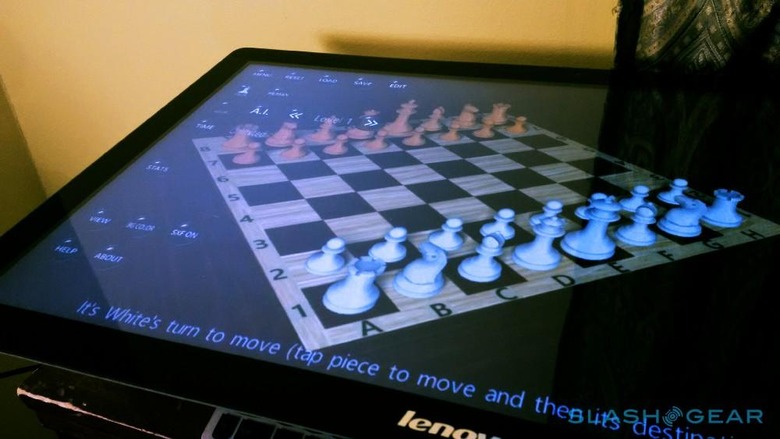 The hinge is a very notable part of the A740 — it allows the display to be adjusted to many different viewing angles, from -5 to 90-degrees. It can be arranged in the normal viewing arrangement for a monitor, for example, and on the other extreme can fold it down so that it is horizontal for things like playing chess with a friend. The hinge feels very solid, and doesn't show any trouble when it comes to supporting the ample display.
Performance & Software
Unlike some of Lenovo's PCs, the A740 isn't preloaded with much software, which is a good thing to many users. There is a McAfee LiveSafe free trial — how you feel about that likely depends on how you feel abut McAfee, but regardless you can uninstall it if you'd wish. There's also Lenovo Rescue System, which is a more welcomed inclusion — it allows users to backup their data and restore it when needed, as well as recover system files before booting into Windows.
As far as performance goes, the system runs as splendidly as expected given its hardware — you'll be able to play games just as well as perform video work or other more intensive tasks — 3D modeling, perhaps. We ran into no performance troubles at any point when using the system. The performance is confirmed by the benchmarks in the gallery above, which you can compare to other machine's we've reviewed in the Desktop Reviews portal.
Conclusion
The A740 is the perfect all-in-one in many ways. The design immediately catches the eye, being both sleek and sophisticated. The performance is top-notch, as is the hinge that brings it all together. The ability to articulate the display in so many angles opens up its usefulness, perfectly complementing the touchscreen functionality for what ultimately feels like more than a mere desktop PC.
Prices start at $1,499.99 USD.