Review: Bear notes app for Mac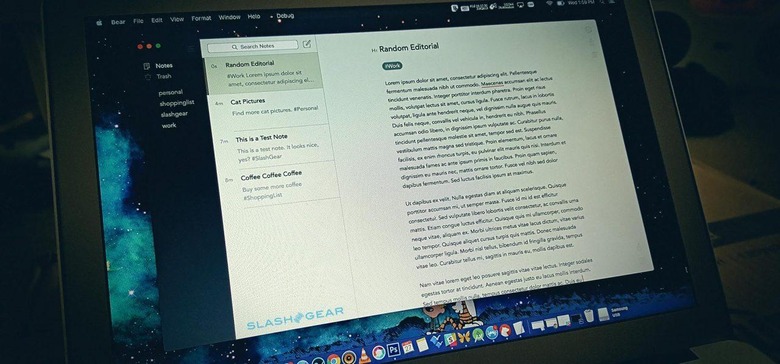 A new app has caught the attention of Mac users far and wide — it's called Bear, and it promises to be the only notes app you need. Getting your hands on Bear isn't easy, at least not right now, as it is still in beta and rolling out to interested users in limited batches. If you're waiting for your own download link, be patient — Bear is absolutely worth the wait. Apple's own Notes app looks positively archaic in comparison.
I've never been an Evernote fan; it feels too convoluted for my needs. Ulysses app has long been my go-to favorite writing app, and in many ways Bear is similar to it. Both are Markdown apps, though Bear uses its own special flavor, the software's only big issue. Both keep all your documents — notes, in this case — assembled in a single place, they both present everything in a three-pane interface, and they both support Apple's mobile devices.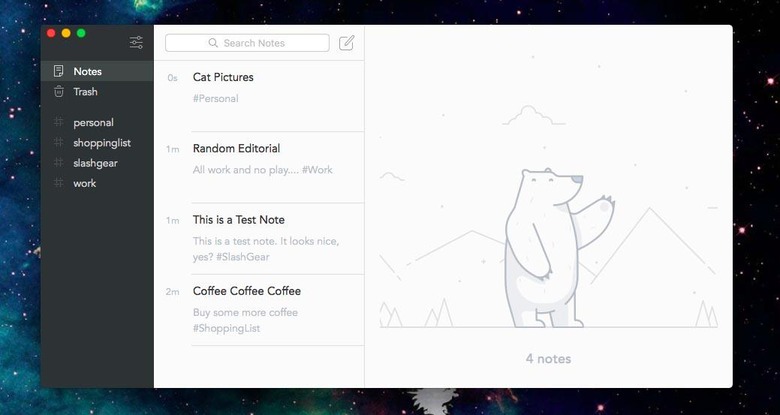 Whereas Ulysses keeps everything organized with groups and filters, the team behind Bear has elected to go with tags. Users insert any hashtag they would like into a document, and that tag is added in the left-most column. Click on that hashtag, and you'll only see notes with that tag in it. It's a very simple but effective way to organize things, though no doubt some users will find the hashtag arrangement at odds with their document (you can't include a hashtag'd word as part of your prose, since it will be transformed into a tag).
As you can see above, adding "#slashgear" to a document causes it to show up as a dedicated tag in the left column. Alternatively, users can also search for documents that contain a specific word, making it easier to find a specific item that may not be logically tagged based on whatever it is you're looking for. The two options are entirely sufficient; you could, for example, add "#work" to anything work-related, "#personal" to any personal notes, "#reminders" to any reminders you've created for yourself, etcetera.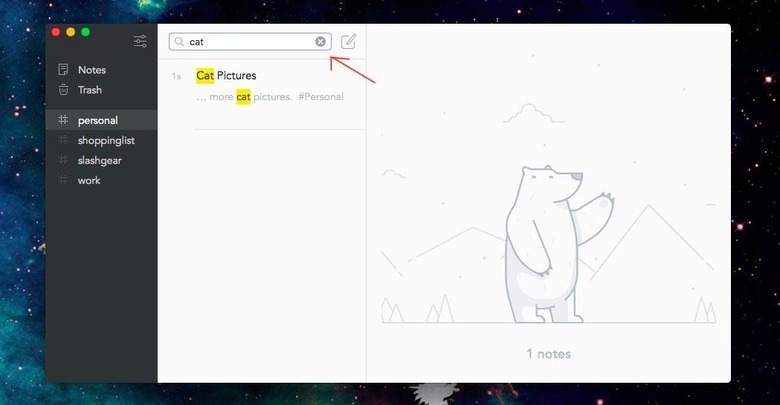 Clicking "Notes" in the app shows you all of your notes, regardless of tags, in the center column. There's a dedicated trash button, but you can also right-click to delete, copy, or pin a note. The small pen icon on the bottom right of the editor reveals the Markdown info, though it wouldn't open for me (remember: the app is still in beta). Bear also shows important document details like word and character counts, how long it takes to read, which device was used for the last edit, and document previews in various forms.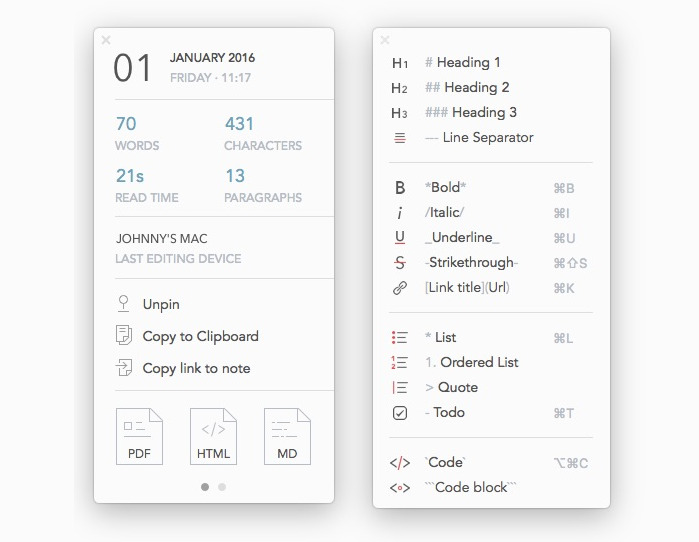 All things considered, Bear is a great app not just for storing notes, but also general bits of writing that you don't want scattered around as individual document files. Will it replace Ulysses for me? No, at least not in its current form, as I do feel Ulysses has more robust organization for more demanding writing needs. However, Bear is already a serious contender, and based on some Reddit posts by Shiny Frog (the company behind the app), it'll only get better as more features rollout.
Head over to the app's website to sign up for the beta. You can check out recent posts about it in the Bear app subreddit, as well.