Review: Acer Aspire E15 Windows 10 laptop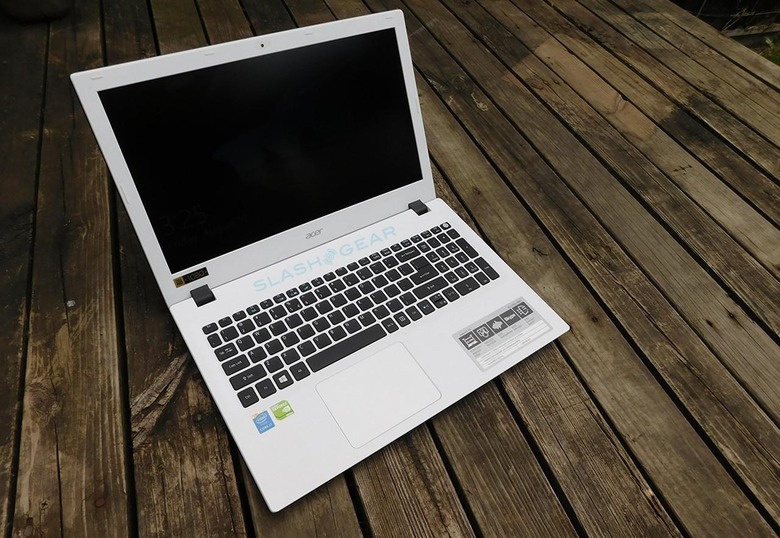 Acer has new laptops running Windows 10 in the pipeline, and we've gotten our hands on one of the first models among them: the Acer Aspire E15 laptop running Windows 10. This is part of Acer's E Series Windows 10 notebooks, and arrives at the same time as the maker's new Acer Liquid M220 smartphone. Both the new laptop and the smartphone sport the same design stylings; brand fans will find the two together complement each other well. How does the laptop hold up in everyday life, though? Read our full SlashGear Review to find out!
1. Hardware
Acer's new Aspire E15 laptop has, as mentioned, the same textured plastic exterior design as the maker's newly US-launched Liquid M220 Android smartphone. Metal is nowhere to be seen on the laptop — even the hinge covers are plastic. Typically this wouldn't be considered favorable, but Acer has again demonstrated that it knows how to handle plastic. Nothing about the all-plastic construction is unappealing — it does not look cheap, it does not feel cheap, and it serves to make the laptop surprisingly lightweight despite its large overall size.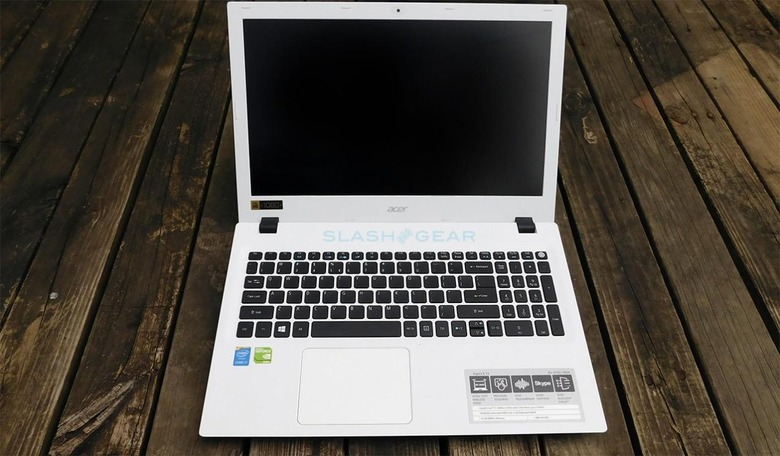 The top panel is dark plastic with a brushed metal-like design and a rubberized Acer logo. The interior white panels feature a shallow criss-cross texture. The bottom features four rubber feet, and though the encased battery does protrude slightly downward, it is just shallow enough for the laptop to rest flat on a desk or table. The keyboard, meanwhile, is styled akin to what you'd get on a MacBook, with shallow somewhat wide keys; they have a slightly rough texture, however, rather than being smooth.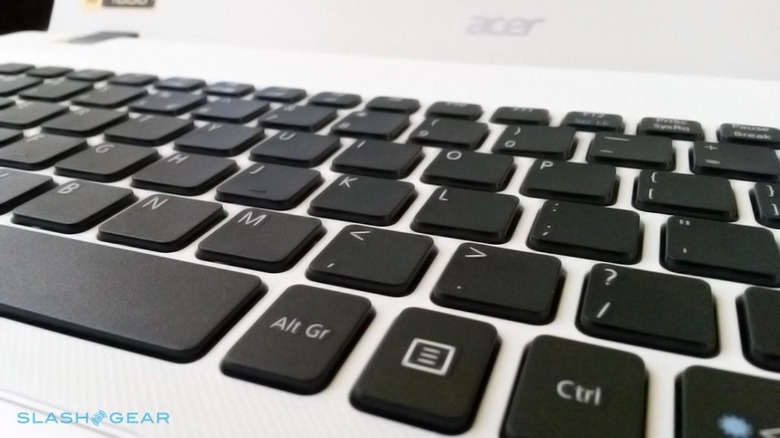 The laptop's left edge features a large air vent, Kensington lock, VGA, Ethernet, HDMI, a pair of USB ports, and a combination audio jack. The front of the laptop has an SD card slot and LED status indicators. The laptop's right edge features another USB port and the power adapter's port. The speaker grilles are located near the front corners on the laptop's underside.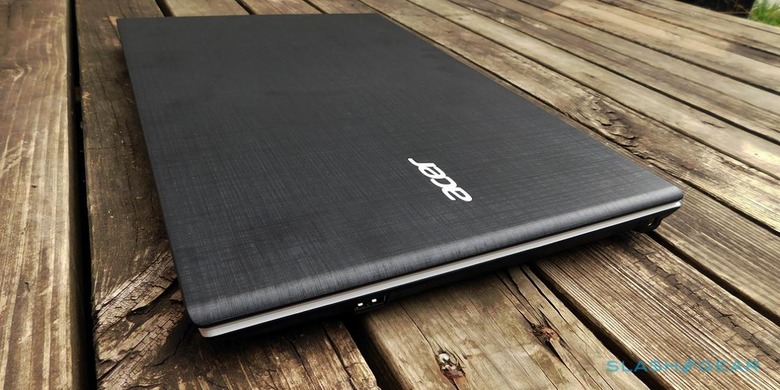 To be specific, this is the Acer Aspire E5-573G-7034 notebook. The laptop packs in notable hardware — there's a fifth-generation Intel Core i7-5500U 2.4GHz processor, NVIDIA GeForce 940M with 4GB of DDR3 VRAM, a 15.6-inch Full HD (1920 x 1080) widescreen ComfyView LED-backlight display, 16GB of RAM, a 1TB 5400rpm HDD, Acer's TrueHarmony sound system, 802.11ac Wi-Fi with MU-MIMO tech, Bluetooth 4.0, and a 720p webcam.
Ports include two USB 3.0 slots, one of which is an always-charging slot (meaning it will keep charging your phone even if you've powered off the system); there's also a single USB 2.0 port. The HDMI slot has HDCP support. The touchpad, meanwhile, is large and smooth, and as you'll note in the images, the keyboard is joined by a dedicated numeric keypad. Rounding it all out is a 2500mAh 4-cell battery.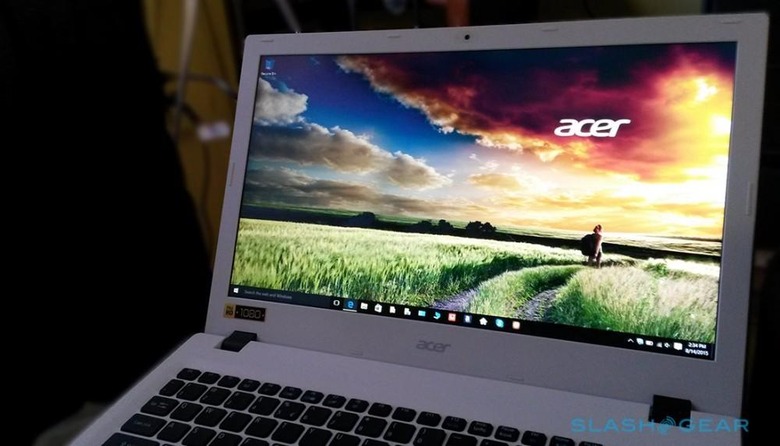 The display is very beautiful to behold — it far exceeds the quality of many competing Full HD displays you'll find on laptops, being simultaneously matte and incredibly crisp. The touchpad and keyboard join the display in offering a wonderful overall user experience — the trackpad doesn't skip, the keys don't wiggle in their slots, and the response is instant when using both.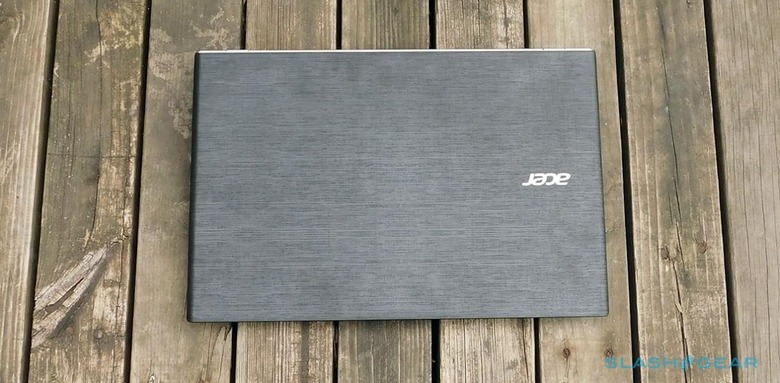 2. Software
As far as software goes, the Aspire's most notable offering is Windows 10, which runs very well on the system. We've previously detailed everything you need to know about Microsoft's newest operating system — be sure to hit up our related portal for all the details.
In addition to Windows 10, the Aspire E15 is also Skype-certified, which means those who frequently use the VOIP software will find the experience overall very good. The microphone is more than adequate enough to pick up your voice when talking, and Skype itself runs well on the laptop.
The only software complaint is that the system comes pre-installed with McAfee LiveSafe Trial, which doesn't tend to be a favorite among consumers. You can uninstall it if you wish.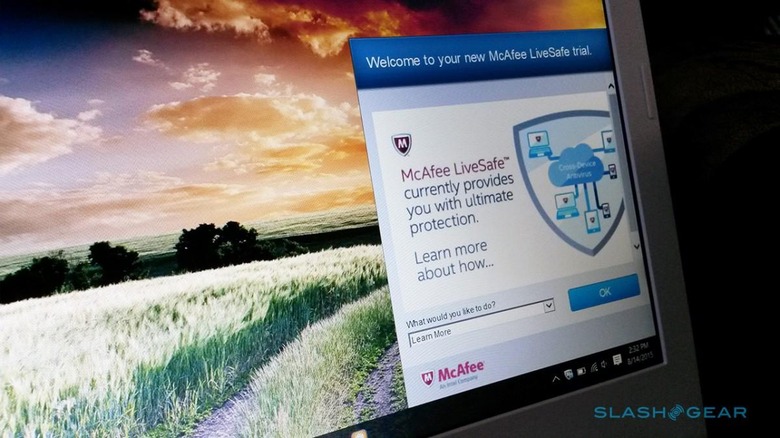 3. Performance
Performance is as expected, which is to say that there were no problems and the laptop operated as expected based on the hardware it has. Windows 10 runs very smoothly on the Aspire E15, and we didn't encounter any problems doing all the basic things one does on a laptop: web surfing, music playing, video watching, downloading, etc.
If there's any complaint to be had about the device's performance, it would be focused squarely on the battery life — you can expect to get up to 5 hours, says Acer, and we found that to largely be true, though aggressive usage will cut that number down.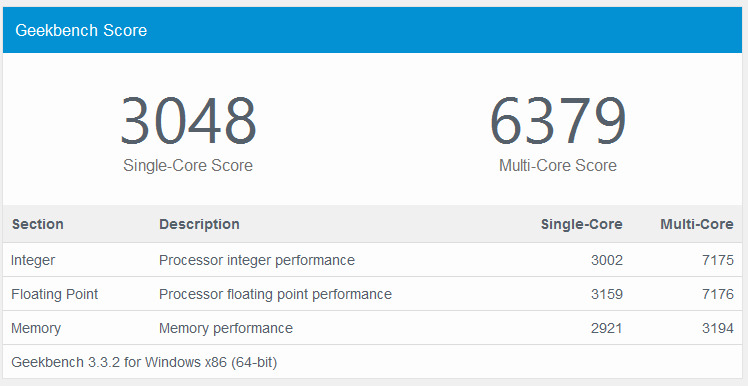 Conclusion
Acer's new Aspire E15 laptop has a lot of things going for it — it is large but lightweight, the design is attractive despite the plastic shell, and the display is very pleasant to look at. Acer has coupled these positive points with a nice array of hardware, and the end result is something that holds its own in terms of both form and function.
Business users, students, gamers on a budget — all will find the Aspire is a good value for its price tag, and as long as you don't mind all-plastic bodies, you'll not find anything particularly disagreeable with Acer's new Windows 10 machine.
Price starts at $799.99 USD.