Retro Speak & Spell toy with updated voice will launch later this year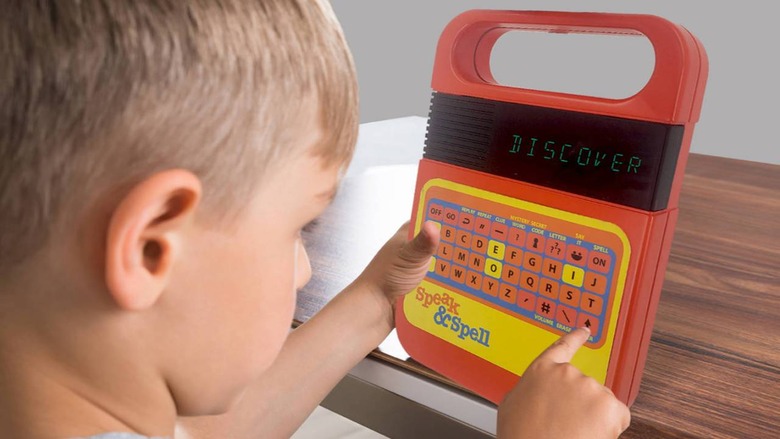 The popular kids gadget Speak & Spell commonly found in households through the 1980s is being revived by company Basic Fun!, according to a new report. The revived model brings the same iconic look as the original, including the bulky shape and physical keyboard. Though the iconic robotic voice remains, it has been tweaked to improve its pronunciation, meaning it won't sound quite how you remember it.
The original Speak & Spell was introduced in 1978, offering kids an advanced — for the time — gadget that prompted them to spell words in a now-retro voice. The child typed the words using the device's keyboard, each letter appearing on the small display as they typed, and then pressed a button to submit their answer. Correct spellings would be rewarded with the robotic phrase, "You. Are. Right."
The model was phased out in the early 90s, and obviously is quite obsolete in modern times. That doesn't make it any less appealing from a nostalgic standpoint, nor any less useful for parents who want an educational gadget for kids who are too young to trust with a more expensive tablet or phone.
That's where the new Basic Fun! model will come in. According to Gizmodo, the updated model will feature the same iconic look, but with a somewhat more modern LCD display. The big change will involve the robotic voice, which is based on different, newer technology.
The original model's synthesizer has been replaced with voice recordings simply processed to imitate the synthesizer's robotic tone. This eliminates that bit of nostalgia, but results in clearer words that — unlike the original model — are more likely to be consistently comprehensible. Other changes will include spoken instructions for each game mode and (we hope) better battery life.
The model will be available from Basic Fun! for $25 this autumn.