Retro Mini Media Centre project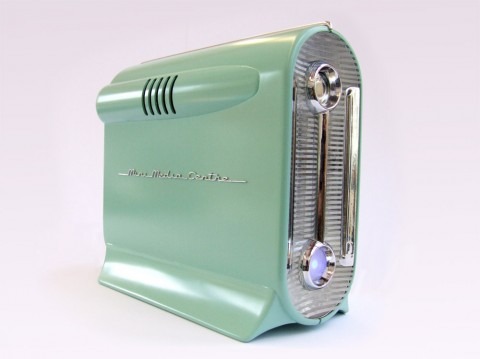 Retro PC designs aren't anything new, but they usually drag us all the way back to a time when every self-respecting household had  cigar box, or even further to some quaint Steampunk era.  Thomas Thomassen took a decidedly more 50s Americana theme for his Mini Media Centre, the final project for his degree in "modelmaking for design and media", based around a Mini-ITX board.
The casing was vacuum-formed and then select parts sent away to be professionally chromed.  Meanwhile, a laser-cutter was used to make the port holes at the back and the text along the side. 
The project was actually completed all the way back in 2006, when Thomas demonstrated the Mini Media Centre at a show in London.  It'd be interesting to see what he could come up with now, given the proliferation of small-form-factor 'boards capable of high-definition video decoding and media sharing.
[via Red Ferret Journal]