Retina iPad mini arriving in October, based on LG display shipments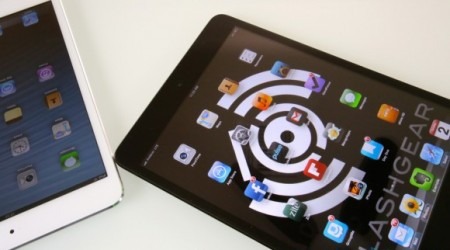 Rumors have been buzzing about a Retina-equipped iPad mini for quite some time now, with recent reports noting a 2014 release date, but according to a new report, we could see the high-res iPad mini sometime in October, based on reports that LG is cranking up shipments for display units in the third quarter.
According to DigiTimes, LG is said to be "making headway" in producing Retina-quality display panels that are earmarked for the next-generation iPad mini, and the company expects to ship around 2-3 million display units per month in order to meet Apple's rumored launch date for the new iPad mini in October.
Of course, DigiTimes hasn't been too reliable in the past, so we'd take this with a grain of salt if we were you, but an October release date would put the new product cycle at just over a year for the iPad mini, which lines up perfectly with Apple's update cycle for its other products. In the end, an October release date sounds very reasonable. And a Retina-ified iPad mini also sounds reasonable at this point.
DigiTimes' report is vastly the opposite of previous reports of a 2014 release for the Retina iPad mini, with a small refresh of the tablet later this year (which won't be Retina-equipped). This means we'll see a new iPad mini in October (or sometime in the fall), and then Retina model won't come until next year, possibly in the spring time.
Digitimes also reports that the fifth-generation iPad will be lighter, smaller, and more powerful — a rumor that seems pretty obvious at this point, but the design is said to be a lot like the iPad mini, with the thinner bezel on the sides. Obviously, we'll have to wait and see what Apple does in a couple of months, but we'll no doubt be seeing iPad refreshes.
SOURCE: DigiTimes