Republican Senator mad at Facebook for news bias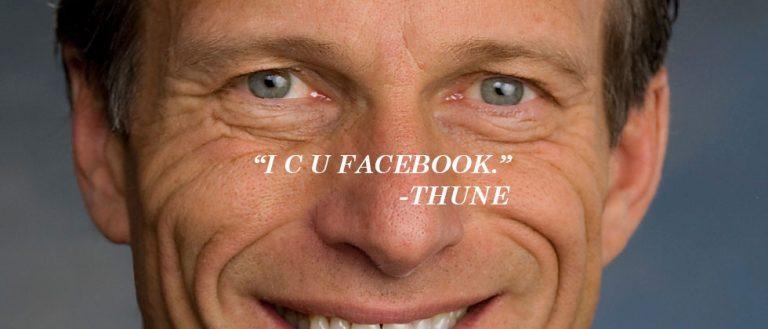 It would appear that Republican Senator John Thune has a problem with how Facebook may or may not filter its news feed. After a story on Gizmodo suggested that "several former unnamed Facebook employees" spoke about surpressing "conservative viewpoints" and "artificially highlighted other news stories" – words from Thune's press release. He's displeased with how Facebook chooses to use their news aggregator, suggesting that if these claims are substantiated, "Facebook's assertion that it maintains a 'platform for the people and perspectives from across the political spectrum' misleads the public."
Vice President of Search at Facebook, Tom Stocky, posted a response to the Gizmodo story half a day ago on Facebook itself. The official, real Mark Zuckerberg "liked" this status, so we can assume he agrees fully.
"My team is responsible for Trending Topics," said Stocky, "and I want to address today's reports alleging that Facebook contractors manipulated Trending Topics to suppress stories of interest to conservatives. We take these reports extremely seriously, and have found no evidence that the anonymous allegations are true."
What's absurd about Thune's letter is that it does not call out any sort of law or regulatory measure which would stop Facebook's filtering of news, if indeed they did filter news as these anonymous tipsters suggest they did, or do.
Instead, Thune only calls out Facebook on their own promises to maintain an "open culture" and stick to their mission "to make the world more open and connected."
You can see Thune's full letter in PDF form thanks to the US Senate this afternoon.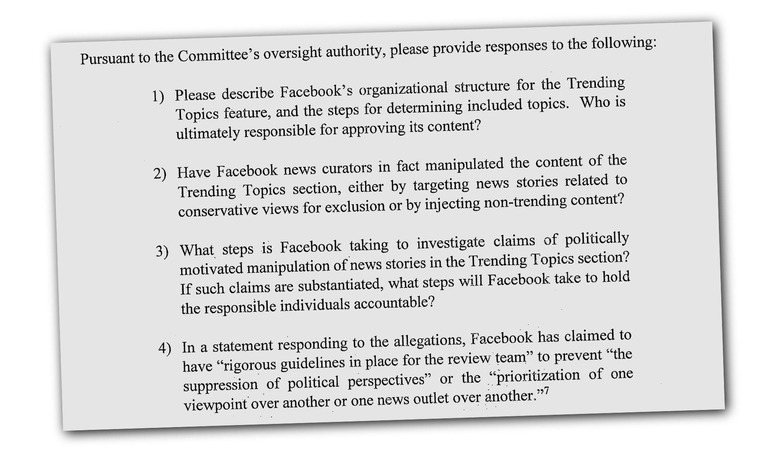 I'd challenge Thune to show proof that he is sticking to his assertion of being "senior most Republican on the Commerce, Science, and Transportation Committee" with the US Senate, according to his official biography.
Does being "most Republican" mean that Thune is required to catch organizations like Facebook, whom, being considered a "Liar Liar Pants on Fire", may have disobeyed their own mission to filter the news feed on the side column of their website as little as possible?
How dare they!
Good for you, Thune. You're a champion of the law.
Well, not the law. This has little to do with things that are actually illegal. You're a champion of making sure Facebook delivers as many news stories about Donald Trump as it does about Bernie Sanders and Hillary Clinton. Well done!