RePhone Kit is an open source modular mobile phone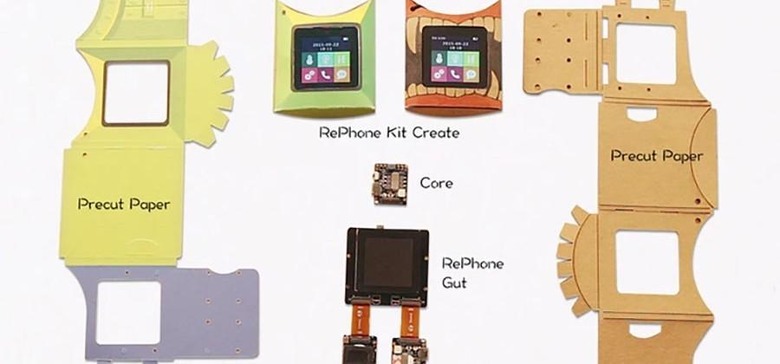 People who like open source electronics platforms will get a kick out of the RePhone open source modular phone kit. The kit allows users to create their own mobile phone using modules, software, and customizable phone enclosures. The enclosures are made from pre-cut paper.
The components in the kit allows tinkerers to give anything they see around them the ability to communicate over cellular networks. RePhone has GSM and 3G functionality and is a set of tools that lets anyone design their own phone.
There are three different kits including the RePhoen Core module GSM+BLE, RePhone Core Module 3G, and RePhone Kit Create. The RePhone Kit Create has a RePhone core Module GSM+BLE, audio module, 1.54-inch touchscreen, 520 mAh battery, and two pre-cut Kraft Papers to create the enclosure for the phone.
The main GSM+BLE module is tiny and can fit on just about anything and has a microcontroller, xadow interface, USB, 20*GPIO, supports analog audio interface with a speaker, dual mic, and headset port, and has a NANA SIM slot. It works on HSPA /WCDMA 850/1900 networks. RePhone is on Kickstarter seeking $50,000 and has raised over $143,000 so far. A pledge of $12 or more will get you a core module and a pledge of $39 or more will get you a RePhone kit.
SOURCE: Kickstarter