Renegade 3D pen uses plastic bottles and bags as filament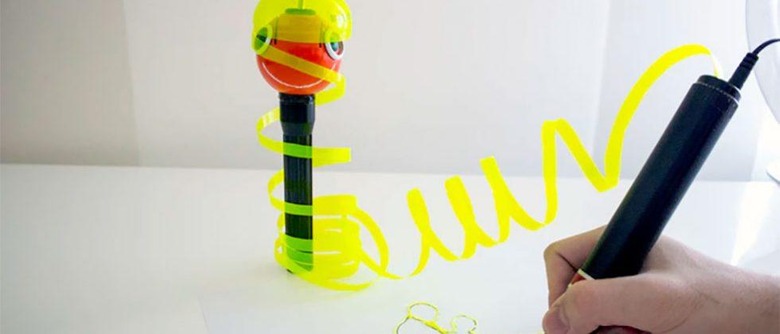 There are several 3D printing pens out there that use plastic filaments to create 3D structures that you can actually hold in your hands, one of them is the 3Doodler we spent time with back in January of 2015. The thing that all of them had in common was that the filaments used tended to be expensive. That has changed with a new 3D pen that is on Kickstarter now called the Renegade. This pen can print using those normal filaments, but the really cool part comes in how it allows you to use plastic from bottles or old bags to build your artistic creations.
The Renegade pen has a screw-feeder mechanism and heating system. This allows the pen to transport, destruct and melt the plastic tape produced by the ChupaCut plastic bottle shredder. That rotating screw head crams the plastic forward evenly and extruded the melted plastic from the nozzle. The plastic cools quickly giving you a stable 3D structure.
The maker says that the device has "practically no material limitations." The pen is designed to use 5-7mm strips cut from PET plastic bottles, plastic bags, or plastic files with thicknesses ranging from 0.14 to 0.35mm. It can also use standard PLA, ABS, nylon, TPE, HIPS, wood, and other filaments with a 1.75mm diameter.
The Renegade pen comes in matte black or matte white and has a removable attachment and a spool for tape. The ChupaCut can create 3, 6, 9, or 12mm plastic tapes. The Renegade pen is on Kickstarter seeking a bit over $32,000 and has raised over $38,000 as of writing. The Renegade pen and one spool sells for about $78. If you want the pen along with a ChupaCut bottle shredder, you need to spend about $118. A set with the pen, cutter, and fancy stand sells for $131. Shipping is estimated or January.
SOURCE: Kickstarter