Renault Alpine A110-50 takes on Alps and inspiration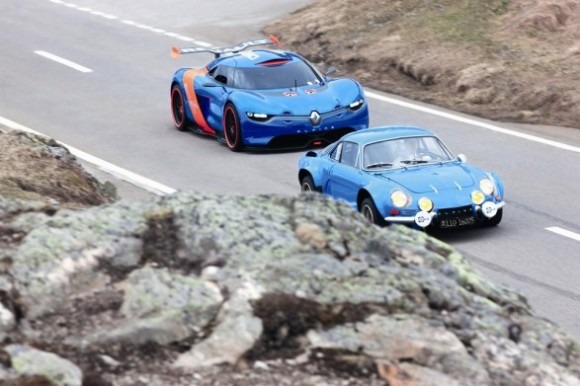 When it comes to performance cars and heritage, it's not just Italian marques that have all the history: Renault has some pretty impressive cars in its garage too. To celebrate the fiftieth anniversary of the
 "Berlinette", the French company created a new concept, the Alpine A110-50, and sent old car and new galloping around the Alps in a
 you can see after the cut.
At the wheel of the new car is
, who has been racing for Renault on and off since 1973. Renault's ploy with the video is to pretend that he's competing against his younger self in the original A110, though in reality it's
 behind the wheel for the external shots.
The concept has been given a few visual clues to link it to the original Alpine, including echoing the hood-mounted lights only now brought bang up to date with yellow LED rings. The blue is a new shade, again inspired by the original, while inside there's a Formula Renault 3.5 steering wheel with an integrated LCD screen.
Renault Alpine A110-50 Design:
As for the engine feeding those flame-spitting tailpipes, it's a Renault V4Y engine block, a 3.5 litre 24-valve 400hp V6 mounted in a mid-rear position and with custom crankcase (semi-wet), moving parts (pistons, connecting rods, crankshaft), valve train (camshafts and valve springs) and exhaust system. It's paired with an F1-style semi-automatic six-speed sequential gearbox, with paddle shift and a twin-plate clutch.
Sadly Renault isn't talking about the possibility of a production version, which is a shame since we reckon Ferrari, Lamborghini and the other supercar companies could do with a swift kick, Alpine-style.
Renault Alpine A110-50 – The movie with Jean Ragnotti:
[
Chris DiBona]