Reigncom's Iriver NV Dual-Display Navigation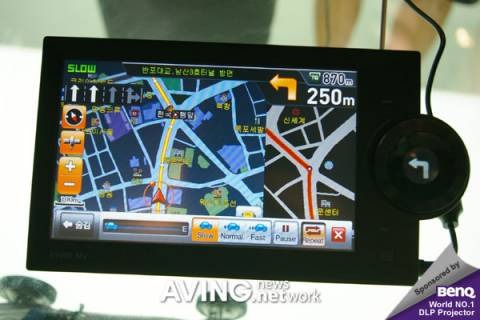 In a further effort to keep your eyes on the road, Reigncom has launched a dual display navigational unit. The primary display works just like most other navigational units, the second on the other hand is a simple PMOLED display the only shows the most essential of information, which in navigation mode seems to be the little turn arrown.
I assume the secondary display is detachable from the primary so you can position it in a more convenient location than the center of the vehicle, such as the steering wheel, just above the dash directly in front of the drive, and maybe even on the driver side front windshield pillar.
The specs are nothing to laugh at either, a 7" TFT LCD for the primary screen, the secondary is a 1.15" PMOLED. There is also a 1.3MP camera integrated and a "wheel click function", which if I had to guess is probably something like the click wheel. It dropped today for a suggested price of 498,000 KRW or about 535.35 USD, I don't think its available stateside, and I even doubt it would work here with the differing GPS systems, but once its done somewhere its as simple as re-fitting it to make it compatable.
Reigncom to launch dual display navigation 'iriver NV' [via AVING]