Refreshed 2013 Mazda MX-5 launches Japan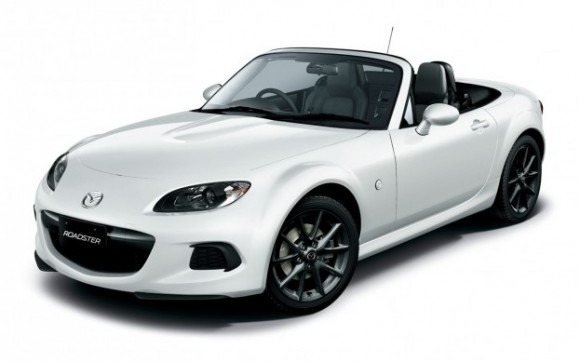 There has been a huge amount of news over the last few months centering on the Mazda MX-5 Miata sports car that's been around since the 1990s. We've seen a number of special editions and even some renderings of what a completely redesigned 2014 model might look like. The 2013 version of the Mazda MX-5 has gone official with its launch in Japan.
The 2013 version of the venerable roadster brings a refreshed front end and a couple mild performance tweaks. Mazda also fitted the car with a new pedestrian safety feature. It's not clear at this point if the US version of the MX-5 will get the same facelift or when we might see it in the states, presumably the two cars will be virtually identical. The refresh brings a new front fascia with a larger grill.
Versions of the car fitted with the power-retracting hardtop will get 17-inch wheels, and a new color called Dolphin Gray Mica replaces the previous Metropolitan Gray Mica. The car also now gets a tan interior color option for the leather seats. Mazda tweaked the engine computer on manual transmission cars provide more linear throttle response. The brake booster was also modified to increase brake modulation performance.
Mazda also trimmed some poundage off the car as well. The new safety feature causes the rear edge of the car's hood to pop up slightly when the vehicle senses of frontal impact under certain conditions to help reduce injury to pedestrians. That slight pop up of the hood creates more space between the hood and engine components to reduce the risk of pedestrian injury.
[via MotorTrend]