ReFlex flexible smartphone bends apps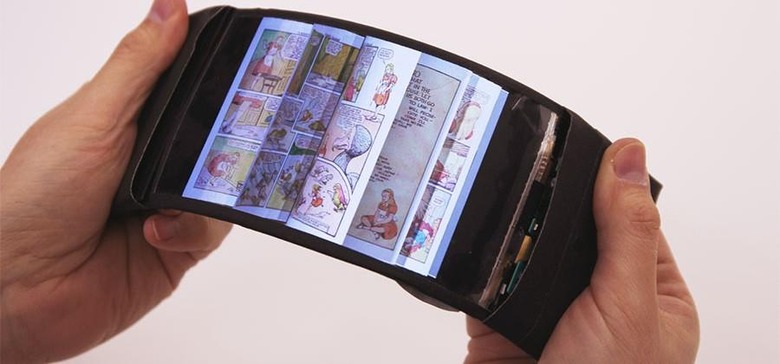 A group of researchers from Queen's University Human Media Lab have created an interesting device that is billed as the world's first full-color and high resolution wireless flexible smartphone. The device has been dubbed ReFlex and it gives users the ability to use tactile feedback when interacting with apps via bending gestures. The bending action allows the user to do things like bend the phone to the right side to flip pages as they would with a real book.
The harder the phone is bent, the faster the pages flip. The phone also gives vibrating feedback that allows the user to feel the pages as they flip through the user's fingers. The sensation makes it easier for the user to keep up with where they are in a document according to the researchers. The ReFlex device is based on a 720p LG Display Flexible OLED touch screen.
The operating system under the hood is Android 4.4 KitKat. Behind the flexible LG display are bend sensors that detect how hard the screen is bent and that sensor is available for apps to use as input. The device also features a voice coil allowing the smartphone to simulate forces and friction using highly detailed vibrations fed to the display. The vibration sensor and the bending action give more feedback to users when interacting with virtual objects.
In use, the vibration feedback and bendable screen let users do things like bend the screen to pull back the slingshot in Angry Birds. When the screen is released, a vibration jolt is felt as the bird launches across the screen. The team believes that bendable and flexible smartphone will be on the market in consumer hands within five years. ReFlex will be unveiled as a prototype device at the Conference on Tangible Embedded and Embodied Interaction in Eindhoven, The Netherlands on February 17.
SOURCE: Phys.org