Redbox video game stats shown in infographic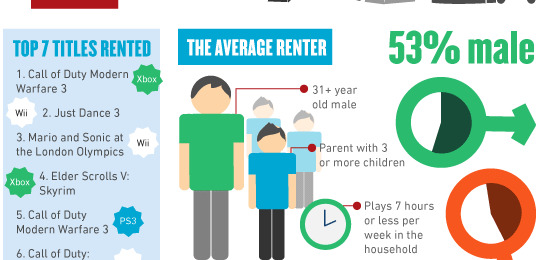 So in case you weren't aware, DVD rental kiosk magnate Redbox decided to step into the world of video game rentals a while back, and the service has now revealed some interesting statistics about how far it has come in its short time in this space. For starters, about 18 million games have been rented. There's much more than that in an interesting infographic that has emerged from the data.
Posted by VentureBeat, the infographic contains information such as the most popular console for Redbox game rentals – the Xbox 360. It accounted for 42% of the company's video game titles, followed by the Wii at 33% and the straggling PS3 in last place at 25%. The most popular titles were, of course, Call of Duty Modern Warfare 3, followed by Just Dance 3, interestingly Mario and Sonic at the London Olympics, and Elder Scrolls V: Skyrim.
The average renter was revealed to be a male of 31 years of age or more, who attended college, and spends only 7 hours per week or less gaming. The top five markets were, curiously enough, in no particular order, Wilmington, NC; Austin, TX; San Bernadino, CA; Fresno, CA; and Eugene, OR. Redbox faces mounting competition from by-mail services like Blockbuster and Gamefly, as well as emerging cloud services like OnLive. But it seems to have held its own.
[via VentureBeat]