RED Scarlet 2/3 camera revealed complete with pricing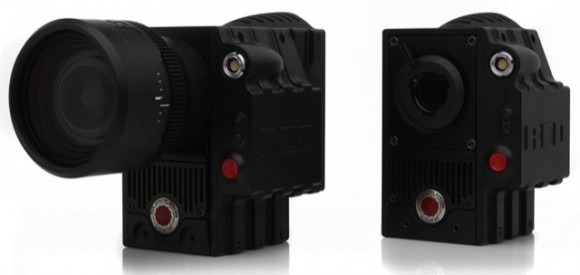 Indecently high-end camera manufacturer RED have outed more details and some tempting photos of their RED Scarlet cameras, together with a few new or updated accessories.  Pretty much as "entry level" as RED can manage, the Scarlet 2/3 will come in two bundles: the basic camera "brain" at $2,750, which can be used with various adapters to fit RED's own optics or those from Nikon or Canon, and the Scarlet 8X Fixed bundle, which for $4,750 gets you the "brain", a fixed 8x zoom, CF module, 2.8-inch touchscreen, REDmote, a battery and a travel charger.
Both bundles offer the same performance, namely 3k REDCODE RAW 120fps video recording (or scaled 720p/1080p 60fps recording), two 24-bit 48KHz independent microphone channels, and more still megapixels than you know what to do with.  There's also a 3-axis motion sensor and GPS, remote control via WiFi and more.  RED have also revealed some new Mini Prime lenses, specially designed for use with the Scarlet 2/3, ranging from 6mm to 50mm and priced at $950.
The Scarlet 2/3 bundles are expected to go on sale in May or June 2010, though that could change depending on firmware schedules and the like.  RED have also been showing off their new Electronic ViewFinder (EVF) – which packs an internal heater for low-temperature shoots – the new RED STATION stackable storage module, and the REDMOTE PRO, an update to their existing control plate.  They're also pushing out a new version of REDCINE-X, their software tool.
[via Akihabara]