Red Dead Redemption 2's first story trailer is here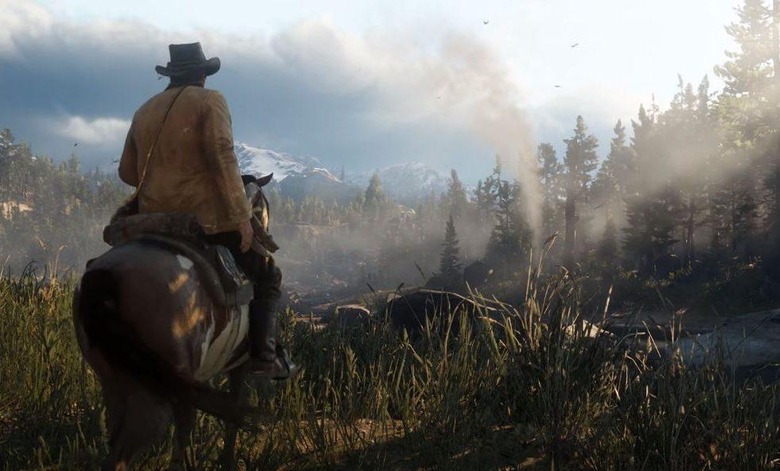 After teasing as much last week, Rockstar has released the first story trailer for Red Dead Redemption 2. This new trailer introduces to some of the characters we'll encounter as we play through the game, though as with any good trailer, it doesn't give too much away. What it does show should definitely get fans of the original Red Dead Redemption excited.
The trailer introduces us to the outlaw Arthur Morgan, who will serve as the player character throughout the game. Rockstar's blurb accompanying the trailer tells us that Morgan is a member of the Van der Linde gang, and that the story will follow them as they "rob, fight and steal their way across the vast and rugged heart of America in order to survive."
That little blurb confirms some long-running rumors about Red Dead Redemption 2. It's clear that this is actually a prequel, showing the exploits Van der Linde gang before it was split up prior to the events of the original Red Dead Redemption. The trailer even ends with Morgan addressing Dutch Van der Linde directly, so we can probably expect to see the return of some characters from the original title.
Does that mean we'll see John Marston? It seems likely, though the trailer makes no mention of his existence within Red Dead Redemption 2. Still, expect to see him show up at some point during the narrative.
Even though it was originally scheduled to launch this fall, Rockstar recently pushed Red Dead Redemption 2 back to spring 2018, so we're still a ways off from launch. Hopefully the arrival of this first trailer opens the floodgates for more, because what this trailer shows us looks great. We'll keep our eyes peeled for more content, so stay tuned.