Red Dead Online beta roll out starts tomorrow for some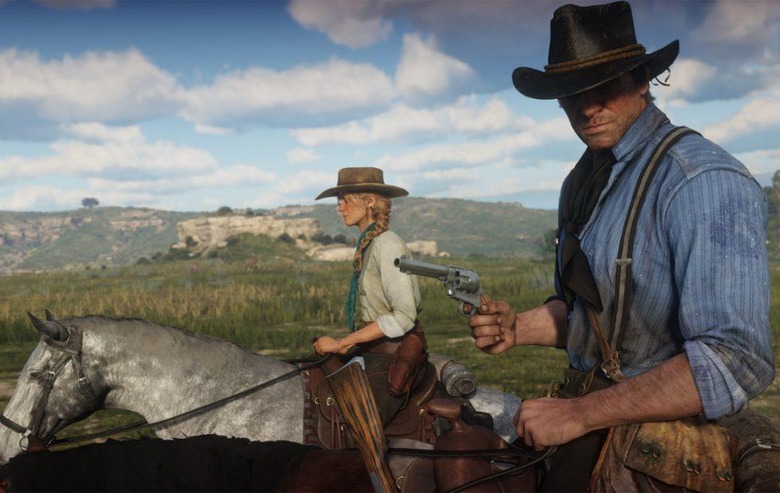 Shortly before Red Dead Redemption 2 launched in October, Rockstar announced that the game's online component, Red Dead Online, would launch in beta at some point in November. We entered this week wondering if Rockstar would meet that launch window, but even though it's getting pretty down to the wire, it looks like it will. Today, Rockstar revealed that Red Dead Online will be rolling out to all players this week.
Though everyone who owns Red Dead Redemption 2 will be playing Red Dead Online by the end of the week, not everyone is going to get access to the beta at the same time. Tomorrow, the Red Dead Online beta will go live for folks who bought the Ultimate Edition of Red Dead Redemption 2, while those who were playing the game on launch day – October 26 – will be able to play Red Dead Online on November 28.
After that, anyone who played the game between October 26 and October 29 will gain access to the beta on Thursday, November 29, and finally, the beta will open up to all players on November 30. So, even if you're not one of the first to be able to play Red Dead Online, you'll at least be able to join the beta in time for the weekend.
This day-by-day roll out has likely been put in place so Rockstar can avoid server issues, so hopefully by the time everyone has access, any stability problems will have been ironed out. As for what to expect from Red Dead Online, we're not entirely clear – Rockstar hasn't really shared many details beyond what it said when Red Dead Online was first announced last month.
In any case, we don't have much longer to wait until all is revealed. Variety reports that Rockstar will share more details about Red Dead Online on Tuesday, so we'll be keeping an ear to the ground for more. Stay tuned, because this should be a big week for fans of Red Dead Redemption 2.