Red Bull Air Force uses its wings in Malaysia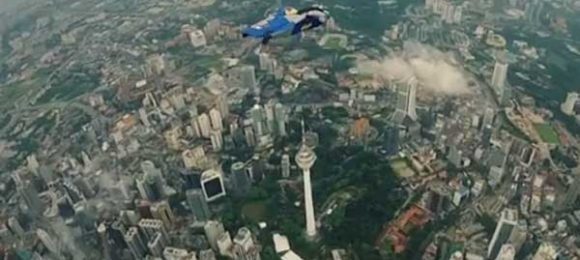 Red Bull has been behind some very impressive stunts of late. The biggest stunt the energy drink has ever been involved with was Felix Baumgartner's record-breaking jump from 120,000 feet over the surface of the earth. Skydives from insane altitude isn't all Red Bull sponsors.
The Red Bull Air Force recently took its wing suit flyers Jon DeVore, Miles Daisher, and Othar Lawrence to Kuala Lumpur Malaysia. The goal for the stunt team was to pilot their wingsuits as close as possible to some of Malaysia's highest and most iconic buildings. The pilots use their wingsuits to fly between the Petronas Twin Towers.
Interestingly, some of the members of the Red Bull Air Force performed the wingsuit stunts in the Michael Bay blockbuster Transformers 3 in downtown Chicago. The wingsuit pilots were flying at around 120 mph in an urban environment filled with buildings and other hazards. You have to watch the video to see the stunt being performed.
These guys pass so close to the buildings that from some angles, it looks as if they're about to crash into the building. I can only imagine how sphincter-puckering flying between those twin towers would be. Watch the video below and see for yourself.