RealNetworks goes to court over RealDVD soon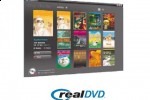 RealNetworks is gearing up to go to court on April 24 in order to defend themselves and their DVD ripping software called RealDVD. Even though the software launched back in September, sales were soon thereafter banned by a federal judge.
The software was being sold for almost $30 and was used to help people copy DVDs onto their computer's hard drives. Included in the software is the option to register other computers–up to four–to playback the movies you rip using the software. However, it would cost you $20 extra per computer registration.
So why the lawsuit? The movie studios are claiming that the RealDVD software is in violation of the Digital Millennium Copyright Act, since people could in theory rent movies and then rip them. RealNetworks' defense is fairly straightforward. They're saying users have the right to make a copy of movies they own. Plus, the copies made using RealDVD can't be shared on P2P networks.
[via Electronista]