Real life first-person zombie shooter pops up on Chatroulette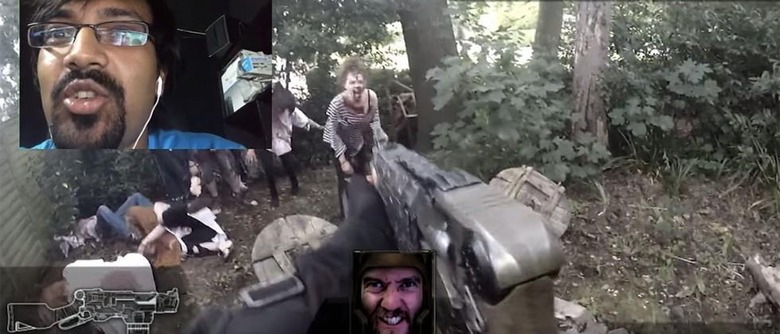 Turns out, if you still use Chatroulette, the website that matches you and your webcam up with a random stranger, you may not always be shown someone doing something obscene. You might just get thrown into a real life first person shooter (FPS), with you in control of someone trying fight off zombies. That's exactly what happened when random users were paired with the British film production crew Realm Pictures, who managed to create a live-action FPS that plays out in real-time right before viewers.
As the video shows, which you must watch, below, when Chatroulette users first see the "game" screen, they're instructed to type the word "Start." From then on out, they basically control the character through voice commands, like "Run away!", "Pick up that gun!", or "Aim for the head!," all while getting real-time feedback from the character.
The whole thing plays out like a "choose your own adventure" game, with the character needing instructions on how to get out of a locked room, which way to turn at a blocked path, and how to fight off the approaching zombies. If players can survive long enough, they come face to face with a huge boss they must defeat.
What might be just as cool as Realm Pictures' video is the behind-the-scene mini documentary explaining how they put everything together. Incredibly, the production only cost about $1,450. The controlled character was someone wearing a motorcycle helmet with a GoPro camera attached. Neighbors and friends donned make-up to become the zombies, and a cos-player volunteered to be the boss monster.
While there were clever uses of props, like Nerf guns painted to look more realistic, more impressive is how the 5-person production crew put everything together, with a sound board playing sound effects in real-time, and the director playing the voice of the character, talking back to players about their actions.
Realm Pictures seems to be excited by how well the video has been received, and they mention they'd like to create more "levels." If they do, it would be more than enough to draw people back to Chatroulette, even with the risk of unwanted surprises.
SOURCE Realm Pictures (YouTube)