RBS 6 Nations Live Challenge app pairs sports and social: Hands-on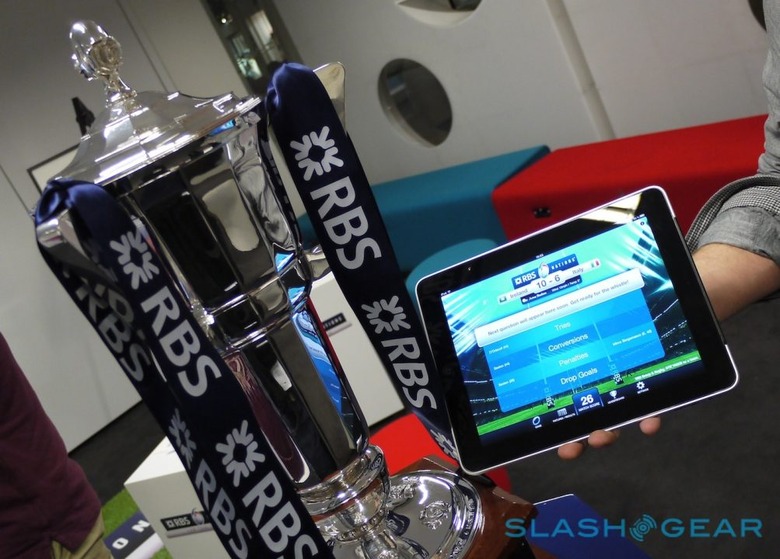 Rugby-loving couch potatoes beware: RBS expects you to flex your brain, if not your muscles, during the Six Nations tournament this year. The sports-sponsoring bank has created an interactive quiz, fixtures and social app for 2012, with game-related questions, score tables and Facebook integration for those particularly competitive. Available in versions for iPad, iPhone, Android and Facebook, we grabbed some hands-on time with the free Live Challenge app before its full release.
Although RBS had a fixtures app for the 2011 tournament, this year's update aims to monopolize your lap while you're actually watching the game. RBS will push out questions matching the live gameplay, with multiple choice responses and – immediately after – the chance to see how your answer compared with all the other gamers. There's also a penalty game, where you can predict whether the ball will make it through the posts, go left or right, or fall short. Your results can be automatically posted to your Facebook wall, and if you – optionally – create a free account you can switch between the various platforms and Facebook version of the game without losing your scores along the way.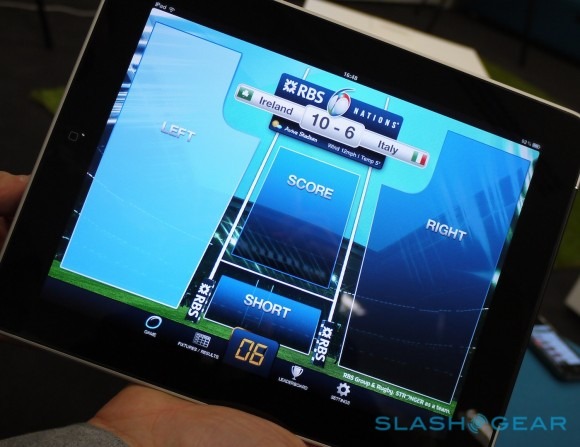 Although there's a person – or, more accurately, two rugby-obsessed people – pushing out the questions and stats, the app developers faced some unforeseen challenges in timing updates. The Six Nations app is intended to be used not only by TV viewers – watching either satellite, cable, digital terrestrial or analog broadcasts – but radio listeners too, and each introduces a different lag period. In the end, the team settled on a roughly six second delay, so as not to spoil any fast-upcoming surprises during the game by previewing them beforehand on the iPad.
[polldaddy poll=5875346]
Development on the app began in late November, and the team told us there's a lot they would've liked to have included but simply didn't have time to. Audio recognition was one ambition, tracking common phrases used by rugby commentators and activating features on the iPad or smartphone accordingly, as well as building in a mini-game where you could have your own attempt at flicking a penalty in the same wind/position conditions.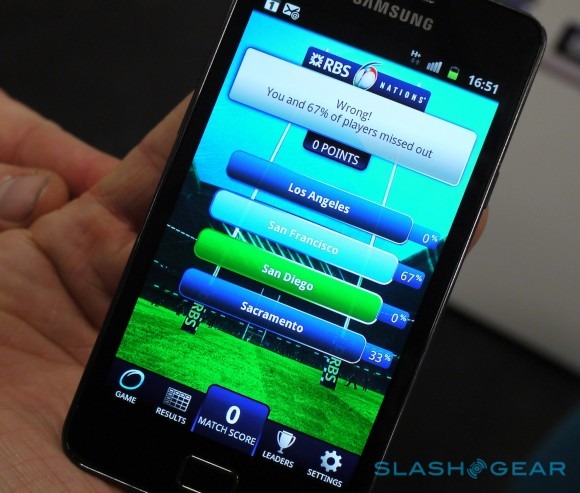 All of those features could be in the pipeline in future versions, however. RBS is already considering using the same underlying technology for other sports events it sponsors, and the developers are open to alternative implementations such as music events, quiz shows and more. Even as someone who isn't much of a rugby fan, there's undeniably something impressive about the app keeping up with the live gameplay, and there's definitely room for features like these to be paired with other types of entertainment.
You can download the iPad/iPhone app and Android app from today, just in time for the first game – France versus Italy – on Saturday, February 4.