Razer unveils latest Blade and Blade Pro gaming laptops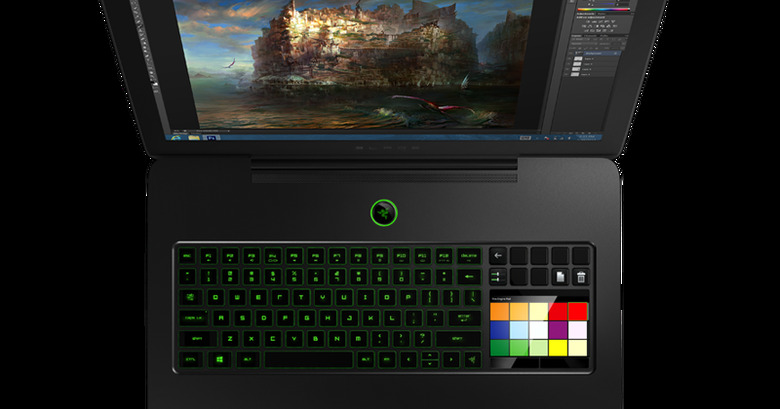 Razer has announced the latest soon-to-be-available Razer Blade and Razer Blade Pro laptops, both of them aimed at gamers and offering their own variety of high-end mobile PC hardware. The Blade is the smaller of the two, offering a 14-inch display, while the Blade Pro is larger with a 17-inch screen. We've got a large gallery of both machines available after the jump.
First up is the Razer Blade, which features a 14-inch LED HD+ display, a custom-designed trackpad, and a backlit keyboard. The chassis is made entirely of dark aluminum, with the laptop measuring in at 0.66-inches thick. According to Razer, this makes it the most powerful laptop based on power-per-cubic-inch of any other gaming laptop available.
Inside, users will find a 4th generation Intel Core processor, an unspecified SSD that Razer says offers a boot speed 4x faster than the average 5400rpm hard drive, and graphics are delivered via an NVIDIA GeForce GTX 765M GPU. Display resolution sits at 1600 x 900, while the trackpad supports multi-touch. Battery life is rated at up to 6 hours.
The Razer Blade Pro is similar, but with more power under the hood, as is expected. The display is a larger 17-inch LED HD display, and there the Switchblade User Interface, SBUI for short. The machine itself measures in at 0.88-inches and weighs 6.5lbs, which Razer says makes it the most portable in its class among gaming laptops. There's an LCD trackpad, as well as ten keys and SBUI including Adobe Photoshop and Premiere Pro, Maya, and others, all free of charge.
As far as hardware internals go, there's an Intel Quad Core i7 processor, an NVIDIA GTX 765M GPU, 8GB of RAM, and 128GB SSD, which can be upgraded to up to 512GB. The keyboard is backlit, with the lighting being user-adjustable. The trackpad can also be adjusted with various sensitivities.
Both the Razer Blade and the Razer Blade Pro will be available for pre-order on June 3, with the former starting at $1,799, and the latter at $2,299.