Razer Turret keyboard, mouse is finally ready for your lap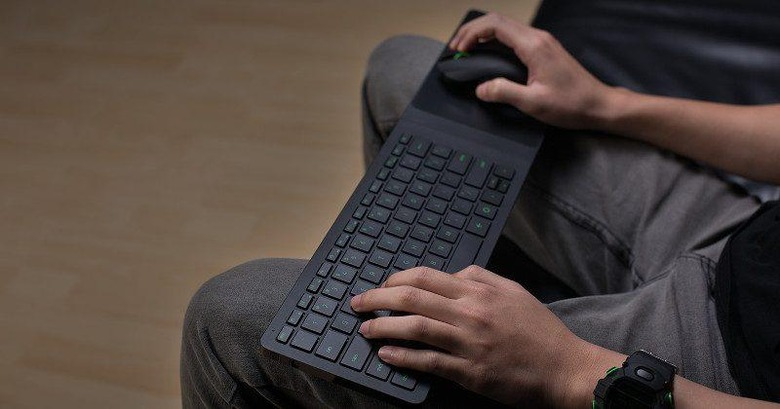 Back in CES 2015, Razer revealed a few gaming products geared for the living room, in contrast to its usual aim for desktops and laptops. Fast forward to 2016, only the Forge TV Android TV console and its matching Serval controller actually made it to the market. Today, that changes, with Razer finally and belatedly launching the Turret keyboard and mouse combo. Or rather, gaming mouse and "lapboard", as the latter is specifically designed to be used on your lap while gaming on your couch.
Keyboard and mouse on couch gaming? While not exactly unheard of, that is still an unconventional way to play. Game controllers are the weapon of choice when it comes to "lean back" gaming, a.k.a. consoles. But with the divide between console and PCs slowly blurring, in no small thanks to the likes of Steam or even Android TV, there comes a time when PC-like input is the better option. And when it comes to PC-like input, nothing beats a keyboard and a mouse.
Wireless keyboards and mice do exist, but neither are made with this specific mode of gaming in mind. Especially when you need to use both at the same time. The keyboard can stay on your lap, but the mouse is most likely to be located beside you. Or you can get creative and put a long board on your lap to support both peripherals. With the Razer Turret, you don't need such hacks. The keyboard itself becomes that board you can place on your lap, hence "lapboard".
The key to the Turret is the flat area to the right of the keyboard where you can place the mouse. This is connected via a hinge that allows users to fold away that part when the mouse is not needed. The mouse mat area ingeniously has a magnetic surface that has just enough pull to keep the mouse from falling off but not too strong to slow down the mouse.
The Turret today is just as what we saw a year back, with the keyboard sporting comfy chiclet keys and the mouse boasting of 3500 dpi accuracy. The combo can connect to a console, like the Razer Forge TV via Bluetooth or to a PC via the included 2.4 GHz adaptor. Sadly, it seems that Razer still didn't address the case for left handed gamers who might prefer to use the mouse on the left side of the keyboard.
The Razer Turret retails for $159.99. Given that price and how long Razer has made gamers wait for it, buyers might need a bit more coaxing before they sink their teeth into this one.
SOURCE: Razer