Razer Tomahawk Gaming Desktop is no mere concept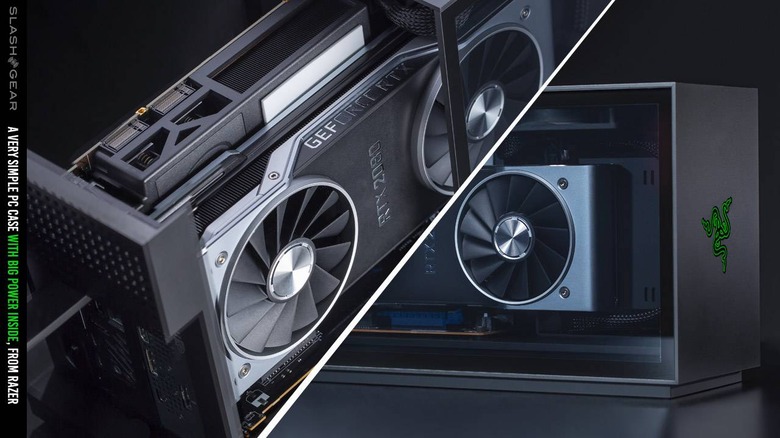 Today we're taking a peek at the Razer Tomahawk Gaming Desktop. This is a device Razer called "the first truly modular desktop system utilizing the new ultra-compact Razer Tomahawk N1 chassis." The big deal here is the combination of simplicity of industrial design and the complexity of the construction that allows its insides to be seen and easily accessible. This device features a "lock and slide sled mechanism" that'll make the upgrade process super simple.
This device works with the Intel NUC 9 Extreme Compute Element with up to an Intel Core-i9 processor and 64GB DDR4 RAM. This device will roll with up to an NVIDIA GeForce RTX 2080 Super GPU. The RAM, the SSD modules, the fans, the Intel NUC, and the GPU are all "upgradeable" as a good DIY construct gaming PC should be.
The GPU here is vertically mounted, and both sides of the mostly-aluminum case are transparent thanks to tempered glass. This case's design features open vents at the top and an un-lit Razer triple-snake logo up front. This is minimalism with the necessary seal of the gamer.
Razer Tomahawk Gaming Desktop SpecsOnboard Intel NUC:
• Up to Intel 9th Gen i9 8-Core CPU
• Up to 64GB DDR4
• Dual M.2 SSD Slots
• Wi-Fi 6
Graphics Support:
• NVIDIA GeForce RTX 20 Series
+ Support for full-length PCI graphics cards
Industrial Design:
• Toolless design
• Compact footprint
• Open vents for efficient cooling
• Ports: 2x Thunderbolt 3, 2x 1G Ethernet, 2x HDMI 2.0A, 6x USB 3.2 Gen 2
The Razer Tomahawk Gaming Desktop as outlined above will be available for sale in "the first half of 2020." So this most certainly is NOT a concept project. Per the past with CES and Razer, it's easy to assume that anything the company shows this week might end up having no release date, appearing only as a concept design – that's not the case here, as here we've got a release date range, at least!
The Razer Tomahawk N1 case "will be available as a standalone product" as well. That'll be ready for the folks who want to do it all with the PC parts they've got available already – or just wish to buy all the parts as outlined by Razer – on their own terms. No pricing has yet been shared by Razer.