Razer Switchblade first to grab Atom Z690; still insists it's just a "concept"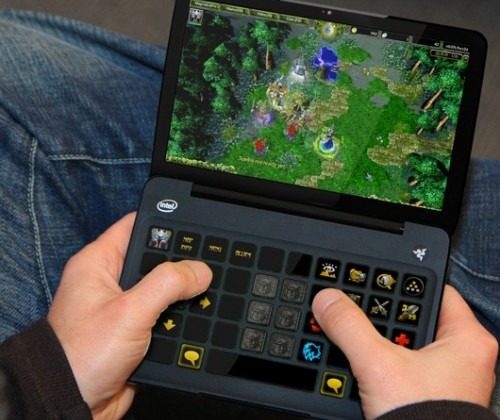 Razer has confirmed that its Switchblade gaming notebook will be the first device to use the Intel Atom Z690 processor. The Switchblade – announced at CES 2011 earlier this year, though at the time billed as merely a concept – will use the 1.7GHz chip to run its 7-inch multitouch-capable display and dynamic keyboard, which can change key-legend to suit whatever title is being played.
According to Intel, the Z690 is 13-percent more powerful than its predecessor, the Z670 Oak Trail chip found inside the Fujitsu Lifebook TH40/D and other tablets. That's sufficient for desktop-style PC gaming on a portable device, the silicon company insists, and it appears to be using the Switchblade to prove that.
Razer still insists on describing the Switchblade as a concept, despite having already signed up independent software vendors – including Chinese firms Tencent and ChangYou – to develop custom keyboard support for the button displays. "Our work with Intel allowed us to not only optimize the performance of the hardware on this concept device," Razer now says, "but also lay the foundation for future products that will fully utilize the innovative technologies first developed on the Razer Switchblade concept."
When, exactly, those future products will arrive is unclear, but with a processor now named we'd assume they'll drop sooner rather than later. After all, Medfield is set to arrive reasonably imminently to replace Oak Trail.