Razer Ornata gaming keyboard is first to use Mecha-membrane keys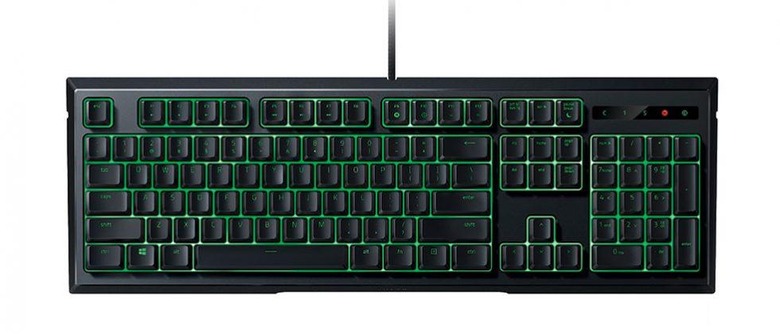 Razer has a new gaming keyboard called the Ornata that has something new and interesting up its sleeves. The Ornata is the first keyboard in the world to use something called Mecha-membrane keyboard technology. This technology is designed to combine the most desirable traits from membrane rubber dome keyboards with the benefits of mechanical keyboard technology.
What you wind up with are keys that are able to deliver the gamer a soft, cushioned touch and the crisp tactile click that a mechanical keyboard delivers with each stroke. Razer says that the choices in a keyboard usually include membrane rubber dome keys for comfort or mechanical switches for feedback and fast actuation. The Razr Mecha-membrane keyboard uses mid-height keycap hybrid that provides a comfortable and efficient typing experience.
"The Razer Mecha-Membrane is the result of years of research and development that we've dedicated to build the best keyboards for gamers," says Min-Liang Tan, Razer co-founder and CEO. "When we moved to our own Razer Mechanical Switches in our production lines, we were excited to learn from real-use scenarios and apply that knowledge to perfect other technologies. The Razer Ornata is a great example of how our engineers can use feedback to innovate something truly amazing for gamers, in this case a solution that melds two seemingly disparate keyboard technologies for a phenomenal experience."
The Ornata Chroma keyboard has individually backlit keys powered by Razer Chroma technology. That means the lighting can be customized and synced across devices. There are 16.8 million colors to choose from and different lighting effects. The lighting settings can also be set with profiles for specific games like Overwatch or CoD and others. Ornata comes with a detachable ergonomic wrist rest that is held in place with magnets for easy removal. A version of the keyboard will be offered with green backlighting as well. The Ornata Chroma keyboard will sell for $99.99 with the standard Ornata selling for $79.99.
SOURCE: Razerzone