Razer Nabu Watch - More watch than smart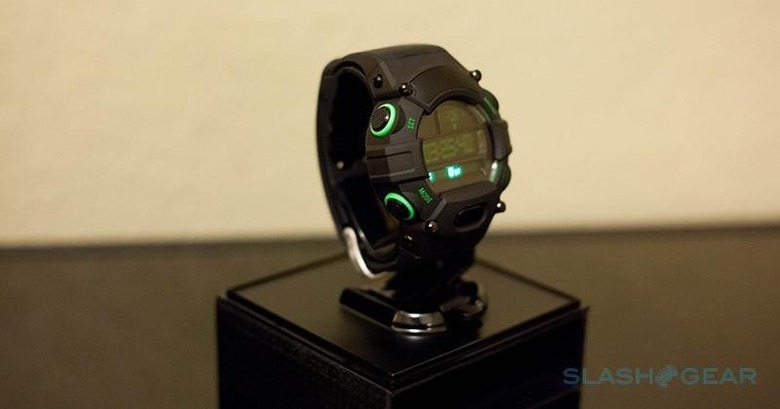 Back at CES this year, Razer made a surprise announcement. Sure, the Core external GPU solution and the Stargazer webcam, I was shown something that had little to do with gaming at all. I'm talking, of course, about the Razer Nabu Watch.
The Nabu Watch isn't the first wearable from Razer. They've released a couple of fitness trackers under the Nabu name. However, this was their first time releasing a watch. While many companies are releasing smartwatches, Razer calls this particular one "a watch that's smart," which is different. I've been using mine for a while now, and it's time to share my thoughts with you.
Looks
The Razer Nabu Watch immediately brings to mind the Casio G Shock. It's big, rugged, and black. Virtually everything on the watch is either rubber or metal. The exceptions are the buttons and the face of the watch. It's not heavy by any means, but it does feel like I could drop it, or even throw it, and it would come out unscathed.
On the face of the watch there are four different screens. The largest screen in the middle is your dedicated time keeper. This is going to display the current time, unless you're using using one of the secondary watch functions, like a stopwatch. The small screen at the top right is reserved for the date and time. You'll also see tiny icons to indicate the alarm being set, and whether it's connected to your phone via Bluetooth. The top left has icons to show which mode your watch is currently in.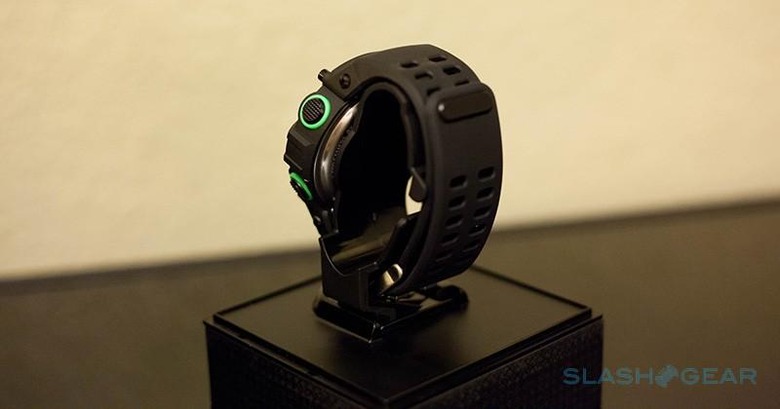 Aside from the Bluetooth icon, there is nothing smart about these three screens. In fact, this whole part of the watch is completely separate from the rest. It even has its own coin cell battery that will keep this part of your watch functioning for up to a year without needing changed.
The bottom screen is where all of the magic happens. By pressing the button directly below it, you'll scroll through the various information, such as steps taken and calories burned. This is also where phone notifications will show up. This face is powered by a rechargeable lithium polymer battery, which lasts around a week. You'll recharge it with the included proprietary cable, which attaches to the back of the watch with a magnet.
Around the face are four buttons, which are your standard watch buttons. These are "Mode," "Set," "Adjust," and "Light."
The band is made of rubber, and features two rows of rounded holes. The buckle has two prongs on it, which explains the two rows of holes. At the end of the strap are two pegs, which also lock into the holes on the band. This is a nice touch, as it keeps the end secured in place, regardless of how large or small your wrist is.
Functionality
The watch was easy to pair with my iPhone, and the time automatically syncs, which is a nice touch. The app has all of the basic info that you'd expect from a fitness band. You can keep track of your steps and number of calories burned. It also tells you how long you've been active over the course of the day, and how long you've slept.
Since it's a fitness tracker, I've done my best to count my steps, to check for accuracy. And overall, it seems to keep a decent record of them. It'll be off by a bit here and there, but for something that's strapped to your wrist, it does as well as can be expected. The calorie counter, however, is a different story.
The watch appears to add one calorie burned every 33 seconds or so, even if the watch is sitting on your desk, unused. While the counter does go up faster when you're being more active, I feel like the count is misleading, since it's always counting up, even if you're not wearing the watch.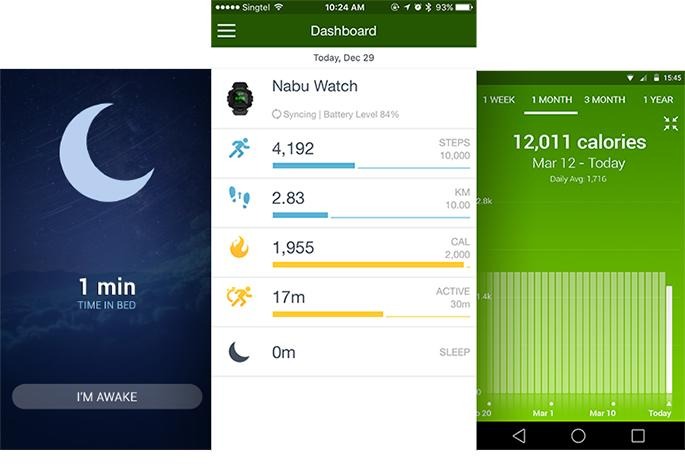 I tried testing out the sleep monitor, but found the rubber strap and bulky watch too much of an annoyance to wear while I sleep. (It should be noted that I've tried wearing other smartwatches at night with the same result, so your mileage may vary).
Aside from the fitness section, you can customize plenty of options such as your alarms, turning on/off Do Not Disturb mode, and customizing how fast your messages scroll on the screen. You can also choose how to dismiss notifications. You can either press the button below the screen, or just shake your wrist to dismiss them.
The app also lets you choose from a list of different "activities" which can be cycled through on your phone. The basics are your fitness functions, but it can also act as a remote control for certain phone functions. Your options are play/pause, next track, previous track, or snap photo. You'll only be able to choose one of these, as the only way to activate it is to hold down on the front button while that activity is selected. I thought that the camera control was a neat idea, though I can't say that I used it all that often.
You're also able to customize your watch time, and choose whether or not to manually set it, if you're into that sort of thing. You can also share the watch's data with other installed apps in the settings area, if you use something else to keep track of your fitness data.
Finally, you can choose to share your contact information with someone else, simply by shaking their hand. The only hangup is that they have to be wearing a Nabu device (whether it's another watch, or one of the fitness tracker bands). I've yet to encounter a single other person wearing one, so I can't say that I've been able to test that feature.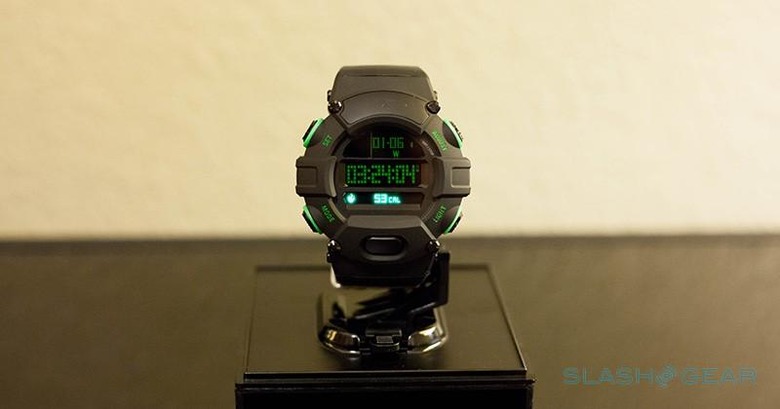 Conclusion
Overall, I'm not a fan of the large, clunky style of the watch. While it has been designed to be rugged for gamers, I'm not sure that this is what gamers want or need. It's big, bulky, and doesn't do much more than your average fitness tracker. If you're into big digital watches, and you want a fitness tracker, then this is probably going to interest you. For everyone else, you'll probably stick to a regular watch, or go for a full smartwatch.
Aside from the rogue calories that were mysteriously burned while the watch wasn't in use, the watch functioned pretty much as expected, so I don't really have any complaints about how well it worked.
One nice thing is that I did usually get around a week between charges for the "smart" portion of the watch. And if the battery did die when I was using it, the device still functioned as a good old-fashioned digital watch. That's something that no smartwatch can say.
If you're looking for "a watch that's smart" Razer sells the Nabu Watch in two flavors. One is the standard, which I'm reviewing today. This one retails for $149.99. The other is the Forged Edition. Everything is identical on the technical side, the only difference is that the buttons are steel, and the watch has a premium black finish (and that means no more green highlights around the buttons). The Forged Edition retails for $199.99.