Razer is re-selling StarCraft II: Heart of the Swarm gear for a limited time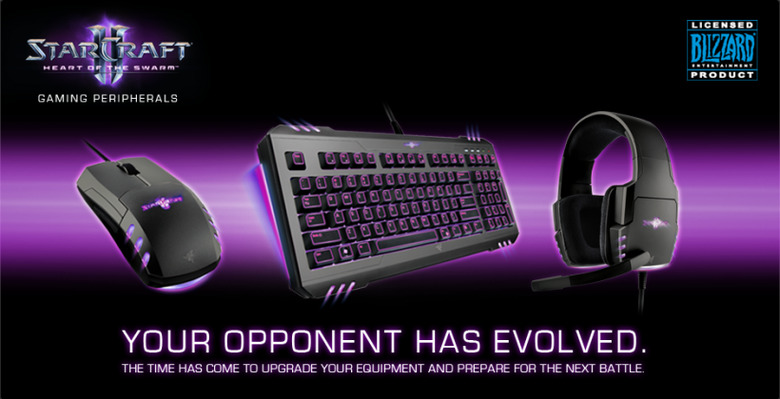 Razer, one of the most well-known manufacturers of gaming gear, is now re-launching its gaming peripheral line-up designed for Blizzard's StarCraft II: Heart of the Swarm expansion. The collection of gear is designed to give StarCraft II players the edge that they need in order to dominate in their matches. Razer is bringing back its StarCraft II product line because of the positive response it received during its initial launch. This re-launch will only be available for a limited amount of time.
There are 4 things that gamers are able to purchase from Razer's collection. There's the Razer Spectre Staracraft II Gaming Mouse, the Razer Marauder Starcraft II Gaming Keyboard, the Razer Banshee Starcraft II Gaming Headset, and the Razer Starcraft II Zerg Edition Messenger Bag. The Razer Spectre, Marauder, and Banshee all have an APM (Actions-Per-Minute) lighting system that responds to the gamer's movements and speed. The lighting system features a multicolor LED that can be customized to any color the gamer wants.
The Razer Spectre is a lightweight, 5-button, gaming mouse that gives RTS (real-time strategy) gamers the control that they need. It also features a 5600 dpi Razer Precision 3.5G laser sensor and a 1000 Hz Ultrapolling/1ms response time. It is priced at 59.99 in both the U.S. and Europe.
The Razer Marauder is a gaming keyboard which features a multi-colored backlit keyboard that has elevated keys which will improve rapid command input as well as increase your gaming performance. There is also an "on-the-fly" macro recording system, and the keys are laser-etched and conveniently spaced. The Marauder is priced at 99.99 in both the U.S. and Europe.
The Razer Banshee is a gaming headset that comes with a configuration utility that allows you to adjust your equalizer, pitch, and volume, providing you the best sound experience while you game. It also comes with a detachable microphone boom that will allow you to easily transport this device. The device is priced at 89.99 in both the U.S. and Europe.
Last, but not least, there is the Razer Zerg Edition messenger bag. The bag is a weather-proof, tear-resistant bag designed to protect all of your gaming gear. It has a compartment for your laptop, gaming peripherals, and also a mobile gaming device. It's inner-lining is shock-absorbent in order to protect all of your expensive devices. The messenger bag sells for 79.99 in both the U.S. and Europe.
If you're a diehard StarCraft II fan, or if you need peripherals that can enhance your gaming experience, you should act on this sale now before Razer discontinues it again. Razer is also holding a sweepstakes. Players will choose the race they align themselves with, whether it'd be Protoss, Zerg, or Terran, and 3 lucky players from each race will be awarded the Razer StarCraft II gaming headset, mouse, and keyboard, along with a StarCraft II strategy guide and clothes.
[via PR Newswire]