Razer Hammerhead earbuds get USB-C just in time for Razer Phone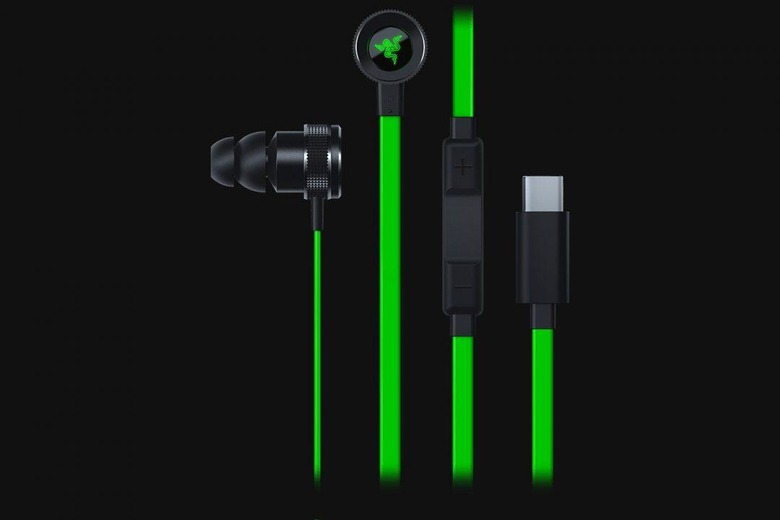 It's been a big week for Razer. Just a couple of days ago, it
finally launched its long-rumored Razer Phone in the US
, stepping into the ring with the other big Android manufactures. Now Razer has announced a new version of its Hammerhead earbuds, making them compatible with the Razer Phone in this release.
After all, one of the most talked about
Phone "features" is the fact that is has no headphone jack. This means that older versions of the Hammerhead earbuds are incompatible with the Razer Phone, barring some kind of adapter. These new Hammerheads solve that problem, adding a USB-C connector to update compatibility.
Other than the freshly added USB-C adapter, these seem mostly similar to the Hammerhead V2 Pro earbuds that come with a 3.5mm connector. The design has been slightly updated, but the flat cables and distinctive earbud design are both still present. The three button remote is still there as well, offering volume controls and a button that allows you to accept and end calls or change the track you're currently listening to.
These USB-C Hammerheads also come equipped with a custom-tuned DAC that promises "clean, unprocessed audio." The same 10mm drivers that were in the Pro V2 are coming back for a second round in the USB-C model, so expect audio quality to be similar if not somewhat better.
That handful of upgrades is reflected in the price, as the USB-C model costs $79.99 when purchased from Razer's site, while the Pro V2 only costs $69.99. Still, if you need a USB-C pair of headphones for your Razer Phone, you could certainly do a lot worse in terms of price. These new Hammerheads are available on
now, and orders should be shipping out immediately.