Razer Forge TV pre-order reveals May 1 shipping date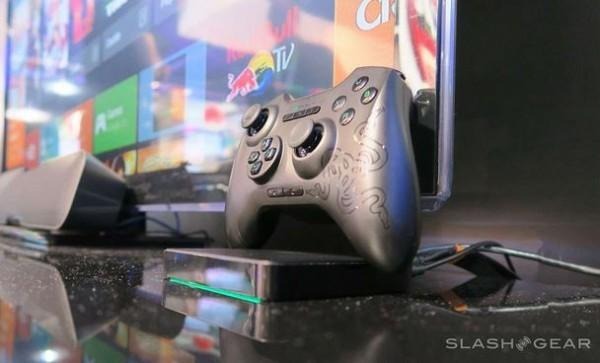 Razer's little gaming console, the Razer Forge TV, went up for pre-order today...and then was pulled without explanation. We first got a look at the console back during CES 2015, and it is, in true Razer fashion, a stylish dark console with green trim and a matching controller. The Forge TV is a set-top box akin to things like the Fire TV and the Apple TV, but it has a dedicated gaming slant, including related peripherals designed for use when you're lounging on the couch or in the recliner.
The Razer Forge TV is an Android box that runs a quad-core processor and features 16GB of internal storage, as well as wireless networking and access to the Google Play Store, where games and other apps can be downloaded. There's support for up to four people to play games using the console.
Hands-on with the Razer Forge TV
There's both a keyboard with a mouse pad and a mouse that can be used with it, as well as the gaming controller you see above, all of which connect wirelessly. The controller isn't exclusive to the console, however — it's simply a Bluetooth controller that can be used with any other Bluetooth-equipped console. The lapboard, as it is being called, allows for typing and other non-gaming activities.
The Forge TV recently went up for pre-order on Amazon today, which was a surprise, and the listing confirmed the pricing we heard during CES: $149 USD for the console with the gaming controller bundled. Unfortunately, it appears that was a premature launch, as the pre-order has been taken down, but not before we gleaned one extra detail: it'll be shipping on May 1.
SOURCE: Droid Gamers