Razer Edge (Project Fiona) gaming tablet Hands-on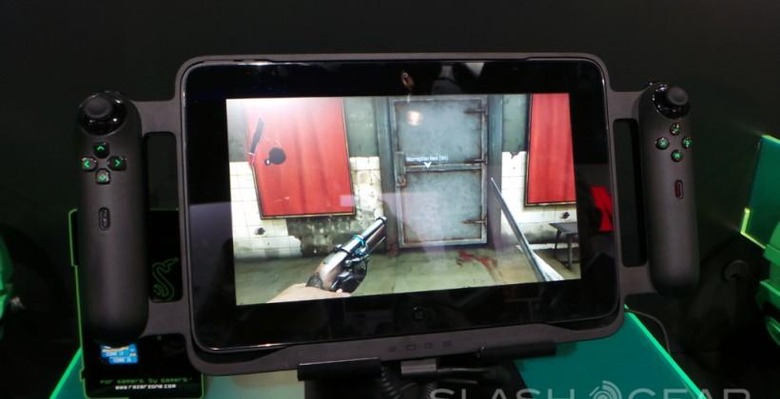 Razer's poplar Project Fiona gaming tablet made quite the splash last year at CES but today it's finally been made official, hardware is final, and the gaming tablet machine will begin shipping in Q1 of this year. In case you missed it, Razer announced all the details this afternoon and renamed it the "Razer Edge" but we managed to get some hands-on pictures with prototype so lets take a look.
Now Razer is planning to offer a few different variations of this product, as the full out gaming experience isn't for everything. Their basic kit may sound plain, but it certainly isn't coming in at $999. You'll want to check out our coverage for a better idea of the different options Razer will be offering. Essentially that $999 gets you the basic kit with a third-gen 1.7GHz Intel Core i5, 4GB of RAM, an NVIDIA GT640M LE GPU, and a 64GB SSD. That will be powering the rather crisp 10-inch 1280 x 800 resolution display.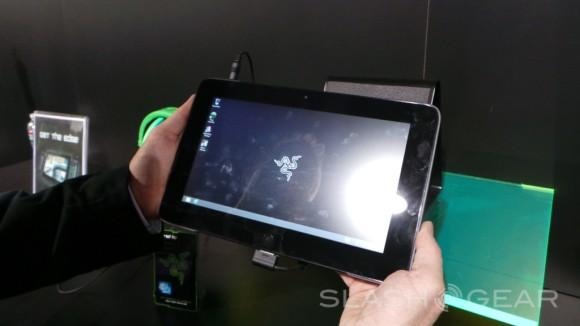 From there you'll be able to upgrade to the Edge Pro, which offers the same impressive device with a better and faster 1.9 GHz Core i7 processor, 8GB of RAM, and a 128 or 256GB SSD storage instead. Now since we already know the specs lets talk about feel, weight, and options. Being a very well built device from Razer it certainly isn't lightweight, in any form factor. As just the slate you'll be surprised just how heavy it is, and if you opt for the Pro you'll certainly feel the weight. It's heavier and thicker than a traditional Android slate, but then again you have that Core i7 power and unlimited Windows gaming options.
Playing games was awesome though, as you'd expect. WarHammer was excellent and the controls worked quite well. Being able to wonder around the floor and play was quite entertaining. It might not be the most powerful gaming PC around, but then you can't play most in your living room or the backseat of a car now can you? You'll be greeted with USB 3.0 up top, as well as an array of power buttons, volume up/down, and more. Then each handle rocked start, select, and other usual game controls.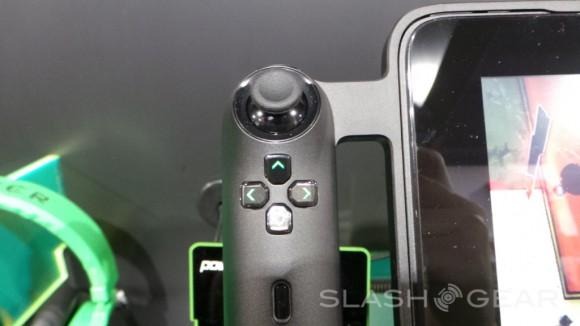 Razer will be offering the basic and pro model, as well as an additional keyboard dock and regular desk dock options later this year. The pictures in the gallery below should give you an excellent idea of what to expect, although the final design could change ever so slightly from what we're seeing here today. The pricing however, won't be changing and are set in stone.
We'll hopefully be getting one in for a full review when the time comes so for now enjoy the quick hands-on pictures, and stay tuned to our CES 2013 portal for the rest of CES.