The Razer Diamondback ambidextrous mouse is one of the most well-rounded and beautiful mice I've ever used, in any category. While I'm still all about using a right-handed mouse – since I'm not really a lefty – this piece of equipment is shaped fine enough that I've not noticed a major difference. This is the return of the mouse that worked with the world's first optical gaming sensor – now back for its 4th iteration, the first update to the mouse since 2007.
In the past this mouse came in a variety of colors. The first one glowed, the second version (in 2005) came in blue, green, and red, the 2007 edition had the first flat-black top with similar lights underneath. This 2015 edition with Chroma backlighting brings on the full spectrum of colors (16.8 million tones) offered with the rest of the Chroma line – so it's whatever color you want – and rolls with light across its scroll wheel and the Razer logo on its rear end.
See our Razer Mamba TE Review for more information on Chroma – that'll be our favorite gaming mouse of the year for 2015 unless something especially miraculous comes along.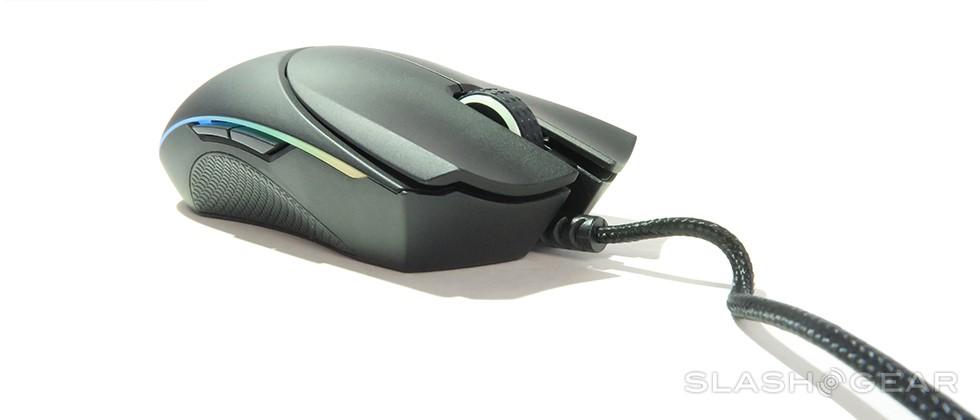 This mouse works with a 16,000 DPI 5G laser sensor under its hood. Razer suggests this mouse moves at up to 210 inches per second with 50g acceleration and 1,000 Hz ultrapolling, and as far as we've been able to test, that's highly accurate.
Around the edges and front of the mouse you'll find 7 programmable buttons, including one in the scroll wheel, two main, and two more on either side of the unit. You'll be able to program any of these for quick sensitivity adjustments.
This mouse is wired – with a 2.1-meter (7-foot) braided fiber cable. Super long and covered with material that won't get stuck or twisted – unless you're jamming it in your backpack all willy-nilly, of course – but if you're just using the mouse amongst the rest of your accessory setup, you'll be fine.
The standard edition of the 2015 Razer Diamondback will run you $89.99 USD. If you want the "Collectors Edition" with a special history book on how far the Razer Diamondback has come, you'll be paying $99.99 – and that version isn't out yet, you'll have to check up on it through RazerZone online.
Is this mouse worth 90 bucks? If you want the highest quality ambidextrous-friendly mouse on the market, yes. All day long. With the added bit of lighting as a bonus.