Razer DeathStalker Ultimate gaming keyboard surfaces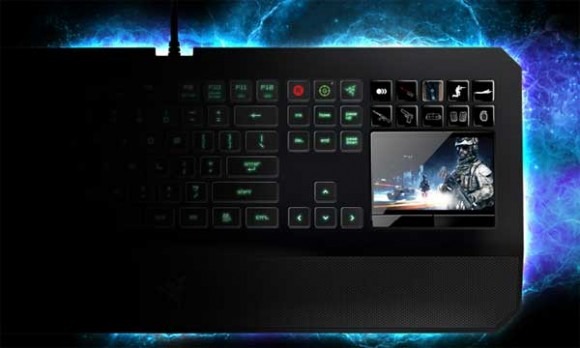 I've been a PC gamer for a long time and one of my favorite gaming keyboards was made by Razer. Razer has unveiled a new gaming keyboard called the DeathStalker Ultimate, and it's one of the coolest keyboards I've ever seen. Rather than having a questionably useful number pad on the right-hand side, this thing gets a touchscreen and customizable buttons.
The keyboard features the Razer Switchblade User Interface that we first saw on the awesome Switchblade portable gaming device. The Switchblade UI allows the touchscreen and 10 buttons above the screen to have custom programmable icons. The screen can also switch modes depending on what you're doing at a particular time.
Razer offers a special interface for Star Wars: The Old Republic that has custom keys and uses that LCD panel to show a special application for adding control to your game. That panel also functions as a multitouch track pad with support for gestures and more. There are a number of apps available for that LCD panel.
The apps include a track pad, number pad, macro recorder, gaming mode, browser, YouTube, Facebook, Twitter, Gmail, clock, screenshot, and a game timer. There are enough apps to let you do just about anything you want using that touchscreen. The keyboard also features anti-ghosting technology allowing you to hit up to 10 keys at once in game mode. All keys are backlit as well for gaming in the dark. The keyboard will launch in September for $249.99, and I want one.