Razer Blade Review: a colorful, ultraportable gaming beast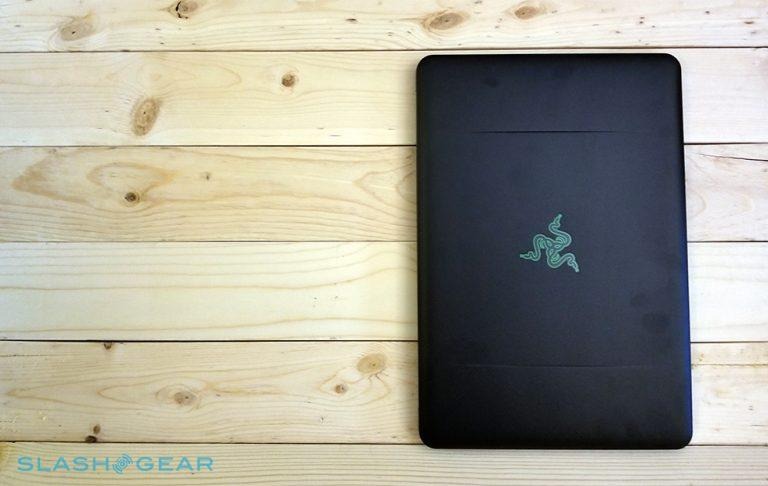 Razer has launched a trio of gaming laptops, first among them being the Razer Blade. The laptop is dark, adorned with colorful lights, sporting a design that makes it identifiable as not just any ole laptop, but a gaming laptop. Relative to other models, I wouldn't hesitate to call the Razer Blade an ultraportable offering, but what compromises were made to get this level of portability?
Not many, it turns out. The Razer Blade, not to be mistaken for the Razer Blade Pro or Razer Blade Stealth, is billed as a laptop that is, "Powerful, Portable, Perfect." That claim is pretty spot-on, all things considered. The latest version of the Razer Blade packs a 7th-generation Intel Core i7-770HQ quad-core processor alongside a memory boost to 16GB DDR4 2400Mhz dual-channel RAM, an optional 4K Ultra HD touchscreen display, plus the VR-ready NVIDIA GeForce GTX 1060 6GB VRAM graphics card.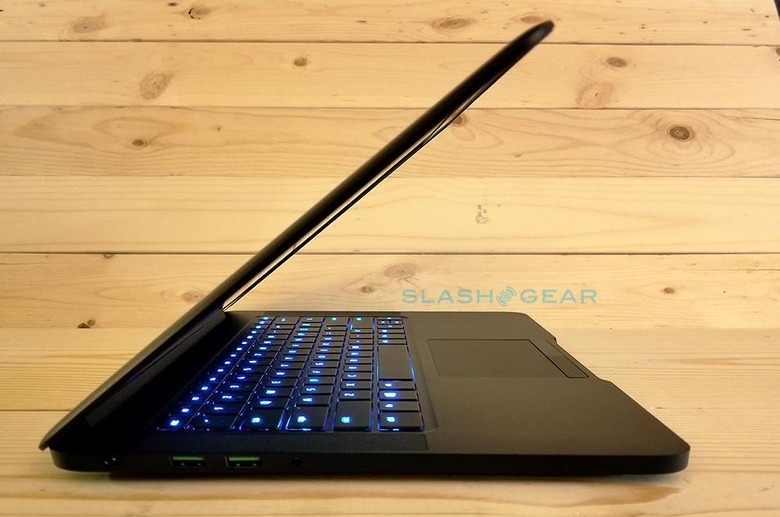 This updated model boasts speeds up to 3.8GHz thanks to the new processor with Turbo Boost. First things first, though, is the laptop's incredibly slim size. According to Razer, its Blade is the slimmest 14-inch gaming laptop on the market at 0.70-inches thin. Compared to this, the Alienware 15 is an inch thick, the MSI GS43VR Phantom is 0.87", and the Aorus x3 Plus v6 is 0.90". The Razer Blade weighs 4.1lbs.
The design, its iconic look aside for a moment, feels both durable and high-end thanks in part to its CNC-milled aluminum chassis. According to Razer, the use of aircraft-grade aluminum and the overall construction results in a machine that eliminates unwanted flex by offering a very strong exterior shell. Indeed, the laptop feels very robust.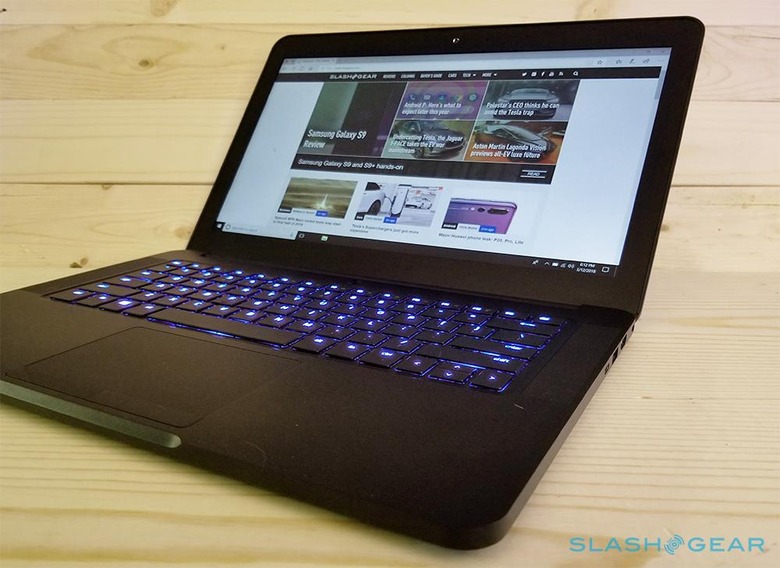 The small size, though, raises questions about temperature. Razer says it addressed that via a team of dedicated thermal engineers; the updated model improves upon the thermal design found in past Razer Blade units. Compared to the previous Blade model, Razer says it has improved the design to enable top performance while keeping the thin design and avoiding heat issues.
Immediately eye-catching is the Razer Blade's very sharp, very bright, very elegant Chroma keyboard. Users get access to more than 16 million color options and the ability to customize literally every single key in the keyboard. That customization is performed using the Advanced Chroma Configuration, which enables the creation of macros, remapping keys, personalizing the lighting effects, and more.
This doesn't involve only changing the colors, but also creating different effects. You can, for example, choose a lighting effect that "breathes" the colors, or one that rolls them like a wave. As well, the actual letter cutouts on each key are very sharp; this is the only keyboard I've ever viewed that I would describe as high-definition. The effect when viewing it is hard to explain, except to say that each glowing letter looked very sharp in a precision sort of way. It would be accurate to say that Razer has turned the lowly laptop keyboard into an art form.
TECH SPECS:
Graphics: NVIDIA GeForce GTX 1060 (6GB GDDR5 VRAM, OptimusTM Technology)Processor: 7th-gen Intel Core i7-7700HQ Quad-Core with Hyper-Threading 2.8GHz / 3.8GHz (Base/Turbo)Memory: 16GB dual-channel onboard memory (DDR4, 2400MHz)OS: Windows 10Communication: 802.11a/b/g/n/ac + Bluetooth® 4.1Input & Output:

• Built-in 2MP webcam

• Anti-ghosting keyboard with Chroma backlighting

• Thunderbolt 3 (USB-C)

• USB 3.0 port x3 (SuperSpeed)

• HDMI 2.0

• 3.5mm combo port

Audio:

• Built-in stereo speakers

• Array microphone

• Bluetooth® 4.1

• Dolby Digital Plus Home Theater Edition

• 7.1 Codec support (via HDMI)

Additional Features:

• Razer Synapse enabled with programmable keyboard

• KensingtonTM Security Slot

• Trusted Platform Module (TPM 2.0) security chip embedded

Power & Battery:

• Compact 165W power adapter

• Built-in 70Wh rechargeable lithium-ion polymer battery
Performance
The Razer Blade is made for gaming, and so that's where our performance evaluation focuses. The machine was capable of running high-end games at high frame rates without issue; you can definitely fire up titles like Overwatch and enjoy them at high settings without trouble. Assuming you're gaming, the battery will be depleted very quickly — somewhere between an hour or two. Under more casual usage, though, you'll squeeze out close to a work day on a single charge, which manages to hit the 6 – 7 hour time frame depending on usage.

You'll get a better experience with the Razer Blade versus the Razer Blade Stealth, but you're not going to hit the same performance tier offered by the Razer Blade Pro. Keep in mind that the hardware you get with the Razer Blade is the hardware you're stuck with until you upgrade to a new machine — it's not possible to upgrade specific components, such as memory, with this laptop. If performance is your top demand, consider the Razer Blade Pro versus the Razer Blade.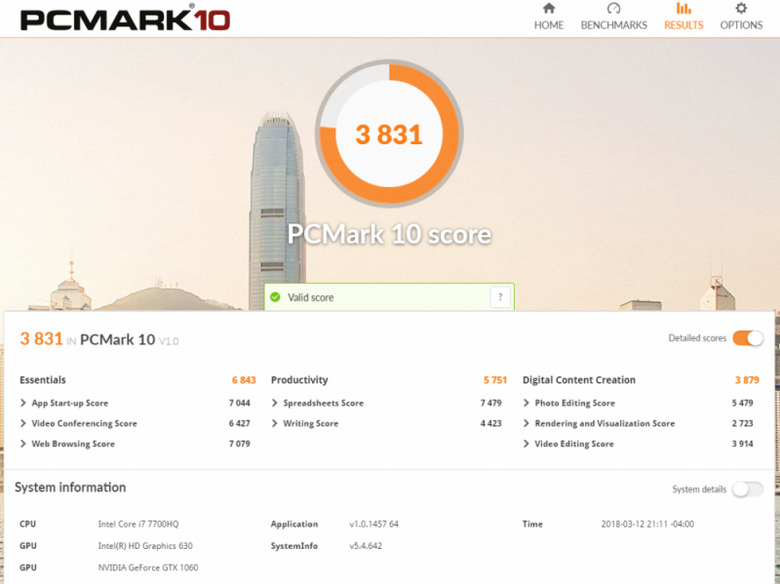 What we like
The Razer Blade, as mentioned above, is something like an ultrabook gaming machine and that's a good thing. Forget lugging around a huge, heavy gaming laptop; you can easily carry around the Razer Blade in a backpack or laptop bag and not feel burdened doing so.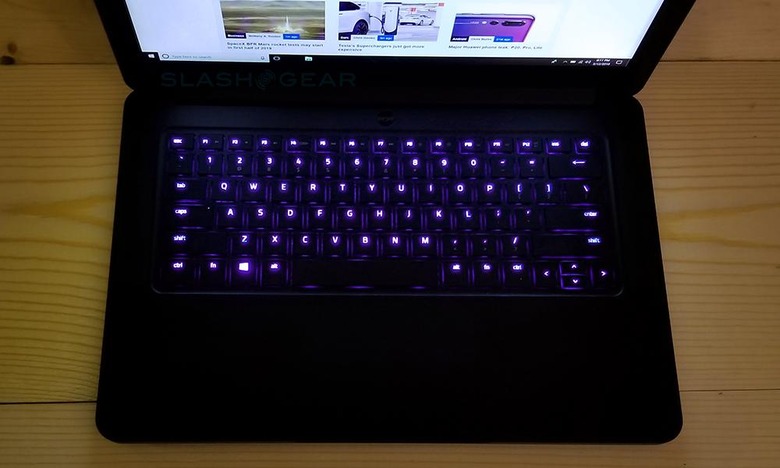 There's a lot to like about this model. The entire design is impressive, but the colorful keyboard is definitely at the top of its appeal. Also welcomed is the expansive port options; you get USB 3.0 and USB-C (not used for charging), HDMI 2.0, and a combo audio jack. Audio quality is great for a laptop, though it isn't going to replace a good quality headset or Bluetooth speakers.
The hardware will serve you well over the next couple years and opens the door for playing just about any game. Support for virtual reality headsets catapults the Razer Blade above most of its competition.
Issues
The Razer Blade's primary issue is the one we expect to encounter in any gaming laptop: the fans can get loud. Now, compared to the roster of gaming laptops I've reviewed over the years, the Razer Blade is very good at managing its heat. At no point did this model feel like it would bake my legs if placed on my lap; in fact, it never even got close to what I'd describe as "very warm."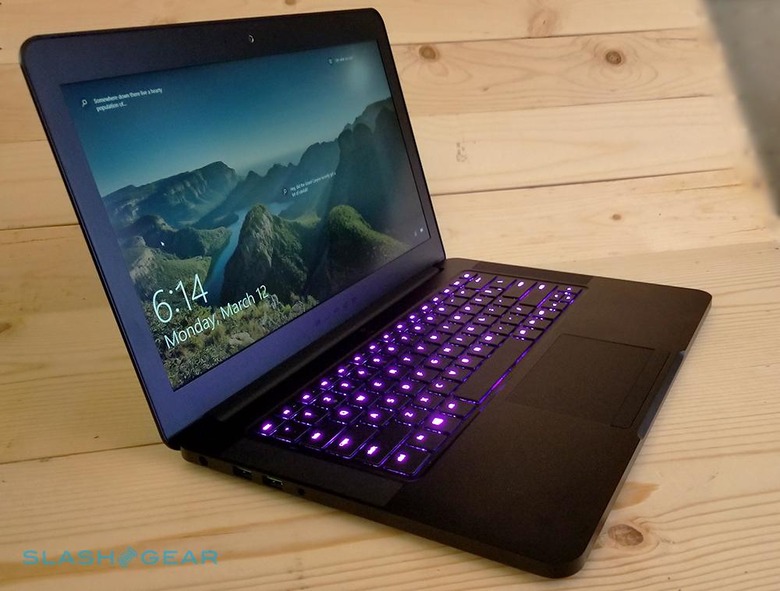 That said, the fans are loud. When they first kick on, you think to yourself, "Oh, that's not bad." But that's just the first speed. Keep using it, and the fans kick up a notch and get louder. You think, "Well, it is a gaming laptop, I expected this." Then you keep using it and the fans get even louder and you realize you could never use this model in public without disrupting an entire room full of people and possibly being kicked out of the establishment.
For that reason, using the Razer Blade as an everyday laptop wouldn't really be possible. The fan turned on during non-gaming usage constantly, at times when downloading an application, sometimes when installing an application or when doing something as simple as using Notepad. That's great for keeping the laptop cool, but again, the noise is incredibly loud. Before taking this laptop anywhere, you'd have to ask yourself, "Would it be appropriate to use a hairdryer in here?" Because that's how loud the Razer Blade's fans are when they're cranking away.
Wrap-up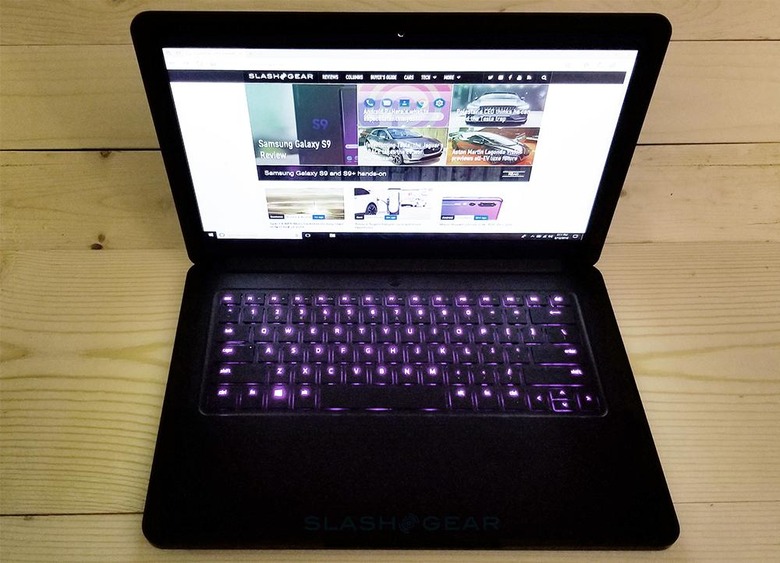 The Razer Blade is an impressive machine. If a gaming desktop is out of the question and a huge gaming laptop sounds like an unpleasant burden, look no further than Razer's colorful and slim alternative. The addition of a 4K UHD display, latest Intel processor, and increased memory make for a solid update over past models. The laptop's ultraportable size is truly impressive, but its loud fans mean many people won't want to use it in public.
The Razer Blade is available starting at $1,899 USD for the Full HD 256GB model, however the company currently has a big sale going on here.