Razer Blade gaming laptop hands on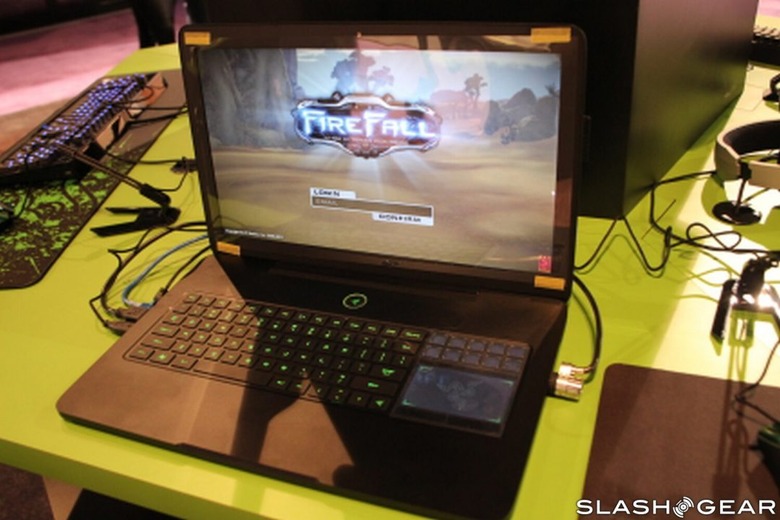 Unfortunately for rich gamers everywhere, Razer's Blade laptop isn't available for general sale yet. But they're showing off the insane hardware at CES, and we couldn't resist swinging by for a look at that integrated video touchscreen. The customizable screen adjusts for supported games, and works as a secondary display or trackpad for other uses.
Razer's solid build and restrained bling styling are present in all aspects of the Blade – you might mistake it for an uper-class business notebook when closed. Open it up and its gaming intentions become clear, with backlit keys, macros and of course the additional module. Above the touchscreen are ten OLED keys that adjust based on the game or function of the touchpad, and you can manually assign keys or macros for games without official support.
The laptop itself is big and heavy, as you'd expect. It's got an appropriately expensive feel with tough plastica all around, and Razer accents where you'd expect the normal HP or Dell logos to go. Even the default screen for the touchpad is a Razer logo, which in this context looks pretty good. The keyboard was great for typing, with the instant response you'd expect from the company's products.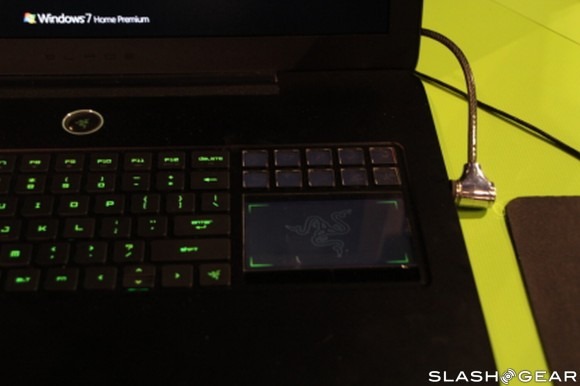 On the inside you get the latest Intel Core i7 mobile processor running at 2.8Ghz, paired to 8GB of DDR3 memory. The graphics are handled by Nvidia's GeForce GT 555M with an addition 2GB of GDDR5 memory. Storage comes from a 500GB 7200 RPM hard drive, and the fruits of your gaming dollar wil look good on a 17-inch 1920x1080 LED backlit screen. The Blade can be yours for a wish, a prayer and $3000 American, and it should start shipping in the first quarter.
Razer,