Razer and Nacon PS4 pro controllers aim at eSports Pros and hopefuls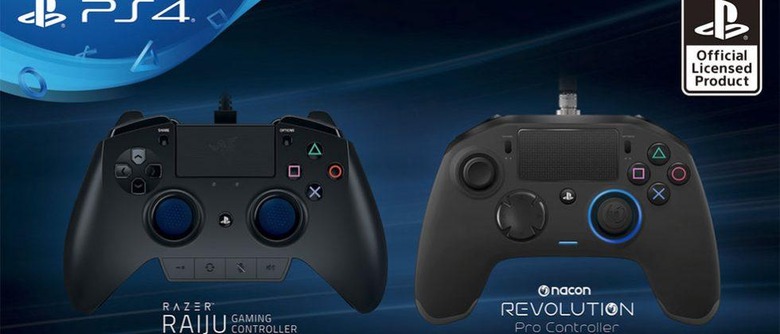 Sony is talking up a pair of new controllers that are for the PS4 but aren't controllers that it has built. Rather these controllers are from two gaming firms that have long build aftermarket controllers that eSports pros prefer and amatures often find to perform better than Sony's own controllers. One of the controllers in question is the Razer Raiju and the other is the Nacon Revolution Pro Controller.
The Razr Raiju is a tournament-grade controller for the PS4 and has advanced controller customization and ergonomics. Features of the Raiju include extra bumpers and two extra detachable triggers. It has an integrated control panel on the front of the controller. Razr also fitted the Raiju with trigger-top switches and hair trigger mode for fast trigger responses.
Razer gives gamers two custom profiles that can be modified and switched on the fly. On the bottom of the controller is a dedicated 3.5mm jack, headset volume, and mic mute controls. The analog stick rubber caps are detachable. The Raiju will ship this holiday season.
The Nacon Revolution is another eSports controller and it has 46-degree amplitude dual analogue sticks with special firmware for more accuracy. The Revolution Pro also has four extra shortcut buttons and an 8-way directional pad. Four custom profiles are supported that can be configured via a PC companion app that allows button remapping, macro assignment, and adjustable analog and trigger sensitivity.
Two internal compartments can be filled with six weights for tailored balance and feel. It works with the PS4 system via a 3M USB cable that is detachable for storage. The Revolution Pro controller will also ship this holiday season. Pricing details for both controllers are unannounced at this time.
SOURCE: PlayStation