Raumfeld Multi-Room Audio System Review
Just as CDs have quickly been overtaken by digital downloads, so the number of people wanting to get their music off the computer and through speakers in their living room, kitchen and bedroom has increased. Wading into that market is Raumfeld, promising "Hi-Fi for the digital age" with their eponymous modular system. Still, you can't get far in multi-room audio without tripping over Sonos, so the question is whether the little-known German start-up can compete. Check out the full SlashGear review after the cut.
As with Sonos, the Raumfeld setup consists of multiple, wirelessly-connected zones that can be controlled with a single remote (though of course more than one remote can be added if you so wish). Raumfeld currently offer four main types of component – Base, Controller, Connector and Speaker – which can be bought individually or as a pre-bundled system. The company sent us a custom bundle for review that's suitable for distributing audio to three rooms.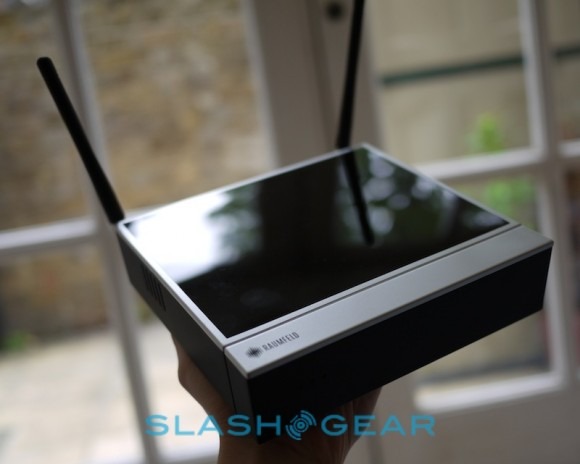 The Raumfeld Base is the heart of the system, a router-sized black and silver box with twin WiFi antenna and three LEDs. Not only is it responsible for creating the WiFi b/g network that each Raumfeld component links to – unlike Sonos, the German firm use regular WiFi rather than a proprietary mesh network – it has a 160GB hard-drive inside that can be used to serve up audio without your PC or Mac being switched on. On the back there are two ethernet ports – one for your router, another a simple pass-through – a serial port (for debugging), two USB 2.0 ports which can be used to add external hard-drives and thus boost storage, and a setup button (which we'll come back to).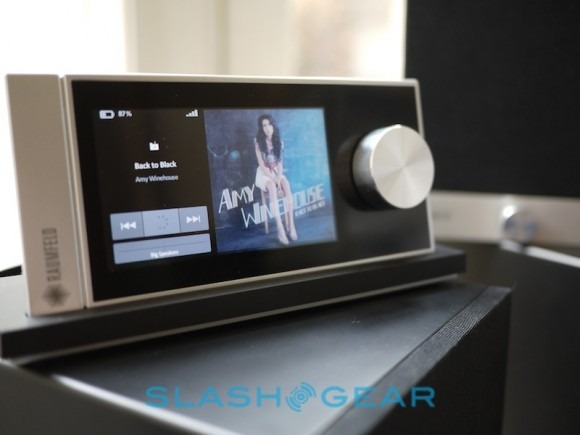 The Raumfeld Controller is a chunky, weighty touchscreen device with a capacitive panel and a large volume dial. Beyond the power button that's the only physical control; everything else is managed via the touchscreen. On the top, under hinged rubber flaps, are a USB port (for manual firmware updates) and a power connector; however the remote comes with a charging station that the Controller sits in horizontally. The display is a bright 480 x 272 resolution panel, while inside there's a motion sensor – which wakes the remote when picked up – and a WiFi b/g radio.
Raumfeld's equivalent of the Sonos ZonePlayers are their Connector and Speaker components. The Connector is roughly the size of a hardback book and has analog and digital S/PDIF outputs, an ethernet port if you're not using the WiFi, and an analog audio input. The latter allows you to hook up an external source – such as a CD player or turntable – and play that not only through the local Connector but through any zone in the Raumfeld system. There's also a USB port, but that's only used for system recovery; you can't add a hard-drive as you can with the Base.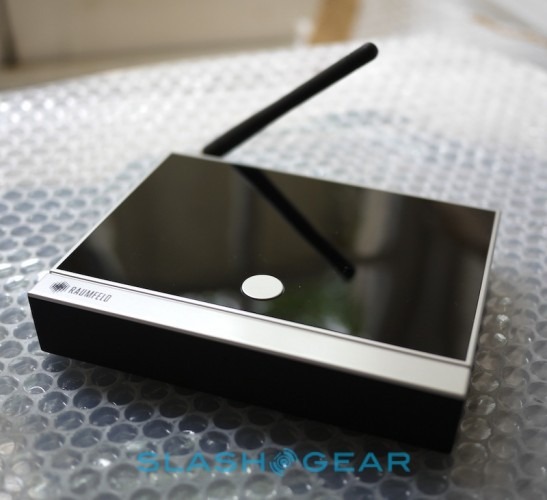 Finally, the Raumfeld Speakers, of which there are currently two sizes. Both the Raumfeld Speaker S and Speaker M systems integrate the networking and amplification into one of the units themselves: all you need is a single power connection (and wired ethernet if you're not using the WiFi) and you're running. Sonos' S5 is the closest comparison, though of course that bundles both left and right channels into the same housing, whereas with the Raumfelds you can stretch the soundstage as far as your room (and speaker cable) allows. Sonos will allow you to pair two S5's wirelessly and designate one to each stereo channel, but that's an expensive proposition.
The Speaker S pair get a Cirrus Logic 24-bit DAC and output 2 x 15W RMS via 0.75-inch tweeters and 4-inch woofers. The larger Speaker M pair upgrade the amplification with an ADAM Audio unit, and output 2 x 30W via ART tweeters and 5.5-inch Rohacell woofers. As with the Connector, both sets of speakers have an analog audio input for piping an external source through the Raumfeld system, but they can also use that as a source in standalone mode (i.e. playing media locally); Raumfeld offer them in black or white finishes. A neat touch is that, during setup, you can choose which speaker handles which stereo channel, useful for working around unhelpfully placed AC sockets.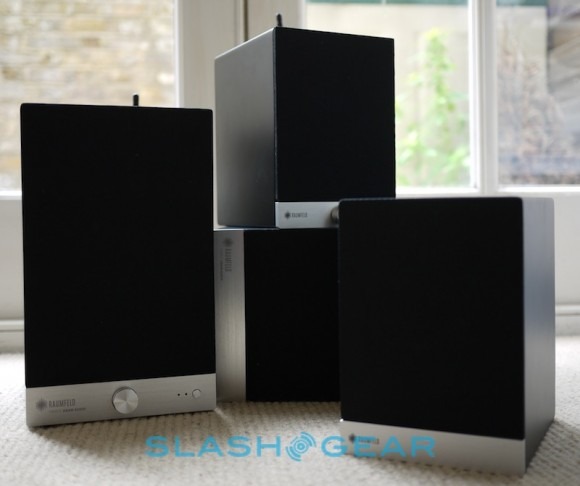 So far, so good, and the Raumfeld kit certainly feels well put together. The Base and Connector are a little on the plasticky side – similar in feel to a router, in fact – but are neither creaky nor cheap to the touch, while the speakers are heavy, solid and – with their brushed aluminum bezels and volume controls – pleasing to the touch.
If the setup process was a headache, all that flexibility would be for naught; happily that's not the case. On the back of each unit is a setup button which basically triggers the component announcing itself to the network. When the Controller is first powered on, it walks you through connecting to the Base – a case of holding the setup button on the Base down for a few seconds, and allowing the system to pair them together – and after that registering each Speaker pair or Connector unit is a case of choosing "Add Room" from the Controller's settings and hitting the setup button on the back.
During that process, each room can be named using an on-screen keyboard, and those names are then used for zone management. Like with Sonos, you can have separate content playing in each zone, or group multiple zones together and synchronize the media across them all. It's a straightforward process, too: tapping Connect All from the zone management pane links every available room, or you can hit the plus buttons next to the individual zone listings to group or ungroup them. At the bottom of the Controller display are three persistent controls – Home, Zones and Media – and you can pin your favorite sources to the homescreen.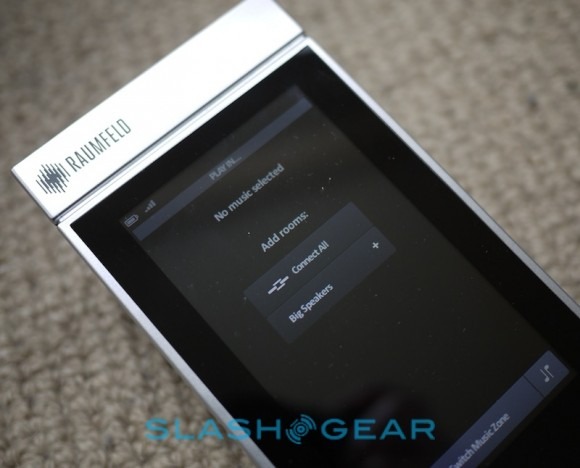 Those sources can be pretty varied, too. As well as the 160GB hard-drive in the Raumfeld Base – which shows up as a standard shared drive to PCs and Macs on the network – there's internet radio support (split into categories and locations, and with station artwork), the analog inputs on each Connector/Speaker, and any shared media on PCs, Macs, or network-attached storage. There's plenty of format support, too, with the Raumfeld handling MP3, WAV, Flac, Ogg Vorbid, ASF, WMA, M4A, AAC and Apple Lossless at standard or variable nitrates, while it can also load WPL, M3U, PLS and iTunes playlists. There's also RadioTime, Napster and Last.fm streaming integration, if you have accounts with those services. If you want to access your iTunes library, you can either copy it across to the Raumfeld Base or share the relevant folder on your computer. Finally, there's UPnP support.
It's certainly flexible, and could easily get overwhelming if the UI wasn't so straightforward. Start off with a few tracks saved to the Base, and it's easy to get to grips with the system. Tracks on the Base began playing almost instantly, while those in shared folders would sometimes take a little longer to begin; still, nothing approaching frustrating. Audio quality from the Connector is of course dependent on the amplifier and speakers you've hooked up.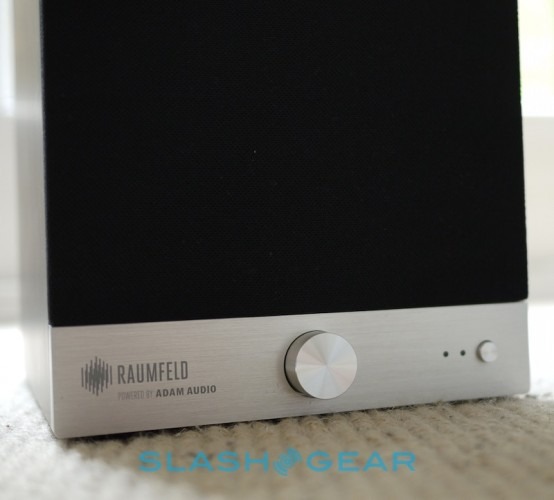 As for the Raumfeld Speakers, unsurprisingly the Speaker M set is the more impressive of the two pairs. The Speaker S are clear but do suffer from distortion when cranked up – either by the local volume control or the dial on the Controller – and are short on bass for particularly thumping tracks. It's not a criticism we'd level at the Speaker M pair, however, which are bright, powerful and clean even at high volumes. Not short on bass, they also do a great job on vocal-heavy audio, with great separation.
Nonetheless, the system isn't perfect and it's not hard to pinpoint what Raumfeld need to do in order to catch up with Sonos. The biggest shortcoming is the reliance on the Controller. Sonos offer their own hardware remotes, but also provide users with free software remotes for iOS, Android and PC/Mac. Right now, you can assign audio via UPnP to a Raumfeld zone using Windows Media Player, but there's no way to control the system from your smartphone or even from your desktop browser. We'd like to see a web interface running on the Raumfeld Base, but failing that a simple software client that replicated the Controller would suffice.
Sonos also has the advantage with their wireless system, which is more flexible than the regular WiFi the Raumfeld Base uses. In short, each Raumfeld component – Controller, Connector and Speakers – links directly to the Base, just as with a normal WiFi router. That means the range is limited to whatever wireless strength the Base itself can muster. In contrast, each Sonos component acts as a node in one large mesh, extending the range in P2P fashion. If you want to extend your Raumfeld system's wireless range, the company suggests you use a WiFi repeater.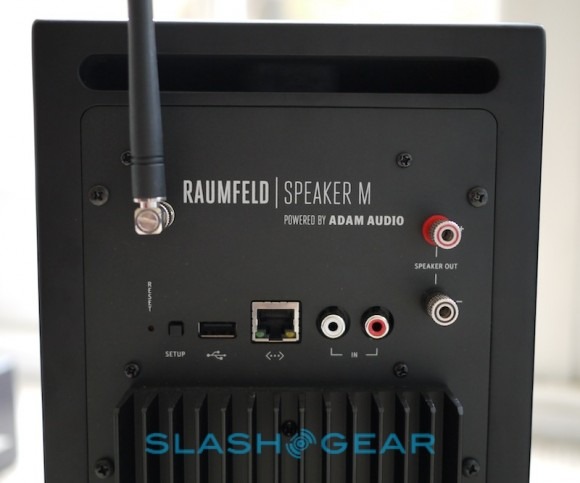 How, then, do the two systems compare in cost? We're working from UK pricing for both stores, here, since Raumfeld doesn't currently have US pricing. The Raumfeld Controller is £349 while the Sonos Controller 200 is £279; both the Raumfeld Connector and the Sonos ZonePlayer 90 are also £279. Raumfeld's speakers – which integrated wireless and amps – are £349 for the Speaker S and £699 for the Speaker M. The obvious Sonos comparison is the ZonePlayer S5, which is £349 but combines both channels into a single unit; you can pair two wirelessly, but obviously that costs £698. Alternatively, you can pick up an amplified ZonePlayer 120 for £399 and add your own speakers.
There's no real Sonos equivalent to the Raumfeld Base (£299); the £79 ZoneBridge links a regular network to the Sonos mesh network, but lacks the integrated storage. Both systems can pull music from networked computers and NAS. The 3Raumfeld system – which includes one each of the Controller, Connector and Base, and two sets of Speaker S – is £1,381 (saving £244 from if you bought them separately); a 2Raumfeld system, with just one set of speakers, is £1,149.
Making comparisons on price is tricky, given the two systems aren't like-for-like comparable. You could also argue that there are far cheaper ways to enable streaming audio; the Orb MP-1, for instance, is a $69 WiFi b/g/n audio dongle that works with the company's free software and does, at its core, what the Raumfeld Connector and Sonos ZonePlayer 90 do. It's likely to require more technical knowledge, however, and the straightforward setup Raumfeld offers is a real boon.
In the end, Raumfeld's system shows real promise. Although it's just as easy as Sonos to set up, there's a sense that it's also got more geek flexibility: the USB ports on the Base, for instance, and the UPnP support. Whether Raumfeld develop that potential is what remains to be seen – they need, after all, to differentiate themselves from Sonos, and they're obviously not choosing the "easy" route and doing it on price alone. An obvious path would've been throwing in video and photo streaming, though whether WiFi-g could handle Full HD content is a good question. What we can't knock is the simplicity and audio quality of the current Raumfeld system, particularly the Speaker M's, and when fed with high-quality files it adds up to multi-room audio that shines. Sonos may be the knee-jerk option in distributed music, but Raumfeld definitely deserves consideration.