Rare Nintendo PlayStation prototype hits auction, but good luck winning it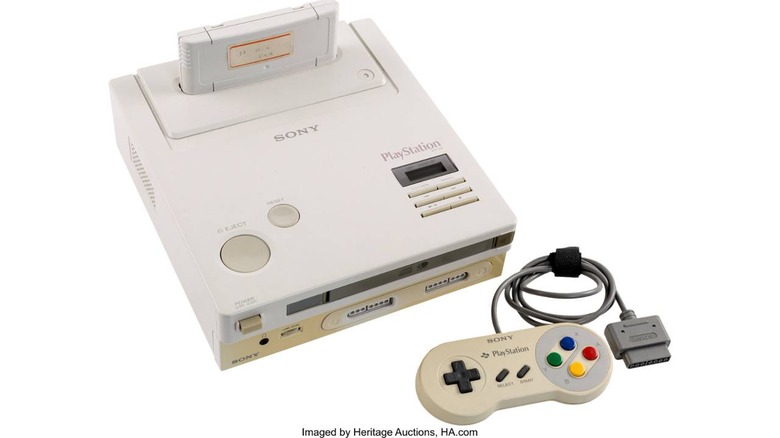 By this point, the partnership that almost was between Nintendo and Sony should be pretty well know among gamers. As the stories hold, the original PlayStation was at one point supposed to be a collaboration between Nintendo and Sony that saw the two attempting to create a CD-ROM drive for the Super NES. Nintendo eventually broke its agreement with Sony and struck a new deal with Philips, leaving Sony to develop the PlayStation brand on its own.
Before Sony and Nintendo split, though, Sony actually created a number of prototype devices that included both a cartridge slot and disc drive. One of those prototypes is now up for auction over at Heritage Auctions, and currently, it's at a not-insignificant bid of $48,000.
That prices it out of range for the vast majority of retro game hobbyists, but for one person with particularly deep pockets, they'll wind up owning a nearly forgotten piece of video game history. Heritage Auctions' listing claims that this may be the "last remaining prototype of the alleged 200 that were forged from the failed joint-venture," so even if there are other remaining prototypes out there, this console is extremely rare.
The console pictured seems to be a mash up of the original PlayStation and the Super Nintendo, with Sony and PlayStation branding all over the place. The console features big round buttons we later saw on the original PlayStation, along with a disc drive, cartridge slot, and ports for an SNES controller. The controller that comes with the console looks almost exactly like the standard SNES controller, only with Sony and PlayStation branding stuck on it.
The console will also come with the boot cart that's pictured in the product shot. Heritage promises that the console in working condition, claiming to have played "a couple of rounds of Mortal Kombat on it using a Super Famicom cartridge." The auction wraps up in 21 days, so if you've got the bank account to put in a bid, good luck.