Radian 2 Bluetooth time-lapse controller pans, tilts, and slides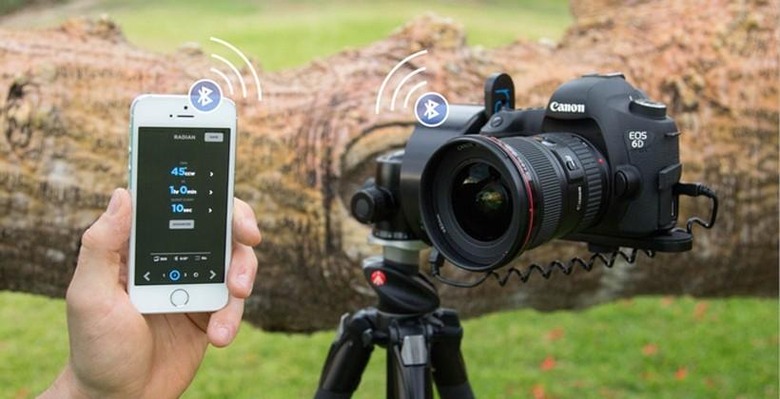 Photographers who like to take time-lapse images and want to be able to control their camera from a distance will want to check out the Radian 2. The device is a time-lapse controller that allows the creation of still, panning, tilting, and sliding time-lapse footage using your camera. The controller connects to the camera via the USB or trigger port and is programmed wirelessly from a smartphone.
The controller app promises simple and intuitive use. The smartphone connects to the Radian 2 via Bluetooth and there are apps for both Android and iOS users. Bluetooth range for the device is 100 feet giving you a longer range to control the action from.
With the controller connected to the camera via USB, you can control the camera aperture, shutter speed, and ISO settings via the app. Radian will work with all manner of cameras from high-end DSLR cameras to iPhone and other smartphones. Up to three Radian devices can be used at once to combine panning tilting and sliding motion.
The Radian 2 device is on Kickstarter now seeking $153,471 and has raised over $81,000 so far. The project has 28 days to go and looks like it should have no problem hitting its goal. You can get a Radian 2 for $200 with shipping expected in September 2015.
SOURCE: Kickstarter