R2-D2 themed PlayBook 4 is perfect for rebels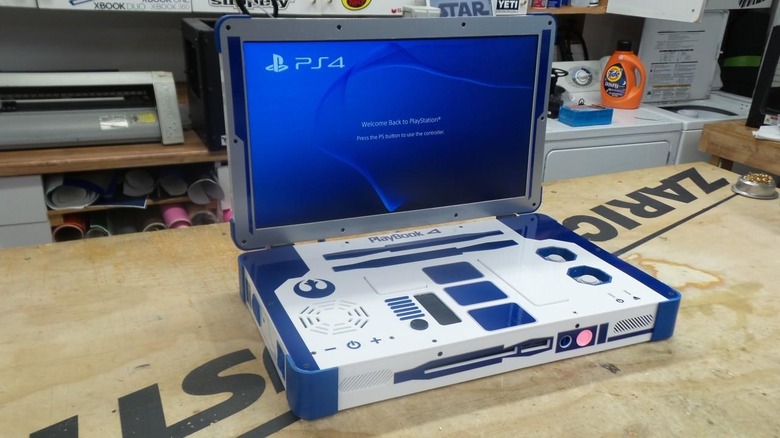 In October of 2014, we talked a bit about a slick device called the PlayBook 4 that turned a PS4 game console into a notebook of sorts for on the go gaming. You can't type on the PlayBook 4 or surf the web like a normal notebook, but you can play PS4 games wherever you can find an outlet with this thing. A new version of that PlayBook has surfaced that is themed like your favorite astromech R2-D2.
This version of the PlayBook 4 is the same as far as hardware on the inside goes as the one from last year. That means it has the innards of a PS4 stuffed inside a mobile chassis with what appears to be the same 22-inch screen attached.
The new R2-D2 version of the PlayBook 4 has real sound effects from the Star Wars movies and scaled down R2-D2 parts installed everywhere. Along the front edge of the machine, we see the familiar R2-D2 flaps that occasionally open in the films.
We also see the familiar R2 red light and on the Playbook 4. That red light changes between red and blue randomly while the PlayBook 4 is turned on and operating. The addition of an Adafruit WAVEshield to the build allows the R2 PlayBook 4 to talk. Check out the video below to see the R2-D2 themed PlayBook 4 in action. I'm not sure if you can actually buy this R2 version or what it might cost, the normal version from last year sold for $1395 including the PS4.
SOURCE: Edsjunk