Quirky Trek Support Backpack Will Charge Your Gadgets, Look Good Doing it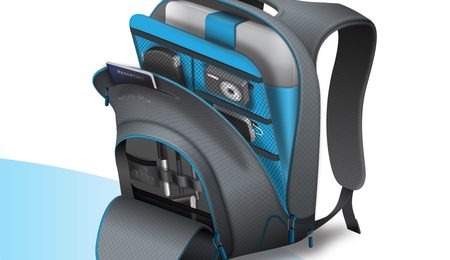 The amount of backpacks out there is almost ridiculous. Almost. But,amidst all of them there hasn't been one that integrates holding your gadgets, as well as charging them, in such a way that people would want to use it for any periods of time. Or outdoors, where people can see you. That's all about to change thanks to the Quirky community, and their brand new Trek Support backpack. They'e got their bases covered in the features department, and they also managed to make the bag a TSA-compliant one, too.
The design is meant to be comfortable, ergonomic, and useful all at the same time. And from the looks of things, Quirky may have indeed accomplished that. The bag features a clamshell design, with a large main pocket at the center, and outer pockets that are smaller to fit your other gadgets. The Trek Support is also created from waterproof, durable nylon, so your toys should stay dry on the inside, even in inclement weather.
Inside the main pocket you'll find a padded nylon board that's designed to hold your laptop still as you move around. You'll also find mesh pockets to help in this endeavor, too, as the bag can hold up to a 15-inch laptop with ease. You can also manage to fit 3 other smaller gadgets in there, too, with the laptop. At the bottom of the bag you'll find the rechargeable battery that's intended to charge your gadgets while you're out and about.
As with any other product from Quirky, the Trek Support was designed by the community, so you know that this bag will be what people want if they carry around their gadgets, and need to make sure they're charged through out the day. Right now, Trek Support is only in the pre-order stage, but if enough people say they're interested, Quirky will put the bag into mass production. As for pricing, that's at $130 right now.
[via GearLog]