Quantaray Super Z rechargeable battery features PowerGenix technology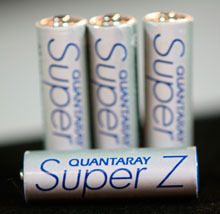 There aren't many wildlife photographers practicing fill flash with supertele-lens, it requires powerful flash unit capable of continued powering multiple-frame per second workloads. As a Canon user, I prefer the CPE3/CPE4 compact battery pack to power the flash unit; it utilizes the commonly used AA batteries instead of a much cumbersome Quantum nickel-hydride powered Turbo battery. On the field, I frequent two set of 12 x AA batteries for the battery pack and flash unit, all rechargeable units, of course and replace them once a year due to the low battery cycle life and charging capacity that continue to decline in time. That's quite load to carry and put a dent on my wallet, may be I should try one of these lighter, smaller and more powerful PowerGenix rechargeable Nickel-Zinc battery.
Developed to meet the high performance and high drain consumer electronics. The San Diego-based PowerGenix with high-energy and low cost Nickel-Zinc rechargeable battery is capable of delivering similar or higher voltages and watt per hour compare to a traditional NiMH or NiCd-based battery, at reducing weight and sizes up to 30 percents. It also has a higher life cycle and can deliver significantly more power during periods of peak with a low internal resistance design.
If your gears are as high demand in energy consumption as mine; the PowerGenix's rechargeable Nickel-Zinc battery is available at Ritz Camera as the rebranded Quantaray Super Z series rechargeable battery. Give it a shot.
IRVINE, Calif. –(Business Wire)– Dec 16, 2008 Ritz Camera, the nation's largest retail camera and photo chain, today announced the introduction of Quantaray Super Z, a Nickel-Zinc (NiZn) AA rechargeable battery and charger set. Ritz's Super Z batteries provide greater power for today's high drain consumer electronics, enabling superior camera performance compared to existing rechargeable batteries. San Diego-based PowerGenix, developer and manufacturer of nontoxic, high performance NiZn rechargeable technology, will supply the batteries to Ritz.

Despite rapid innovation in the capabilities of portable electronics, until recently, progress has been slow to develop batteries able to meet the demand of these power-hungry devices. With advanced NiZn performance, the Super Z has been introduced by Ritz Camera to fulfill the growing needs of high drain digital cameras and accessories. By delivering a higher voltage than existing rechargeable cells, cameras equipped with NiZn cells benefit from brighter flash, shorter flash recovery time, and more shots per charge.

"Quantaray Super Z batteries exemplify Ritz's commitment to providing customers with innovative, world-class products. Responding to the demand for better battery performance, we've selected state-of-the-art Nickel-Zinc technology to deliver the advanced power required of today's camera and photo electronics," said Ritz Camera CEO David Ritz. "With greater power for better camera performance coupled with easy recharge and operation, Super Z means you'll never miss the shot."

Committed to protecting the environment, Ritz Camera is an active member in the Rechargeable Battery Recycling Corporation's (RBRC) Call2Recycle program for the collection and proper disposal of rechargeable batteries. Earlier this year, PowerGenix's NiZn technology was certified by the RBRC for collection and recycling, becoming only the fifth rechargeable chemistry recognized by the program. Further amplifying Ritz's environmental efforts, PowerGenix's NiZn batteries contain no toxic heavy metals such as lead, cadmium or mercury and are the most recyclable rechargeable chemistry on the market.

"With the Super Z, Ritz Camera has taken great strides to present their customers with high quality, eco-friendly power solutions, and in the process positioned themselves at the cutting-edge of a changing marketplace," said Dan Squiller, CEO of PowerGenix. "As the pioneer in Nickel-Zinc technology, PowerGenix is providing Ritz with the latest in battery innovation, delivering performance at the pinnacle of consumer rechargeable batteries."

Quantaray Super Z will be available both in Ritz retail locations and through their online store at www.ritzcamera.com.