Qualcomm's big IoT plan includes Android Things OS and tiny radios
Qualcomm is pushing hard into the Internet of Things, embracing Google's Android Things OS as well as unveiling a pair of tiny, radio-packed chipsets for connected gadgets. Announced ahead of Mobile World Congress 2017 next week, the new tech is all about making smart home kit and other connected devices more power-efficient, smaller, and smarter. For device-makers, it'll mean speedier time-to-market, too.
First off, there's Android Things OS support on the Snapdragon 210, complete with LTE support. Expected to be added to the chipset later this year, Qualcomm is predicting it'll give the 210 a new lease of life in smart assistants, hubs, and connected appliances, not to mention more serious devices like asset tracking and vending machines. By adding support for Google Cast for Audio on the 210, meanwhile, it'll also make the chipset a good starting point for connected media streaming devices and smart speakers, too.
The Android Things OS, if you've not been paying attention, is Google's latest attempt to corral the Internet of Things under its Android umbrella. Using the same APIs and other resources as have been showing up in Android phones and tablets for years now, as well as a new set of frameworks for gadgets like temperature sensors, it also bakes in all of Google's cloud-side services like Google Play and Weave. Making it easy for hardware developers to get started has long been Google's goal, and that's where the Snapdragon 210 comes in.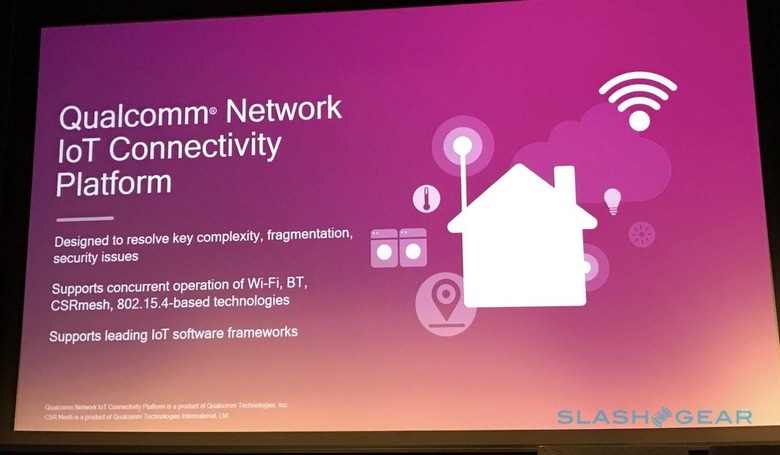 In terms of phone processors, the Snapdragon 210 is pretty low on the scale. However, for a smart home device it's significantly more powerful than most chipsets out there today, and that opens up some interesting opportunities. While we're familiar with natural language processing from Google Assistant and Amazon Alexa, for instance, Google Home and Amazon Echo are really just gateways to the cloud processing that does the heavy lifting.
With the Snapdragon 210, though, Qualcomm says that much of that processing could be done locally. It's not just language recognition, but image and video analytics, and more. The upshot will be more flexible use-cases and faster responses, something Qualcomm is counting on in the segment. "In time – just as with screens now, where touch is a must-have for screens – I think voice UI will be a must for most processing-based IoT things," Raj Taller, SVP of product management for Qualcomm's IoT division, predicts.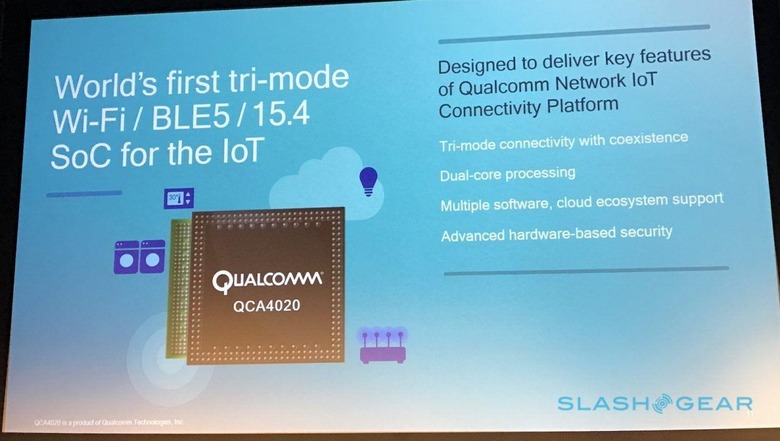 Meanwhile, there are two new Internet of Things chips which Qualcomm is hoping will make a low-power splash in the market. The QCA4020 packs three popular IoT radios into one: Bluetooth Low Energy 5, dual-band WiFi, and 802.15.4-based wireless like ZigBee and Thread. Its sibling, the QCA4024, combines two, leaving out WiFi.
The goal is to not only pack all of the connectivity into a single SoC, but make it compatible with as wide a range of IoT standards as possible. So, it'll be compliant with Apple's HomeKit and the Open Connectivity Foundation specification, in addition to the AWS IoT SDK and Microsoft's Azure IoT Devices SDK. They have hardware-based security, too, including secure boot, trusted execution, key provisioning, and wireless protocol security.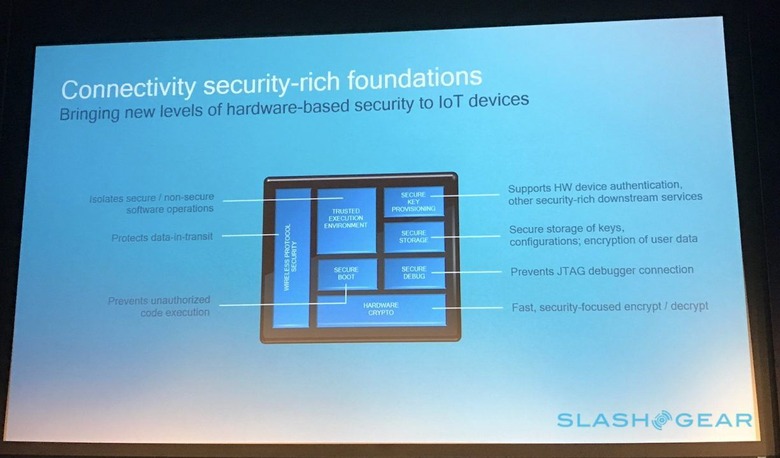 The chips themselves have a dedicated ARM Cortex M4 CPU for running applications, and then a second, low-power ARM Cortex M10 for both the Bluetooth LE and 802.15.4 control. There's an integrated sensor hub for faster reaction to inputs without needing to wake the main processor, and both will support things like Bluetooth mesh networking, where multiple IoT devices join up with each other rather than necessarily linking to a single hub.
Snapdragon 210 support for Android Things OS is expected to be rolled out later in 2017. As for the new QCA4020 and QCA4024 IoT chipsets, they're currently sampling "with select OEMs" right now, though won't be commercially available until the second half of this year. Expect products using them to hit shelves after that.