Qualcomm vs Apple suit brings iPhone back to Germany, sans Intel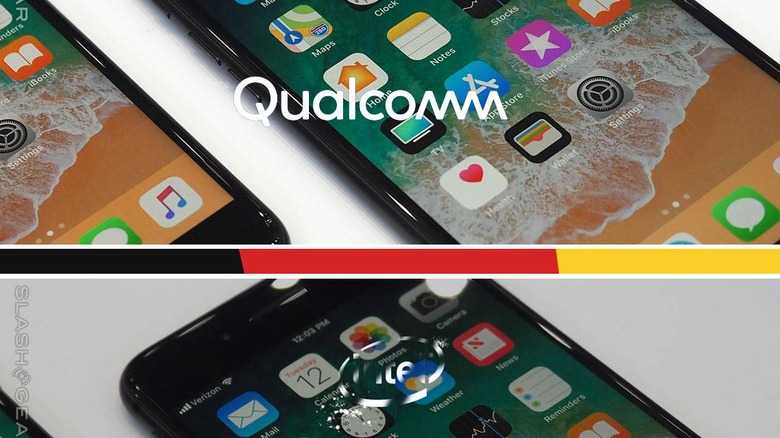 In one of several court battles around the world, Qualcomm's win against Apple resulted in some iPhones returning to sale where they'd been banned. This battle was fought in Germany, where the iPhone 7 and iPhone 8 were banned from sale temporarily pending the outcome of a court case. The versions that've returned to sale in Germany did so with a change unique to this country: They've created iPhones with only Qualcomm hardware inside where elsewhere in the world they're also using tech from Intel.
In a court case in Germany, Qualcomm alleged that some iPhone 8 and iPhone 7 models infringed upon several patents. With Intel tech inside, these phones apparently used a Qualcomm-patented technology without proper dues paid to Qualcomm. The patents in question had to do with envelope tracking, allowing the devices to more efficiently send and receive wireless data. Qualcomm also won a ban of some iPhone sales in China in 2018.
The re-release of several temporarily-banned iPhones in Germany now have Qualcomm hardware where Intel hardware once was. These new devices are unique in the world, as every other country's devices contain both Qualcomm and Intel hardware under the hood.
Sequence of events in Germany:
1. Apple sells iPhones with Intel modems inside
2. Qualcomm sues Apple
3. Intel-toting iPhones banned from sale
4. Qualcomm wins court case
5. Apple re-releases same iPhones with Qualcomm modems instead of Intel
Between the old and new devices there are no differences in price to the end consumer, and no significant difference in functionality will be apparent. While the old devices used Intel modem chips, and the new devices use Qualcomm modem chips, both devices have essentially identical functionality for the average iPhone owner.
Now- if you're a hardcore collector of every different unique version of the iPhone, you might need to pick up a new set of devices through the German Apple Store. These new versions of the devices look and act exactly the same as the old versions, and will return to the country's Apple Store locations in the very near future.