Qualcomm Vellamo Benchmarking System [Hands-On]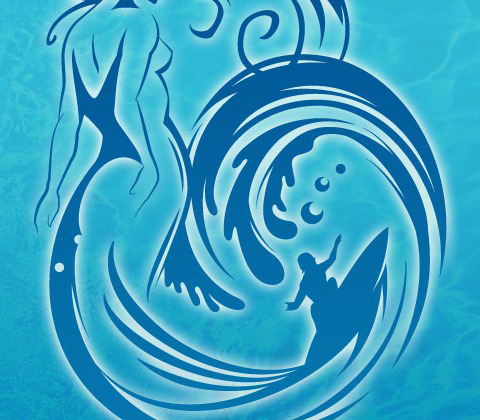 It's Qualcomm Innovation Center, Inc's turn and it's time to benchmark some heads. There's a new benchmark in town, and this one's aimed directly at the mobile browser performance of YOUR device. Where the major benchmarking systems we speak of most often test more general CPU power and 3D graphics prowess of single core, dual core, and all kinds of core mobile handset processors, here we've got not one, but a whole suite of tests set up to show the web browser performance of whichever handset you're aiming to try out – and it works on tablets, of course, too!
What this system aims to do is test out developers chops, mostly from a manufacturer standpoint, and see that they can perform well in a series of tests that see CPU and memory, Javascript, HTML5, canvas rendering speed, scrolling, network access, and more. When you run this benchmark suite, you'll be able to choose from amongst the handful of test you want to perform, be they in Rendering, Javascript, User Experience, Networking, or "Advanced." Each of these categories can be found in a section of the app called Pick Tests. And pick them you shall, for this test not only has the ability to show you your final cumulative score, it can give you the results of each individual test separately, all in a series of quite simple and well-designed screens. Well played!

You can even go to System Information and get specs on your device you'd never otherwise be able to access in a non-rooted machine, this being rather helpful for reviews, if you know what I mean, of devices taken care of by people like you know who. Latest Numbers give you the results of every test you've just taken, while Compare shows you how you rank against their stock scores. System Information is the button you want if you want to see some junk about your own device, and MORE has all the shortcuts to webpages of the developers, about and pick websites (for the tests) that you want. It's also got access to Tutorial Mode, Override Safeguards, the Acid3 Test.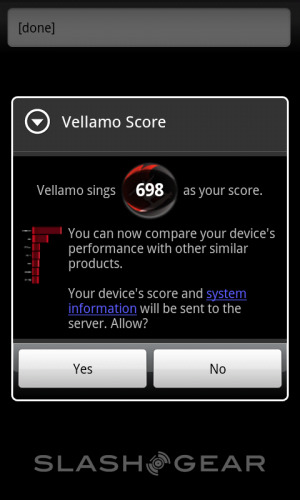 With this test, manufacturers are testing both he performance and the stability of their devices. Our good pal Sy Choudhury, Qualcomm Director of Product Management informs us that while Vellamo was originally developed for internal testing and was indeed used by Qualcomm workers to test as many aspects of web browsing as they could, proving over time to be a fair and non-bias set of tests that'd work to improve not only devices working with Qualcomm chipsets, but any device, as proven by the results of the tests you find after collecting your final score in the test.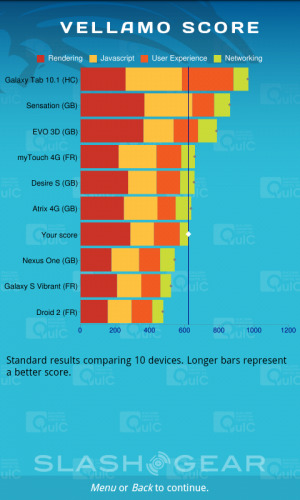 The top score on the chart generally ends up being a Samsung Galaxy Tab 10.1 (with an NVIDIA Tegra 2 processor inside), but my colleague Cory Gunther from Android Community has already made quick work of that with a swift overclocking of his Motorola XOOM tablet, beating the Tab's score of 957 with a cool 1181. Below you'll see the sweet score yours truly got with the new myTouch 4G Slide from T-Mobile. It's a dual-core as well, running a 1.2GHz dual-core Snapdragon processor under the hood, but you'll quickly see it simply doesn't add up when it comes to the slightly bigger guns in this game – ALSO note that it's not overlocked in anyway, so that matters too.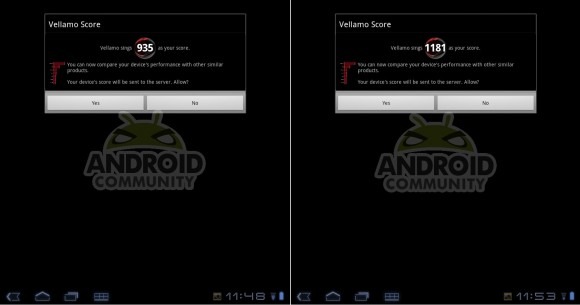 And what is the deal with these tests? What does Qualcomm say they really are? Have a look:
Rendering, See The Sun Canvas: Tests the performance of HTML 5 Canvas-based graphics.

Rendering, Deep Sea Canvas: Tests the performance of HTML 5 Canvas-based graphics.

Rendering, Aquarium Canvas: With many simultaneous objects, this stresses the performance of both the HTML 5 Canvas-based objects and the JavaScript engine.

Rendering, Pixel Blender: Measures the web graphics-related bandwidth available for blitting and blending operations.

JavaScript, Surf Wax Binder: Tests the array performance of the browser's bindings between the Browser and JavaScript engine

JavaScript, Sun Spider (Online): Measures JavaScript performance using Rev 0.9.1 of the industry standard Sun Spider suite.

JavaScript, V8 Benchmark (online): Measures JavaScript performance using rev 6 of the industry standard V8 benchmarking suite.

User Experience, Ocean Flinger: This is a test that tests scrolling smoothness and performance using a demo news site.

User Experience, Image flinger: Stress tests the browser scroll performance when using a page made up of dense images. May take a minute to load.

User Experience, Text Flinger: Stress tests the browser scroll performance using a text-heavy web page. May take a minute to load.

Networking, Networking Loader: Repeatedly loads and reloads a sample web page to determine HTTP networking stack performance. This happens quickly, and hence you may only see the base color background.
Sounds like a pack of red hot apples to me. We'll be using this test in future device reviews (where applicable) and I'm sure our sister site Android Community will be using it for ALL reviews too. Can't wait to see how the EVO 3D fares, right? How about the Sensation 4G, the Galaxy S II, the Asus Eee Pad Transformer?! Wild stuff!
You can participate in the collection of all sorts of benchmarks with this app on all the different devices you own by downloading the app in the Android Market right now [for a total cost of ZERO] Good deal!
BONUS PROTIP: In Finnish mythology, Vellamo is the goddess of the sea. She's often pictured as a mermaid and here we're talking about web surfing. Hang ten!