Qualcomm Uplinq 2012 registration open: Join us June 27 and 28!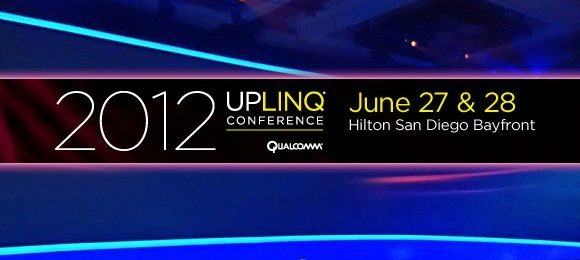 It's that time of the year again, time for Qualcomm to invite developers of all kinds to their yearly main event: Uplinq 2012! This year's event is sure to have many fabulous presentations from great speakers bringing not just big ideas to the developer world, but presentations of next-level Snapdragon technology and more from Qualcomm as well. We'll be at these events bringing you everything you need to know on the future of Qualcomm as the event unfolds – and what's more, we're inviting you to join us!
This year in preparation for Qualcomm's developer conference Uplinq 2012, we're teaming up with Qualcomm to give away one free pass to a lucky reader as well as offer all readers a 30% discount on pay passes! To gain access to this event you're certainly going to need a pass to get past the front door, so join in the fun and win one here today! All you'll have to do is let us know why you want to attend this year's Qualcomm Uplinq in style!
This particular giveaway has us giving you one free pass to get in to Qualcomm's Uplinq 2012 – it does not include any travel or hotel costs. You'll be paying your way for everything but the front door – but once you're in the door, the developer world is yours! Speak with industry professionals, see Qualcomm presentations galore, and get in on the ground level where your developer future will be made!
To grab a free pass of your own, just follow these simple instructions:
1. Head to SlashGear's Facebook page at http://www.facebook.com/SlashGear and "like" us.

2. Head to [this Facebook post specifically] and post the reason why YOU want to head to Uplinq 2012 for free!

3. That's it! A winner will be chosen at random from our favorite entries and our winner will be contacted on June 11th!
Once we've got our winner contacted and we've confirmed that they're eligible and all is well, they'll be announced here on this original "SlashGear's Qualcomm Uplinq Conference Giveaway!" post – and no sooner! Then if you weren't the lucky winner on this particular post, you can always get a massive 30% off your pass price with this simple code: UB2012 – simple stuff!
Feel free to follow @Qualcomm on Twitter as well as [our own Qualcomm Uplinq portal] all event long too!
Have a peek at our full rules and regulations below:
Giveaway begins June 4th and ends June 11th, 12:01AM PST barring any complications finding the winners. Both winner will be announced once we've contacted and confirmed them here in the main news feed and at our official Facebook/Google+ pages.

Giveaway is open to residents of the US only, over the age of 18. One entry per person. Family members of Qualcomm, and SlashGear/Android Community are not permitted to enter. Competition entries are only accepted via the specified SlashGear Facebook page; entries left in the comments section of this or any other post will not be recognized.

The winner will be contacted by an Android Community/SlashGear staff member upon being selected and will be expected to respond to that staff member; they will be expected to respond within 24 hours else their prize may be forfeit and another winner selected. Editors decision is final and no correspondence will be entered into. Winners agree that their name and details of their entry may be used for promotional purposes by, but not limited to Qualcomm, SlashGear, and Android Community.