Qualcomm Snapdragon S4 processor details revealed

For those of you that pick up your smartphone and simply expect it to run, and run well, and don't give a hoot about what's under the hood, keep on walking, because this is detailed specifications talk right here in this post. What we've got here is an announcement from Qualcomm about their upcoming next-generation SoC, or System on Chip, or if you prefer, processor – the big fat engine that makes your smartphone able to run with great power and live up to your harsh, harsh expectations. This is Qualcomm's S4 SoC, complete a brand new 28nm manufacturing process and an undeniably excellent combination: Qualcomm's Krait CPU and the Adreno 225 GPU.
What 28nm means is that the same amount of work will be able to be done with a much smaller piece of hardware – the last smallest process was 45nm – as Qualcomm here seeks to massively impress the world with nearly halving the size AND boosting the power, we must dig out fingernails into out kneecaps in anticipation. No way around it. This size also means lower power consumption, this meaning a much longer up-time on the same size battery.
The Krait CPU will bring a new pipeline architecture and promises a whole 60% boost over the current Qualcomm Scorpion line. Clock speeds rang from 1.5 to 2.5GHz — this being notable since the highest rated processor speed on a CPU for ANY mobile device thus far has been 1.5GHz out of the box. Hackers have seen to it that devices have gone beyond this behind the scenes, but not on the mass market. These new speeds come aside asynchronous multiprocessing and dual-channel memory.
The GPU, that being the Adreno name we all know and love, now in a 225 flavor, will have a massive 50% increase in performance over the current 220 line. In addition, the 225 will provide support for DirectX 9.3 for Windows 8 as well as OpenGL ES 1.1 and 2.0. I told you there'd be some specs thrown around, right? All this means for the lay person is that it's going to be really awesome for high-powered GAMES. Look forward to it!
Then there's the S4 MSM8960, which will allow multi-mode World capabilities along with support for frequencies ranging between 700 and 2600MHz – so versatile! Qualcomm claims support for Cat. 3 LTE (up to 100Mpbs!) and Cat. 24 HSPA+ (up to 42Mbps). Then there's a bunch more, why not, right? There's EV-DO Rev. B 1x Advanced, EV-DO Rev. B TD-SCDMA, GSM, GPRS, and EDGE. AND there's support for simultaneous GLONASS and GPS and of course, Bluetooth, Wi-fi, NFC, and FM radio. Gotta catch em all!
We're ready, Qualcomm, blow em all away! More competition for better products, faster advancement, and of course, more speedily developed games for ME in the end.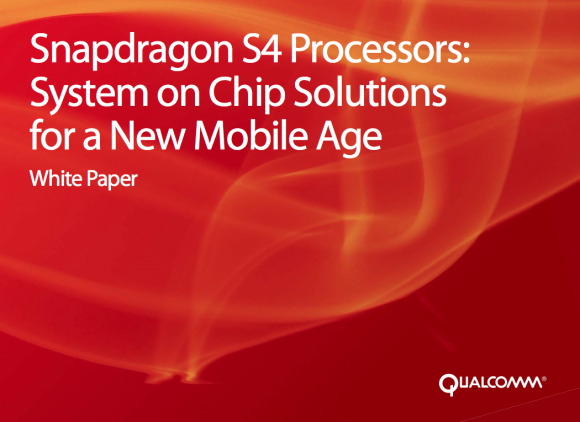 [via Qualcomm]